Embrace God's Gift of Your Child
God has masterfully created your child's body, mind, and spirit to make him or her a unique person with an important mission to fulfill. This awesome creation - your son or daughter - is God's gift to you to raise. God is counting on you to do your best with this gift He's entrusted to you.
Here are some biblically-based principles to help you embrace the gift of your child and raise him or her well:
• Give your child the best prenatal care you can. While you're pregnant, make sure you take care of your physical and emotional health so your child can develop well in the womb. Have regular doctor visits; eat a healthy diet; take prenatal vitamins; avoid harmful substances like alcohol, tobacco, and caffeine; and reduce your stress level.
• Affirm your child's uniqueness. Help your child discover his or her distinctive, God-given talents. Let your child participate in activities that help cultivate those talents. Expose your child to Christian mentors and role models who excel in areas that interest your child. Give your child extra support in areas where he or she has limitations.
• Support and encourage your child spiritually. Pray for your child every day, teach him or her to pray, read the Bible together, worship together as part of a local church family, build close relationships with other Christians, model personal holiness for your child, show your child how to give and serve, give your child his or her own age-appropriate copy of the Bible, lead your family in a regular Bible study and worship time, place symbols of faith throughout your home, write out your personal testimony of how you came to Christ and share it with your child, regularly share with your child how God is working in your life, keep a record of answered prayers, and encourage your child to begin a relationship with Christ and continually grow in that relationship.
• Take care of your child's physical health. Know that good nutrition is vital for your child to grow and learn well. Make sure your child eats a healthy diet rich in fruits, vegetables and whole grains. Keep junk foods and drinks (like hot dogs and soda) out of his or her diet as much as possible. Have your child drink one-half ounce of water for each pound of body weight every day. Exercise alongside your child. Teach your child good hygiene habits like always washing his or her hands before eating. Give your child enough sleep each night so he or she is well-rested the next day.
• Make your child's safety a priority. Evaluate everything in your house and yard for its potential impact on your child's safety, and make the necessary changes. Teach your child how to make smart decisions to protect his or her own safety at home and elsewhere. Always use car seats and make sure they're properly installed. Avoid unhealthy habits in your own life that could harm your child - like smoking. Never leave your child without adult supervision. Explain to your child how to ask for help or escape from threatening situations. Make sure your child always has proper identification with him or her.
• Be sensitive. Understand that your words and actions have great power to either hurt or help your child. Ask the Holy Spirit to help you see the world from your child's perspective, and to be gentle and kind with him or her. Affirm your child whenever you can. Let your child know that you love him or her even when he or she fails. Be positive, not negative. Give your child extra support after a traumatic experience. Strive to give your child a sense of peace and confidence as he or she goes through life. Encourage your child to constantly turn to God for real hope and help.
• Help your child make wise decisions about the media. Monitor your child's use of Web sites, television programs, movies, music, magazines, and other media, and restrict content that goes against your values. Explain to your child the specific reasons why you don't allow these media. Help your child develop critical thinking skills to one day make wise decisions about media for himself or herself. Give your child access to plenty of healthy media that he or she can enjoy. Don't restrict something just because you don't like its style; restrict it only if its content is objectionable.
• Build a support network for your child. Do everything you can to give you child Christian friends who share his or her values. Stay connected to a good local church. Surround your child with Christian adults who can model faithful lives for him or her. Pray for positive teachers for your child. Let your child spend lots of time with extended family members such as grandparents who are walking with the Lord. If you have a child with special needs, take advantage of every resource available to help you. Encourage all who care about your child to offer constant accountability, encouragement, and support.
• Discipline effectively. Make it clear to your child that God's standard is the ultimate standard of your household. Communicate specific expectations with rewards for meeting them and consequences for disobeying them. Avoid demanding conformity in your children; instead, strive to cultivate righteousness within them so they will become internally motivated to choose do the right thing on their own. Expect your children to be imperfect and immature. Be patient and loving with them no matter what.
• Help your child make nonviolent choices. Do all you can to encourage your child to choose peace over violence. Learn how to handle conflicts respectfully with your spouse so you can model successful conflict resolution for your child. Get to know his or her friends well, and direct your child away from violent peers. Equip your child with good problem-solving skills he or she can use instead of violence in challenging situations.
• Help your child pursue sexual purity. Model sexual purity in your own life. Communicate with your child regularly and clearly in age-appropriate ways throughout his or her childhood, honestly and thoughtfully answering questions and presenting all the information he or she needs at each stage of development. Teach your child how to set boundaries in interpersonal relationships, and how to recognize signals he or she will feel when in the "danger zone" with a boyfriend or girlfriend. Nurture your child's emotional health so he or she won't seek emotional solace in a sexual relationship. Encourage your child to commit to sexual abstinence before marriage, and explain all the reasons why that is so important to do.
• Help your child resist alcohol and other drugs. Fill your child's life with wholesome pleasures so he or she will be less tempted to pursue destructive ones. Keep your child busy with interesting, exciting activities, and spend lots of time with him or her. Know your child's friends well, and steer him or her away from those who are exerting a negative influence. Live a healthy life yourself, free of addiction, to be a positive role model for your child.
• Deal with challenges head-on. Expect to encounter parenting challenges. When you do, ask God to show you how He intends to use those challenges to develop your character. Acknowledge and correct your problems as a parent. Practice the "Parenting Reflex": Read what the Bible says about your area of concern, pray and ask God for insight and direction, reflect on the counsel of others, listen to the guidance of the Holy Spirit, and obey what He leads you to do.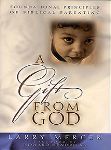 Adapted from A Gift from God: Foundational Principles of Biblical Parenting, copyright 2001 by Larry Mercer. Published by Moody Press, Chicago, Ill., www.moodypress.org.

Larry Mercer (B.A., East Carolina University; Th. M., Dallas Theological Seminary) is vice president of church ministries and assistant to the president at Moody Bible Institute in Chicago, Illinois. He speaks at churches, conferences, and universities in the United States and abroad. He has been a counselor in a junior high school, the superintendent of a resident placement facility, and associate pastor of Christian education at Oak Cliff Bible Fellowship. He is the featured speaker on the weekly radio program Look into the Word. He and his wife, Annie, are the parents of four children.