3 Encouragements for Parents Who Are Utterly Exhausted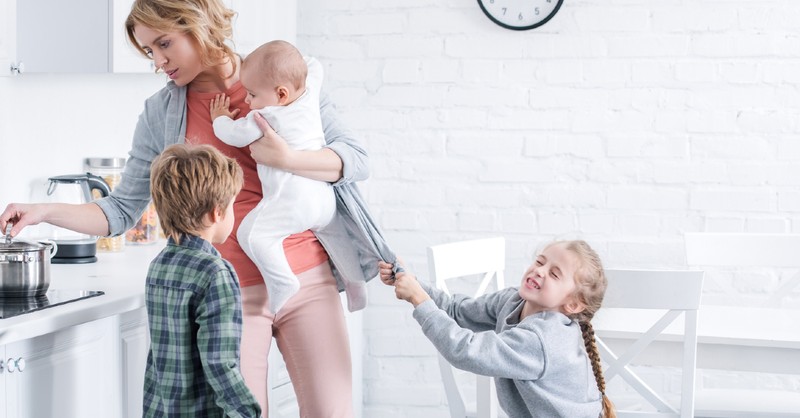 My husband and I are the parents of eight kids. That's a lot of kids, but we're not extraordinary. We became grandparents for the first time last summer, too, but that's not extraordinary. We're still raising three of our youngest kids, homeschooling two of them, and parenting the one with special needs. That's not extraordinary, either. But we are tired.
Man, are we tired.
We talk a lot about management strategies as we attempt to contain all the moving parts of adult kids, grandchildren, college students, dating young adults, high schoolers, hormonal pre-teens, and yes, the intellectually disabled one (which puts him in the category of emotionally still a kindergartener). So many moving parts!
We try to find time together because we actually like each other. We read about slowing down and tech fasts, which are tricky when the college student needs to text her mom after midnight and our work is run by our laptops. We assess where we can take "quick recovery" breaks. We dream about long vacations.
And man, are we tired.
But we are not extraordinary. You are tired, too. Parenting should come with a big flashy billboard that pulses a warning: The early months with a newborn are categorically not the only years of exhaustion.
No matter where you are along this path of parenting, you need encouragement. I need encouragement. Until the elusive extra-long vacation arrives on the backs of magical fairy wings, here are a few things to know:
1. This, Too, Shall Pass (But I Hate it When People Say That)
When I am recounting some long stretch of this parenting marathon to someone who innocently poses the caring query, "How are you?", there is nothing worse than the well-meaning yet oft dismissive response, "Well, hang in there. This, too, shall pass."
There is no way this doesn't sound condescending to the recipient.
I mean, what am I supposed to do in the meantime? As it is, most days we're making it to bed at the end of the day barely by the skin of our teeth. Most days, just doing the normal day-to-day routine can sack a parent, but when we add the reality of full-time work, health issues, extended family care, maybe a child with special needs, and any number of modern life real-world responsibilities, there is no choice but to hang in there.
Unless we can clone ourselves, the majority of kids are getting, at best, two parents to handle all the things.
At the same time, it's the truth. It will pass. It may be replaced by something harder before it all gets easier, but this particular situation, this stage of parenting, this hardship—it will all pass.
The Apostle Paul wrote in 2 Corinthians 4:17-18 to the tired church at Corinth, "For this light momentary affliction is preparing for us an eternal weight of glory beyond all comparison, as we look not to the things that are seen but to the things that are unseen. For the things that are seen are transient, but the things that are unseen are eternal."
We still flop down exhausted at the end of the day, but there is a beautiful relief in knowing that what is wearing us out right now is temporary, while the time and energy poured into relationships here on earth are eternal. Those relationships and the work God is doing in our hearts are the precursors to the "eternal weight of glory beyond all comparison".
2. Look for the 'Guy with the Water Cups'
Once upon a time, I ran a 5k. I assure you, I was much, much younger than I am today. I don't remember a whole lot beyond the brilliant sunrise that morning or the slow realization that I'm not much of a runner, but I do remember the guy with the water cups.
He kept showing up.
At each marker along the path, at every turn on the trail, the guy with the water cups was leaning into the mass of runners, paper cone-shaped cups in hand, thrusting them and their splashy contents at the weary competitors. I wasn't at the front of the line or trying to beat my own time or win anything, but wow, was I ever happy to see the guy with the water cups. I gratefully reached out and grabbed what he offered and downed each cold, refreshing drop.
When the stretches of parenting weariness seem to last forever and we long for relief, it's easy to miss the "guy with the water cups": the friend who offers to run your child to soccer practice; the pizza delivery that shows up piping hot; the gracious boss who compassionately overlooks the hour spent in the bathroom crying.
When I start to feel sorry for myself, I try to stop and take stock of where those water cups have shown up over the course of the week or month. Where have we seen God's hand? It may seem like a stretch, but there are times when I realize how thankful I am for something as seemingly insignificant as pre-cut carrot sticks.
Handing little carrots off to a hungry child just by opening a bag from the grocery store is, in fact, a "guy with a cup of water" moment. I just have to take the time to look for where God is providing things to ease my load.
James 1:17 tells us that "Every good gift and every perfect gift is from above, coming down from the Father of lights, with whom there is no variation or shadow due to change."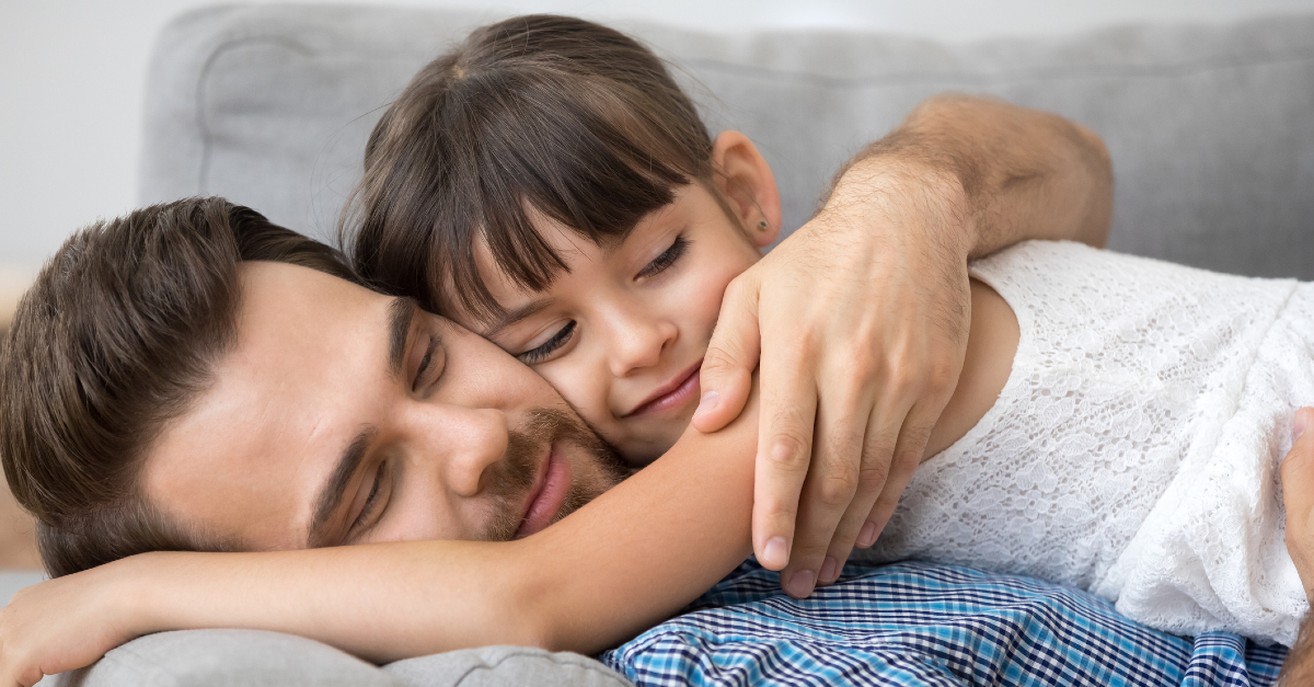 Photo Credit: ©GettyImages/fizkes
3. Believe Him When He Says, "My Yoke Is Easy"
Years ago when I was driving eight kids around in a giant homeschool-mom 12-passenger van, I remember angrily accusing God of lying when he told us that, "My yoke is easy and my burden is light". Oh, really? I stormed, hot tears rolling down my worn-out cheeks. "You say that," I retorted, "But this feels like the weight of a thousand semi-trucks."
I look back on that time in my life and I can see clearly how much of my yoke and all of my burden were carefully built by my own hands. I had expectations of myself and for my family that God had not saddled me with, and I was overwhelmed by all that I had so painstakingly built.
In a culture that continually sends the message that we should be more and do more (and more and more and more . . .), it is easy to find ourselves running a race God never meant for us. Is it possible that it's difficult for us to believe that his yoke is easy and his burden is light because we have taken on far more for our families than God intended?
Count the cost. Re-evaluate. Then lay that burden down. Only then will we recognize that his yoke truly is easy and his burden light, just as he says.
"Come to me, all who labor and are heavy laden, and I will give you rest. Take my yoke upon you, and learn from me, for I am gentle and lowly in heart, and you will find rest for your souls. For my yoke is easy, and my burden is light." Matthew 11:28-30
I know you're tired. I am, too. Let's agree to look ahead to seasons of parenting that can be eased by the reliable promises of God. He really does lighten our burdens, and as he does so, he uses "water cup guys" by way of people he daily puts in our path. Look for those people and you'll discover him there. Pray and ask him to show you where you're adding to the weight of your yoke. And yes, believe me when I say, this too shall pass.
---
Kendra Fletcher is a mother of 8, speaker, and author. She is the author of Lost and Found: Losing Religion, Finding Grace, and Leaving Legalism, and she regularly writes for Key Life Ministries. The Fletchers reside in California, where they play in the Pacific Ocean as often as possible. Find her here: www.kendrafletcher.com.
Photo Credit: ©GettyImages/LightFieldStudios
Parents: Need Help Navigating Our Crazy Culture with Your Kids? Listen to Our FREE Parenting Podcast!
Christian Parent/Crazy World with Catherine Segars is available wherever you listen to podcasts. Listen to our episode on battling for your kids in prayer by clicking the play button below:
The views and opinions expressed in this podcast are those of the speakers and do not necessarily reflect the views or positions of Salem Web Network and Salem Media Group.
Related video:
Are you in the trenches with your toddlers or teens? Read Rhonda's full article here!