Family Heeds God's Wartime Call
Joni B. Hannigan

Baptist Press

2008

3 Mar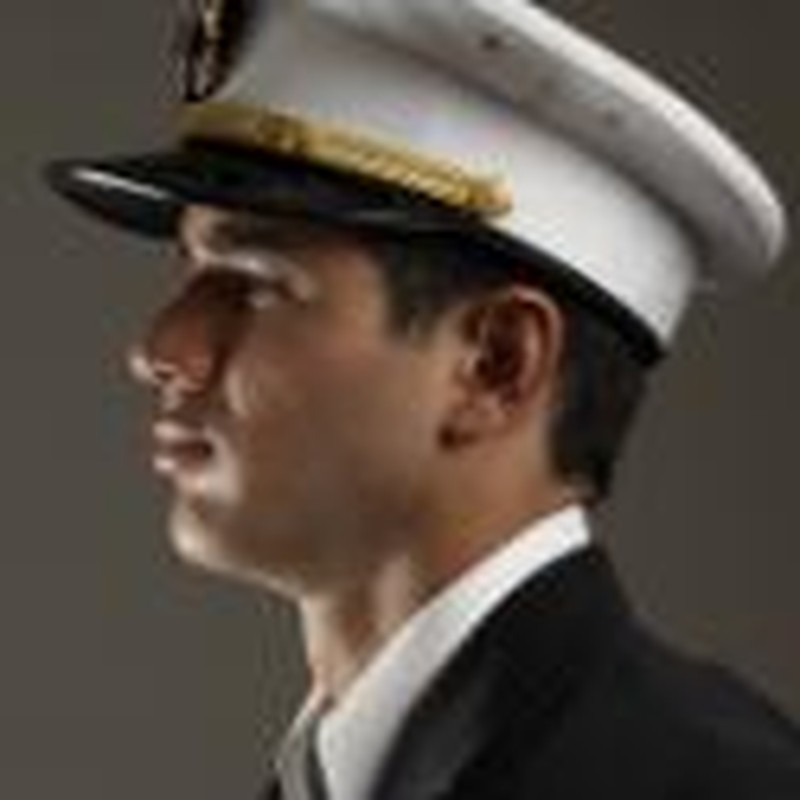 Millions of stars twinkle overhead in the black night sky off the bridge of the USS Philippine Sea, reminding Commander Rich McDaniel how insignificant he is in relationship to the great God he serves.

There are six other stars in McDaniel's life, however, and they, perhaps, shine brightest of all. His wife Angie, and their five children, ranging from 5-year-old fraternal twins and his 12-year-old namesake, are often on his mind even when his ship sails in ports far away from its Jacksonville berth at Naval Station Mayport.

Together and yet so often apart, the McDaniels believe their family unit has been called to a peculiar mission in life -- as missionaries to the Navy community, serving God and country in peacetime and war.

"This is what He's called us to do. This is what our mission in life is," Angie McDaniel told the Florida Baptist Witness newspaper. "We really believe in the values of our country and that they're worth fighting for."

Angie said she made the choice 16 years ago to live the life of a military wife when they were both 21 and decided to marry during their senior year of college at the University of Memphis. Now she homeschools all five children.

"I really didn't know what that was about, but I had a vision for that," she said of her husband's calling to the military. "We both saw ourselves as doing this together."

Since McDaniel was commissioned as a Navy officer after four years in ROTC, they have moved 12 times in 16 years -- from Hawaii to Maine -- and are on their third tour in Jacksonville since 2000. In that time, like most dads, McDaniel has spent more time at work than at home. Unlike other dads, however, when he's at work, that can mean he's out to sea on a ship far from home for six, 12 or 18 months at a time, with shrinking time between deployments.

Propped up next to a bowl of fresh fruit in the kitchen, Angie's eyes dart to where Rich Jr., 12, reads a book to 5-year-old twins Emmie and Joey on the family room sofa. Doing math and language problems at the kitchen table are Seth, who is nearly 8, and Chelsea, 9. Angie, who completed her degree in elementary education at San Diego State University sometime after they were married, doesn't miss a beat in running the household.

What people sometimes see, however, can be misleading, Angie said. Ironically, it's in church of all places that Angie sometimes feels the most lonely and inadequate when faced with the task of raising five children nearly on her own.

"I can't tell you how hard it is sitting in church with all these husbands and wives together, you know, week after week and to be there, and to sit there, alone with your kids. It is really hard, and you just think, 'Lord, why are we doing this? You know, I don't like this,'" Angie said.

McDaniel attended the Memphis-area Bellevue Baptist Church in Cordova, Tenn., growing up, Angie said, and the couple attended there in 1997-99 but more recently visited First Baptist Church in Jacksonville, Fla., at a friend's invitation, after having attended evangelical Christian churches wherever they have lived throughout the years.

"It was like a breath of fresh air when we walked in," Angie said of their first visit in July. Before that, she said, "We have felt really alone and without support."

Angie said even Rich Jr. commented on everyone's friendliness without being prompted and the children were immediately involved in programs at the church "where other people that love the Lord are pouring Scripture into them and really showing that they care."

Since that time, Angie and the children have attended on Sundays and Wednesdays, and she reluctantly joined the church in August. She was reluctant only because she said it felt weird to join without her husband, whose schedule is sometimes unknown. McDaniel later told the Witness he will join First Baptist Jacksonville at his first opportunity.

Angie said the 20,000-member Jacksonville church has been an example of how to reach out to a family and hold on when times get tough.

"I didn't realize before what I really needed," she said. "But I needed that spiritual support for my kids, somebody to come alongside of me. Even though my husband loves the Lord -- and when he is home he is actively involved in leading the family spiritually -- he is gone so much the burden of that really falls on me."

The energetic mom who rises at 5 a.m. to spend an hour in quiet time and devotions and another hour exercising, said she joined a women's mentoring group and takes the children to church for choir as well as Sunday morning and evening Bible study and worship.

"It has helped to give me perspective as I go through the struggles of a military wife," she said of her involvement at church, adding that when her husband is away she's vulnerable emotionally and can experience some ups and downs.

"In a short period of time the kids have plugged in; I have plugged in," Angie said.

Tears moistening her clear eyes, Angie said the response to her family has been heartwarming with women from the Sunday School class showing up at her door with home-cooked meals and people calling and dropping by to visit and encourage her.

The practical way members of the church have reached out to her family, Angie said, is a good example of how churches can minister to military families.

"It has just made a huge difference in our lives," she said.

As she watched the animated kids pop corn in the microwave for a mid-morning snack, Angie admitted it can be tough to homeschool but said it's something she thought about after debating the topic in a college class. She chose to pursue it after she and her husband discussed their desire for high academic standards and other values for their family.

Eyeballing the children who had all settled down to quietly munch food at the table with pencils in hand, she whispered: "It's a rare moment."

But the work doesn't stop with being wife and mother. Angie takes seriously the responsibility to assist her husband in reaching out to military families. In many places she has befriended Navy wives and held neighborhood Bible studies.

"The Lord brings families our way, and my husband has opportunities to counsel people," she said. "I think the vision that God gave us back in college -- we saw ourselves eventually in this place.

"These people need the Lord, and they need to see what a godly family looks like," Angie said. "He has blessed us beyond what we could ever deserve and could ever earn."

Angie was somewhat hesitant to pinpoint when her husband is in the country and when he's out because ships' movements are matters of national security in times of war. But the second in command of a ship that is part of a battle group that serves in a war zone is more often out to sea than not.

In a telephone interview, McDaniel told the Witness he is proud of the sacrifice his wife has made to support him and to homeschool the children. McDaniel said the schooling situation is fluid and the family reevaluates often based on the children's needs and what is available in the private and public sector wherever they are stationed. They move about every 18 months, he said, so finding schools -- and a church -- can take time.

Crediting his wife for running a tight ship at home, he said churches need to remember to look deep and realize that military members will not come across as needy people but might still have needs. His wife, for example, often just needs a friend or someone to watch the kids for a few hours.

In some churches, he said he has observed that the focus tends to be on "How can you serve others and how can you serve in the church?" While he endorses that, McDaniel said, it can be heartbreaking to know he has only a few days with his wife after one to three months at sea and she feels duty-bound to stay in the nursery during Sunday morning worship because it's her usual ministry at the church and people don't understand why it's so important for her to be released from that when her husband happens to be home with little to no notice.

"Understanding the experiences that people in the military live with day in and day out and some of the sacrifices they make go a long way in understanding how to minister and reach out to them," McDaniel said, adding that he is delighted with the way First Baptist Jacksonville has reached out to his family.

"We have striven to find a conservative, Christ-centered body of believers, and we have found that at First Baptist Church," McDaniel said.

In the broader community, an understanding of military life may be dismally low if some of Angie's recent conversations are any indication.

Discussing a military friend's husband's assignment in Baghdad with a non-military mutual friend, Angie said the women were speculating about how challenging it would be for the Navy man to be gone for 18 months. The civilian wife asked if the Navy wife and her children would be moving there with him.

"I was really speechless," Angie recalled. "It was kind of funny in a sad sort of way that she asked me that, and my response was, 'Well, military families do not go to war zones.'"

Describing a similar conversation with a family member, Angie said she was asked if she and her five children were going to accompany McDaniel on his ship when he was deployed to sea.

"It just baffles me and scares me to think that some people have no understanding on a basic level that when they're deployed they are gone and we don't see them for that entire time for six months to a year to 18 months. That these men and women are overseas and fighting a war; there is a war going on even though we don't have it here in our country."

McDaniel said one of his biggest challenges in leading those in his command is that they are distracted by unstable family lives and personal issues at home. As far as deploying to dangerous areas, he said the job has always had a certain inherent danger involved.

"The war has added to that uncertainty, but it's just a normal way of how we do business anyway," McDaniel said.

He desires to make an impact in the lives of men and women he serves with and hopes churches realize they can make a difference.

"It's great to have a bumper sticker to say that or to hang a yellow ribbon, but to really help the family of a deployed military member, I think that is a significant ministry," McDaniel said.

On the bridge of the guided missile carrier, headed due east with just the sound of the engines, McDaniel said he looked up into the night sky and marveled at what he saw.

"When you go out late at night and you see the stars, I am reminded of the Lord. It is so beautiful and breathtaking," McDaniel said. "In one sense you realize how insignificant you are in relation to God. You realize God is big and the day in and day out stuff -- God repeatedly answers prayers."

Contemplating the work it takes to prepare the ship to deploy to a war zone, the training and maintenance involved, and the swift turnaround time called for, McDaniel said he is challenged by the task and appreciates the prayers of the faithful.

"Everyone you take out on the cruise, you want to bring them back home," McDaniel said. "God has totally answered those prayers."

---

Joni B. Hannigan is manager of the Florida Baptist Witness, online at www.floridabaptistwitness.com.
(c) 2008 Baptist Press. Used with permission. All rights reserved.