Don't Fight Your Kids' Parenting—How to Be an Ally Instead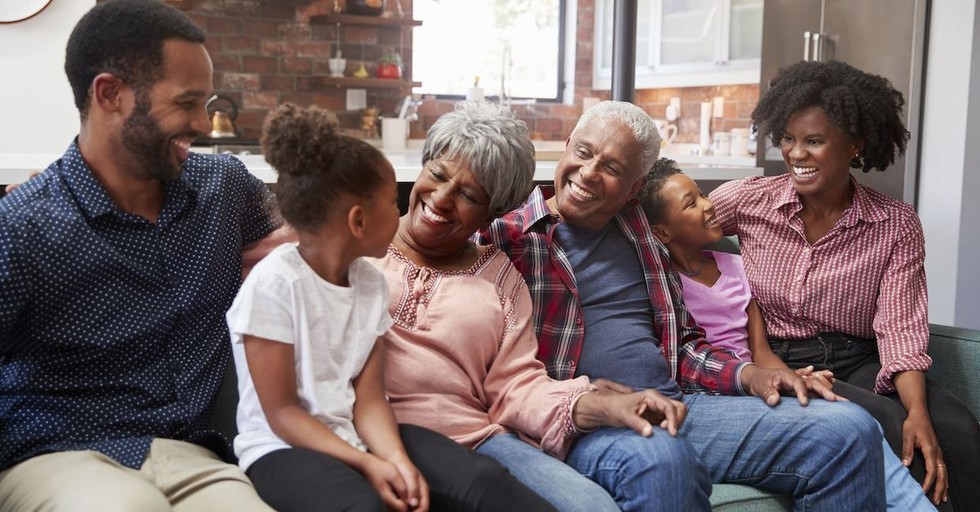 Parenting is hard, no denying it. Regardless of our age or the age of our child.
But when our kids grow up and have children of their own, we have a choice: make it even harder by regulating and imposing our great parenting knowledge, or guide and direct them with the wisdom we've gained from our successes and failures.
How can we come alongside our kids—without chastising them—to help them parent our grandchildren?
Photo Credit: GettyImages/monkeybusinessimages
1. Follow Their Rules

Slide 1 of 9

I might not see any harm in the sweet, grey-haired lady at the bank's drive-through giving my five-year-old grandson a Dum-Dums pop. But if Mom and Dad's rule is no candy before supper, I need to comply. Seem small?

If my grandson tells Mom he had candy, Mom might ask me why I gave it to him when I knew he was about to have supper. I might argue: "What did it hurt?" and so on. But it was their rule, and I'm showing not only my daughter but also my grandson that I have no regard for the rules.

A genuine concern should be talked out in private, not left to simmer or swept under the carpet. When families work together to discuss issues, it opens channels of communication that might have remained closed. Find more calm and loving solutions here.

Photo Credit: unsplash/nagesh-badu

2. Pray

Slide 2 of 9

A family that prays together stays together. Most Christian radio stations express that idea periodically. We can buy a plaque in Hobby Lobby with those words inscribed on it. It's a nice little jingle, but does it matter?

For those of us who believe prayer is our greatest and most powerful weapon—absolutely. Whether you and your children are on the same level of faith or at different places in your walk, pray—alone or together. According to Philippians 4:6-7, when we take our concerns and stresses to the Lord, His Word promises a peace that we can't possibly understand. Be a peaceful and prayerful parent!

Photo Credit: Thinkstock/Rawpixel

3. Offer Helpful Guidance

Slide 3 of 9

No one wants something they haven't asked for, especially advice. Our kids deserve to feel confident that when they need our guidance—and they will, because raising children is tough—we will do our best to have some answers.

Exercising wisdom with patience and timing strengthens the family dynamics. To impose our opinions about this and that before they are ready pushes them away. When our kids feel comfortable enough to ask us for advice, we know they are going to be receptive. 

Photo Credit: Thinkstock/monkeybusinessimages

4. Be There in a Crisis

Slide 4 of 9

Nothing says how much you care about and support your kids like being there in a crisis. It reinforces the sense of unity and strength within the family structure: a sacred bond between parent and child. I need you—here I am.

A late-night, coded text from my daughter sent me speeding to her house. With the officer on the line, I explained the potential situation: "I'm the mother. The text meant 'Call 911; he is hurting me.' Yes, I will meet you in the front yard of their house."

I had placed a domestic violence call for my daughter. Never before had I done this for one of my kids. Now I sat in my car with my little, brown-haired grandson beside me. Both of us watched as his daddy walked past us in cuffs to be placed in the back of the police car. My daughter was still inside the house with the officers, answering questions.

Yet, I guarded my words. This was his father; what had happened and was now being discussed was raw. My words had the potential to permanently shape his emotions and perceptions. The power of life and death are in the tongue.

"The tongue has the power of life and death, and those who love it will eat its fruit." (Proverbs 18:21)

I listened to my grandson, encouraged him to express his feelings, and made sure he knew his daddy still loved him. Nothing was his fault. Mama was okay. Everyone was safe. Never did I lead him to think his father was bad. I comforted my grandson without dishonoring my family. That is what being there for a crisis is. And sometimes, it is hard.

Photo Credit: unsplash/Thinkstock/monkeybusinessimages

5. Offer Financial Support

Slide 5 of 9

A difference exists between enabling and helping our children in a time of need. Everyone has times of hardship. Our kids must be able to withstand struggles without using us as a crutch. We cannot let them feel we owe them or must help every time an emergency arises. Enabling them would not be walking alongside them. It would be doing them a great injustice and stifling their growth.

However, thankfulness is learned through giving and receiving: yet another way we help our kids raise our grandchildren. Emergencies happen: savings get depleted, people lose their jobs. Not long ago, I gathered food from my pantry for one of my daughters. 

Maybe there is no need. We simply want to bless them, and that's okay. We are blessed so we can bless.

Photo Credit: Thinkstock/Goodluz

6. Don't Be a "Helicopter Parent"

Slide 6 of 9

Who wants one of those? I picture a remote drone from the sci-fi movies as it hovers humming, whirring. We know it's watching with that red eye—so annoying. If only we could pick up a long stick, knock it to the earth, and smash it into a million pieces. Anything to make it stop watching us.

Kind of dramatic, but you get the point. Step back, relax, and enjoy grandparenting. We raised our kids as best we could. Now it's time to pass along the dos and don'ts we have gathered from our adventures as opportunities arise. But not as a hoverer.

Photo Credit: unsplash/Thinkstock/Goodluz

7. Invest Spiritually

Slide 7 of 9

If you have faith, model it. Live it. When a meal is shared together, offer to bless it. Pray with a grandchild at night when there's a sleepover. If the parents aren't attending church, offer to take your grandchild. Invest spiritually in your children's children. Take hold of God's promises: "Start children off on the way they should go, and even when they are old they will not turn from it" (Proverbs 22:6).

8. Be a Good Example

Do what we say but not what we do: how many of us experienced that mixed message from a parent? "Don't you dare raise your voice to me like that in this house!" my dad would yell.

He could. We couldn't.

Be that grandparent your kids don't have to worry about. What does your grandchild see on TV or listen to on the radio at your house? You tell them they should always drive the speed limit, but little Brianna tells her mama how "Gammy was driving really fast on the highway and the police gave her a blue paper."

There is security in having a parent that can be trusted to adhere to the values, standards, and morals of the family. It creates a unified bond. 

Photo Credit: Thinkstock/Halfpoint

9. Respect Their Decisions

Slide 8 of 9

As much as we would like to believe we raised our kids to make decisions exactly like we would, they won't. The flip side to that is that we don't have to agree or ultimately accept their decisions. But we do have to be open to rational discussions and the voicing of opinions. In the end, we must respect their choices. To ignore, defy, or aggressively oppose is to create a battleground. "Agree to disagree" can be a win-win.

10. Be Empathetic

We can always count on this world to criticize, rebuke, and chastise us. We will never be good enough, smart enough, or attractive enough for other people's standards. The world tries to be judge and jury for us all. We, as parents, have to be the ones our kids can come to when they mess up or melt down after a long day of parenting. With us, they should find empathy and grace, not condemnation and disapproval. Not "I told you so," or "Why didn't you listen?"

Photo Credit: Thinkstock/monkeybusinessimages

11. Love Unconditionally

Slide 9 of 9

Love doesn't come with conditions. Our children may not make the same choices, rules, plans, and decisions we would. They may not embrace our faith or go to church. We still pray. We show them love as we come alongside them in their journey as parents.

"Love is patient, love is kind. It does not envy, it does not boast, it is not proud. It does not dishonor others, it is not self-seeking, it is not easily angered, it keeps no record of wrongs. Love does not delight in evil but rejoices in the truth. It always protects, always trusts, always hopes, always perseveres." (I Corinthians 13:4-7)

At the end of the day, if we have fulfilled our role as a parent and grandparent, we have succeeded. We have won the challenge of transitioning. We have learned how to adjust to the ultimate goal—unity rather than division. In the handling of each situation, no matter how tiny or how devastating to us or them, we have demonstrated one of the most precious things in this world: love and devotion to family.

Wina Rushing is an Autism Paraprofessional in the Kansas City, Kansas school district. She has three daughters and one grandchild. During the past six years, Wina has embraced and developed her heart for music, writing, and art. Check out her book Escaping the Knight in Dirty Blue Jeans and connect with Wina on her blog: The Fullness of Freedom https://winarushing.wordpress.com/

Photo Credit: Thinkstock/Halfpoint