Feeling Pressure as a Young Grandparent? How to Overcome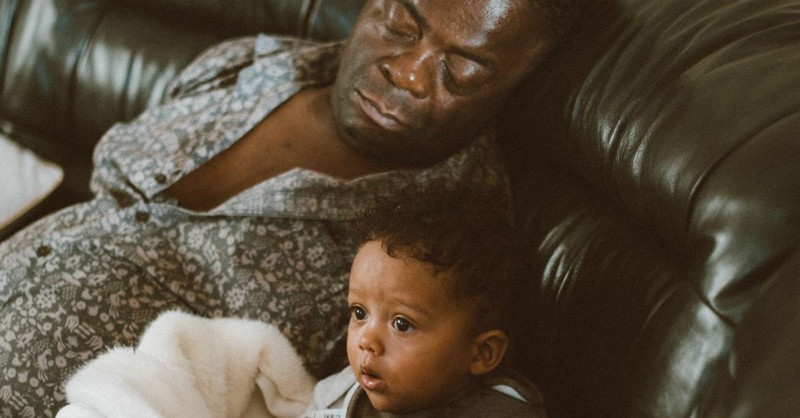 My husband and I were 42 years old  when we became grandparents for the first time. It's been seven years since that day, and we are now proud grandparents of five beautiful grandchildren. (Perhaps I should write a book called "Five Before Fifty!")
Being young grandparents has had many wonderful benefits, but it's also had a few unexpected pressures. I've been overjoyed by the blessing of each grandchild--yet surprised at how difficult it's been at times. I hope this helps other young grandparents navigate this beautiful, yet complicated season. Here are 4 unexpected pressures young grandparents face and how to deal with them.
1. Feeling caught between parenthood and grandparenthood
The day we held our first grandchild in our arms, we still had two young children at home. I remember feeling intense love for our newborn grandson, yet also a bit of apprehension as to how I was going to juggle motherhood and grandmahood.
Of course, we involved our kids in the process, teaching them how to be an aunt and uncle at such young ages, but it was definitely a process! Here are a few of the pressures we faced and how we dealt with them.
We felt pressure to continue raising our kids, while spending adequate time with the grandkids.
Sometimes we had to say "no" to watching the grandbaby when our kids had activities going on. We had to work hard not to feel guilty about it. Once we found a rhythm and balance, the pressure lessened.
We felt pressure to say "no" to self-care because our kids and grandkids needed us.
Adequate self-care simply cannot be ignored. Even if it's an indulgent Sunday afternoon nap, we must take good care of our physical selves before we can parent or grandparent. Prioritizing our health was and is an important part of being strong and having the energy to do what is needed.
We felt pressure to keep parenting our grown children.
The tendency to parent our adult son, who is now a father, was a real problem in the beginning. We wanted to help, but that often led to interfering. Over time, we learned to keep our opinions to ourselves, and only offer parenting advice when it was sought.
Honestly, we still feel pulled in different directions at times. We currently have one teenager still at home, who deserves our time and attention. To balance parenthood and grandparenthood, we have to prayerfully consider how to best spend our time and resources. The peace comes by knowing that God is good and always gives wisdom when we ask!
If any of you lacks wisdom, let him ask God, who gives generously to all without reproach, and it will be given him. (James 1:5)
2. Feeling exhausted by expectations
As a young grandparent, I didn't fully understand my boundaries. I often felt, (and still do at times), that I needed to go above and beyond with our grandchildren.  Over the years, I've felt both energized in spending time with them, and exhausted when I've pressured myself into feeling too responsible. Here are some of the pressures we've faced and how we've dealt with them.
We've felt the pressure to give too much.
Whether it's money, babysitting, or supplies for the grand babies, we've struggled to know when enough is enough. I still remember when the oldest grandchildren were toddlers and would run up to me and immediately ask what I brought them.
We had to determine when to give and when to hold back. And we've learned that holding back is often the best choice. Here is an interesting article that further drives home this point.
We've felt pressure to control.
Over the last few years, we've come to terms with things we can and cannot control. For example, we cannot control how our adult kids choose to parent. It's not our place. Instead, we've learned to pray hard and offer wisdom when opportunities arise. Releasing the pressure of control to the Lord has been one of the healthiest things we've done as young grandparents.
We've felt overly responsible.
We quickly learned, much to our joy, that we are not solely responsible for our grandkids. (Praise the Lord!) When they are at our house, we give them our full attention. But when it's time for them to go home, we release them first to God and then to their parents who love them.
If you are struggling with undue expectations and sense of responsibility regarding your grandkids, it may be time to have a heart-to-heart discussion with their parents. Consider asking them questions such as:
- What do you consider my role to be as your child's grandparent?
- What would you say are my responsibilities?
- How can I support your parenting while being the best grandparent I can be?
While grand parenting is exhausting at times, it shouldn't be because of unrealistic expectations. Don't be too hard on yourself. Try to communicate freely with your grown children. Most of all, enjoy the grandchildren as much as you possibly can!
Children's children are a crown to the aged, and parents are the pride of their children. (Proverbs 17:6)
3. Feeling as though you missed out on the empty nest years
This issue has been one of the most difficult as a young grandparent. There was no empty-nest period between raising our children and welcoming our grandchildren. Even as I type this, with five darling grandbabies in my life, we still aren't empty nesters. Here are some ways I've put this issue into perspective.
Whenever my mind wanders to the "what ifs," I redirect it to "what is." This always brings about a deep sense of gratefulness for the current season I'm in. It also reminds me that God brought grandchildren into my life at the exact time He believed I was capable of truly enjoying them.
When I start to feel overwhelmed with the demands of work, home, ministry, and family, I stop and remember how important it is to prioritize. It is possible to juggle things well, when we put God first and family second. And, when something falls through the cracks—and it will—I try to give a lot of grace to myself.
My husband and I might not know what the empty nest years are like, however, that day will come and we will continue to move forward in the many blessings God has given us.
Teach us to number our days, that we may gain a heart of wisdom. (Psalm 90:12)
4. Feeling pressured to do all the things
I admit, I have a terrible habit of feeling like I have to do "all the things" every time the grandkids come over. There have been times when the dining room table has been covered with every board game we own, a dozen open cans of playdough, bowls of snacks, and finger paints—all while I'm trying to teach them an important Bible lesson! This only brings out the crazy in all of us!
As young grandparents, it's easy to bite off more than we can chew and try to over-invest in the grandchildren's lives. However, this only puts undo pressure on ourselves which will eventually lead to burnout.
In this article, writer Sarah Crow says this about over-investment. "Keeping [the grandkids'] expectations grounded in reality will serve you both better: they won't be sad when you can't take them to Disneyland every year and you won't be burning through your retirement fund to get them everything their heart desires."
She is right about keeping expectations realistic. This will ease much of the pressure to do all the things. Here are a few more ways I've personally dealt with this problem:
- I've prayed hard for God to give me a better balance between entertaining the grandkids and investing in what is most important—their little hearts.
- I've realized my time and energy is limited and I can only do what I can do. It may be that I only have a couple of hours to spend with them, and the best thing I can do is simply be attentive.
- I now try to plan one fun activity per visit and allow plenty of time for independent play. This has made a big difference for all of us!
While young grandparents do have special roles in the hearts and lives of their grandchildren, I've come to realize that only God can be their "All in All." As we navigate young grandparenthood, it would be wise for us to seek the Lord in all that we say and do. After all, He is the best One to help us deal with unexpected pressures in life—even when it involves really cute grandkids.
---
Jennifer Waddle is a Kansas girl, married to a Colorado hunk, with a heart to encourage women everywhere. She is the author of several books, including Prayer WORRIER: Turning Every Worry into Powerful Prayer, and is a regular contributor for LifeWay, Crosswalk, Abide, and Christians Care International. Jennifer's online ministry is EncouragementMama.com where Discouragement Doesn't Win. She resides with her family near the foothills of the Rocky Mountains—her favorite place on earth.
Photo Credit: ©Unsplash/Humphrey Muleba