How to Be Supportive Grandparents in a World You Don't Quite Understand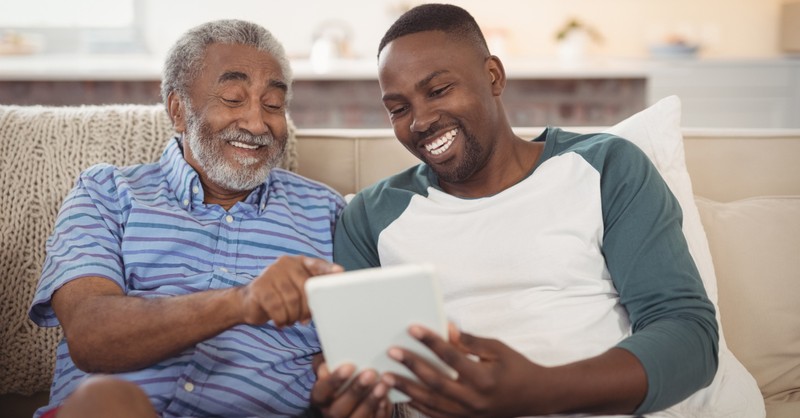 My youngest granddaughter is a growing up vegan in a one-parent home, where not a single television hangs on any wall of the household.
My middle granddaughters aged 4 and 5 are bilingual, learning their language skills from birth in both Spanish and English.
My oldest grandson, who is 10, and his pastor parents have lived in four different states and eight different homes. His younger sister aged 6, has joined in the adventure logging three states and four homes.
At their young ages, each one of my grandchildren has a firm grasp on how to watch a children's movie on a cellphone, and the older four can navigate a computer keyboard with some ease. None of them have had an overnight with a childhood friend, nor do they play in the neighborhood without close supervision.
All of them have boarded airplanes for flights across the country, and have used FaceTime and Zoom to stay in contact with friends and relatives far from their homes.
They are heard and seen, have minds of their own, and on occasion have been known to utter an outrageous thing or two. They are living through rapidly changing societal roles, racial unrest, and a pandemic, with one of them alongside her mama quarantined alone, as they dealt with the symptoms of Covid-19, all by themselves.
They have donned masks to go to school, or have been taught remotely through the computer, and have learned the concepts of disappointment and perseverance as explanations are given for why they cannot see loved ones at Christmas or their birthday.
Their parents are often more greatly concerned with the expression of their children's emotional state than they are with the skill of being polite, and the ever-growing understanding of concepts such as internet and in-person bullying, inequity in education, and failures of faith, leave our children parenting in a world that we did not have to face, and in a manner very different than we may have chosen to parent.
We are not the first generation to become grandparents who have found that they are looking at life around them in shock and awe, and realizing that they are living in a world that they do not understand. It is no longer "life as we know it."
Despite the ever-changing world around us, as grandparents we have a unique opportunity to dig in and support our children as they navigate the task of parenting in a difficult world. Here are 3 ways that you can assist your children in their parenting efforts that will stand the test of time in an ever-changing world.
1. Resist the Urge to Give Unsolicited Advice
Proverbs 12:18, instructs "The words of the reckless pierce like swords, but the tongue of the wise bring healing."
My oldest daughter often comments on how her father and I managed to take all five of our young children out to eat on a Sunday afternoon without an international incident. It may seem like a perfect opportunity for me to explain in detail just exactly how we were able to accomplish such a feat, and perhaps at the same time give her a well-timed parenting pointer or two.
To do so however would be a relational misstep, and a misunderstanding of the construct of good communication. My daughter was pondering, and perhaps even comparing her own eating-out experiences with her children to her childhood memories. To give her unsolicited advice at this time risks marring the joy of her memory, and rather than an open opportunity to give her advice, it may likely alienate her and leave her feeling judged.
Timely advice has the power to bring healing and help our children in their parenting endeavors. They will be most able to hear and receive sage words when they have asked for advice, and receive affirmation and kind and thoughtful suggestions.
We can prevent piercing and reckless words, by coming with a spirit of humility that knows that we cannot fully understand the world our children are parenting in, or their exact situations. Knowing what we don't know speaks volumes, and often builds a bridge to what we can contribute.
Our children need to know that we understand parenting is a monumental task, and that we see the world is ever-changing and often difficult.
As for me, while I had success in taking my children to local restaurants on a Sunday afternoon, my daughter has built esteem and a love for God and others in her children as they have had navigated changing homes, churches, schools, and states multiple times.
Words that might be used to give advice that has not been asked for, can just as easily be used to fulfill the call of 1 Thessalonians 5:11 to "…encourage one another and build one another up…"
Celebrate their wins rather than pointing to their flaws, and you may find they welcome the wise words that you have to share at some point in the future.
2. Be Curious
"It is good to be curious about many things."- Mister Rogers
I struggled as I watched my daughter-in-law speaking primarily in Spanish to our granddaughters, honestly wondering if they would have a hard time fitting in at school, or grasping both languages.
I needed the reminder that just as I have not yet seen the final chapter that God is writing for my life, the beautiful stories being written on my granddaughters lives are just at the beginning. Understanding and appreciating the plans that our son and daughter-in-law had for their girls, and their desire to give them a rich understanding of their heritage and culture came through a willingness to be curious and ask questions.
Throughout the gospels, Jesus examples for us the need to be engaged as students of life-long learning, desiring to grow not only in the knowledge of biblical concepts, but to grow in our understanding of one another.
To be curious is to have the attitude of caring enough about someone else to show a genuine interest in the different facets of their life.
If your child chooses to feed your grandchild a vegan diet, open up a cookbook, and help them prepare meals. If they are learning through Zoom, or homeschooling, engage with your child and grandchild, and ask how you can be a part of the process.
Learning with your grandchild builds common ground, and you will grow your relationship with them as well.
3. Wrap Your Children and Grandchildren in Prayer
Our children and our grandchildren are separate from us. It is a shocking and tender realization that we cannot fully protect them, nor can we breathe in and out for them.
There is a point in time when every Christian grandparent who truly loves their children and grandchildren, has to wrestle with the truth that we must fully release those we love into the hands of a God who loves them far more.
The Psalmist wrote, "I do not concern myself with great matters or things too wonderful for me." Psalm 131:1
He was making the honest confession, just as we must, that the world is far beyond understanding. It is simply too great. We may bristle as we think of our grandchildren having to wear a mask at school to potentially protect themselves or others from an illness. Or you may be saddened at their not being able to attend a traditional classroom.
We may lean into fear and frustration when we think about predatory dangers that rob our grandchildren of the joy of an overnight, or freely playing with friends in the neighborhood.
We may be concerned with what kind of world we are leaving them when racial tension, political divisiveness, and failure of faith abound. Still, we have the opportunity to seal our loving wise words, and curious caring involvement, with a faithful wrapping of prayer.
Jesus preceded every ministry and miracle with prayer, and when he prepared for the end of his time on earth, he prayed forward over everyone who would ever believe in him (John 17:20-23).
As grandparents we can pray as we go, wrapping our loved ones with ongoing prayer. If you want your children to grow as parents, pray for them. If you long to impact your grandchildren well past your lifetime, pray for them.
Let your silence be salted with prayer, your advice be preceded with prayer, and your curiosity sealed with prayer.
As you do, you will be able to face a world difficult to understand and entrusting your children and grandchildren to God, echo with the Psalmist, "I wait for the Lord, my soul waits, and in his word I put my trust." Psalm 130:5
Photo Credit: ©GettyImages/Wavebreakmedia
Stacey Monaco has been speaking and writing since her first unpublished children's book in the fifth grade. Her journey as a writer has taken her from the depths of blue water exploration, to the simplicity of crafting words to encourage and educate in the areas of loss, legacy, leadership, and living life passionately with purpose. Stacey received her Masters Degree in Christian Ministry and Leadership from Talbot School of Theology, and has worked in many roles from slinging coffee to pastoring women. To find more on living the Christian life with intention, head over to her website at StaceyMonaco.com.