4 Spiritual Secrets My Toddler Grandchildren Taught Me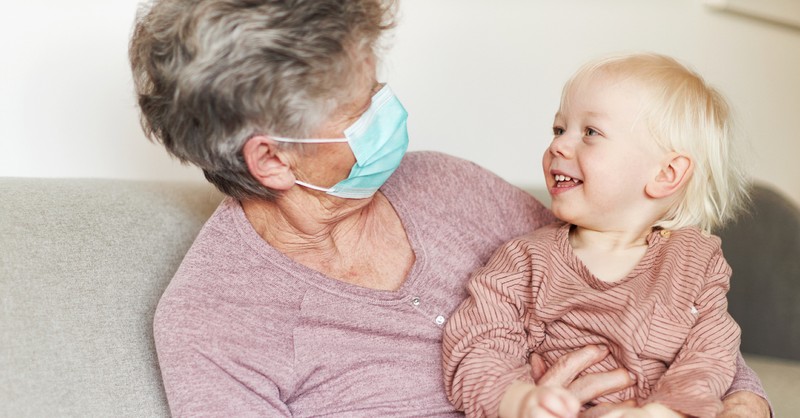 Two of my grandsons are brothers who live near me. I volunteer to babysit them one day a week while their mommy and daddy work.
Spending time with these boys reminds me why Jesus instructed his disciples in Matthew 18:13 to come to him like little children. Jesus knew some things about children that we need to be reminded of—and He indicates in Luke 10:21 that we should apply them to our grown-up lives.
Here are 4 spiritual lessons my little grandchildren taught me.
1. Crave What I Need—God's Word
Eli is screaming. He's not hurt or in any other real distress. He's hungry and mommy hasn't come up from her office in the basement to feed him as soon as he thinks she should. Just under a year old, he eats like a little vulture—demanding milk on schedule.
If he goes too long without food, he becomes what we call boy-hungry. Other people call it hangry. He. Must. Eat! Little children eat only when they're hungry, but they don't go more than a few hours between meals. As teeth come in, they discover solid foods—and even then eat often.
Just as infants develop into toddlers on milk, and then add meats to grow bigger and stronger, adult Christians begin their spiritual journey as babes who progress in maturity and ability to digest more complex truths.
We would be worried about Eli if he didn't want to eat, and his growth would be stunted if he never graduated from a milk-only diet. Mature Christians are those who learned the basics early on, and now are able to understand deeper concepts.
The writer of Hebrews compared "elementary truths of God's word" to milk. In Hebrews 5:12-14 he chastised the believers for refusing to grow up in their faith. In verse 14, solid food is compared to the ability to distinguish good from evil. The only way for us to grow—and gain this vital ability—is by reading and studying the Bible.
Let's not be like the original audience of Hebrews—lazy and unconcerned with deeper truth.
Interestingly, just like Eli, when we don't read and apply scripture to our lives every day, we tend to become irritable, demanding, and fussy. We might resist the remedy for our angst—like Eli's two year-old brother Connor, who doesn't think he has time to eat—but that only makes things worse. We must press the pause button on our schedules and feed our souls from the buffet table of God's word.
2. Don't Be Afraid of Risk and Failure
Learning to walk is tough on a body, but Eli is determined to do it. The trip across the living room is punctuated by two or three face-plants and one or two side-topples. In the end, he just crawls the last few feet because it's easier. But he never gives up.
He wants to be like Connor, who runs everywhere he goes. Eli thinks his goal is worth whatever it might cost him in bumps and bruises.
Do you believe gaining maturity in Christ and following His will are worth enduring pain and hardship? The easy answer is yes. But I don't think we usually take time to process what that might look like in real life.
Many times I hear Christians wondering why God allows them to go through terrible circumstances. I even asked that question myself when I fought cancer. I could not imagine a valid reason for being yanked from my regular life—doing what I knew was God's will—and thrown into such terrible suffering.
But today, eleven years later, I can't imagine not having gone through it. My body still bears the scars, but my relationship with Jesus Christ deepened in sync with the physical pain.
Now I'm able to help others who are faced with disastrous life circumstances in ways I could never have done before. I'm not the same person, inside or out.
Besides physical health, attempting impossible things for God—by His leading—carries a real risk of failure. But the big lesson for me has been that since it's His plan, not mine—and I'm completely dependent on Jesus Christ to provide the guidance and people required for the project—the pressure is off. I'm not responsible for the outcome other than to do my part.
If the whole thing comes crashing down, it won't be because I didn't follow God. It will be because He has a different plan than my definition of "success."
I want to be like Eli and attempt great things. At the end of my life, I want to be able to say, along with the Apostle Paul in 2 Timothy 4:7, that I fought the good fight, finished the race, and kept the faith.
3. Cultivate Pure Innocence
Young toddlers are still innocent. They don't have any hidden agendas or ulterior motives. I think this is what Jesus meant in Matthew 10:16 and what Paul referred to when he said we should be "innocent as babies" in 1 Corinthians 14:20.
This state doesn't last long with kids. By the time they get to be Connor's age of two, innocence has already fled.
Adults are more like Connor. Because of our natural sin nature, we want to be sure things turn out the way we plan—sometimes even if it means manipulating other people. As his grandparents, we are working with Connor's parents to help him rein in his desire to control everything and everyone.
This requires a change in his thought pattern. He must learn that the world doesn't revolve around him.
Like Connor, we also need to train ourselves to think in different ways. All of our dealings must be above-board, honest, and transparent. This isn't true just for business, but in our finances and personal relationships as well. We need to examine our motives in every situation and ask ourselves What do I really want to gain?
Peel away all the possibilities until the only remaining one is furthering the kingdom of God.
4. Give My Concerns to Jesus and Leave Them There
It seems like nighttime is when my brain whirls with all the unsolved problems leftover from the day. I guess it's because lying in bed is the only time I slow down long enough to really think through them. Thinking is fine—but worrying is not.
What is the difference? Worry comes when I cannot control the outcome. Thinking involves working out a process.
If I need to decide what to teach my Bible study class, I can think and pray through it without worrying over it. If someone I love is ill, I can't make them better and I might begin to worry. However, the right response is to give the situation to God and then leave it there, trusting Him to resolve it His way.
When Connor visits our house, he always wants to stay long enough to get ready for bed so he can take a bath. We have a set of colorful plastic, floating fish that he loves to play with in the water. When bath time is over, he collects all his "fishies" and drops them in the plastic jar beside the tub.
Then he puts on his jammies and settles in to read a book, the fishies far from his mind. After all, he left them where he knows they'll stay until he comes again.
We need to treat our problems like Connor treats his fishies. We can carve out a specific time each day to deal with the ones crowding our brains—such as right before bed at night. Pray them one-by-one into the Lord's keeping. Then we can more easily prevent worrying over them and fall asleep in peace.
It might even help to pray out loud. This way we can hear the words—and so can our spiritual enemies.
When we say the name of Jesus, his Spirit comes. The Holy Spirit will vanquish any mental darts Satan flings at us if we will just ask Him to do it.
Jesus said in John 14:28 that He gives us peace. So list your troubles to Him, and think about them as fishies. Drop them into His care and turn out the light.
Before we had grandchildren, I never would have thought about how much I could learn from preschoolers—even toddlers. One of the great joys of grandparenting is the opportunity to see the world through the eyes of our grandkids.
It's quite refreshing—and illuminating.
Photo Credit: ©GettyImages/2K Studio
Kathryn Graves, author of Woven: Discovering Your Beautiful Tapestry of Confidence, Rest, and Focus, and Fashioned by God, holds a BA in Psychology, is a pastor's wife and Bible teacher, and spent 15 years in the fashion industry. Kathryn is Mimi to five grandsons, and loves to play with color—including interior design, clothing, and painting with pastels. In addition to her website, find her on Facebook, Instagram, and Twitter.