10 Great Board Games That Are Worthy of Your Next Family Game Night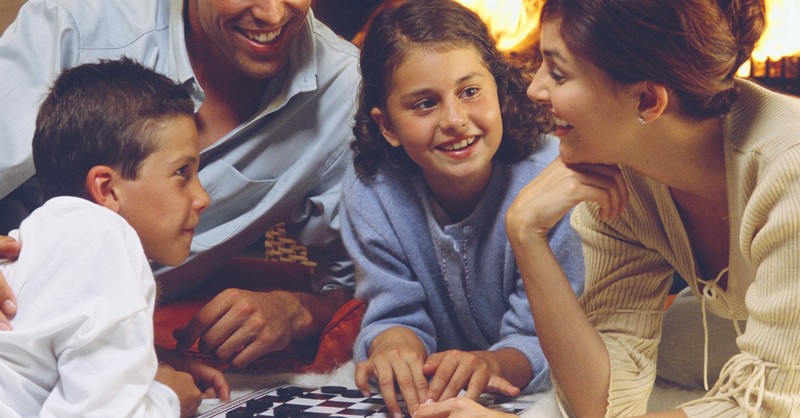 Editor's Note: This article is sponsored by The Rank Game. For more about this exciting new game visit TheRankGame.com.
Tired of cell-phone "snubbing"? People aren't good at being together anymore, and when they are, they're more interested in being on their phones. It's called phone snubbing, and it has pervaded our social culture. But one way to combat phone snubbing is by starting a game night with your family this holiday season and throughout the year.
So schedule some time to put down those phones and tablets and build your relationships. Here are ten of our favorite board games, guaranteed to make any family game night a blast!
Not every Apples to Apples game can be played by younger children, but this version of this classic game has cards based on events that happen in the Bible. In this game, a judge has an adjective card, for instance, "Good." Then, the players will place down a noun in which the adjective is modifying "Peter," "Paul," "Jesus," etc. The judge will choose which noun the adjective best fits and award the player who placed it.
Based on the original Taboo game, Bible Taboo, players of a certain team has to guess the contents of a card. Problem is, whoever holds that card has to describe who or what is on the card, without using certain adjectives.
For instance, if the card is "Mary" the person who has the card cannot say the words "Angel," "Virgin," "Jesus," "Holy Spirit," or "Bethlehem" to describe her.
In each round, the team will attempt to get as many cards guessed correctly before the timer runs out.
Ever played the game of telephone? Where you'd have to pass down a word or phrase by whispering it to someone sitting next to you, and after it got passed down a line, the person at the end would have to say what they heard?
Telestrations takes that game to the next level. Those who play this game alternate between words and illustrations. This game will make your family's sides hurt from laughter.
Have any logophiles in your family? This game is essentially Scrabble gone wild. Each family member receives a certain number of small square tiles from a banana case (yes, a case in the shape of a banana). The tiles are turned over, so the family members can't see the contents.
Each tile contains a letter. Family members will have to form words using the letters, and when one member finishes all their tiles, they call "Peel," and everyone has to grab a new tile to add a new tile, until the tiles run out from the pile.
Do you have any history nerds in your family? Timeline allows for players to guess when certain events happened such as "the invention of the laser beam" and "the invention of the printing press." People will guess when it happened, and see how close their guess matches the actual time the event took place.
However, do keep in mind certain versions of this game do ascribe to Old Earth theories and evolution, so if your family does not support those theories, don't play this game.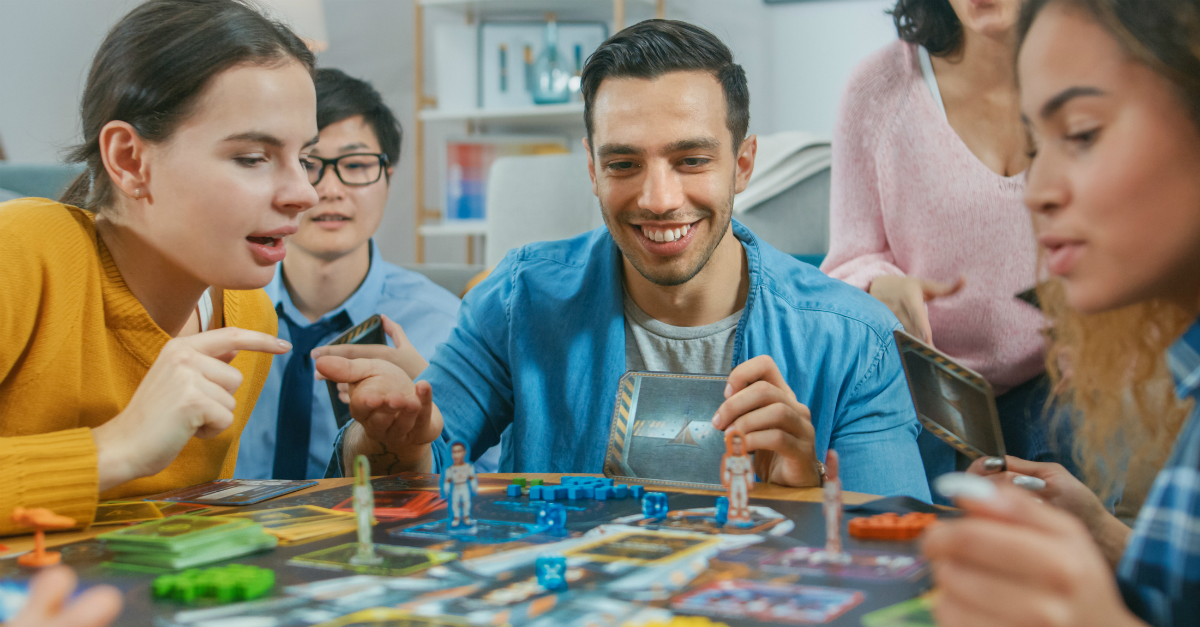 Photo Credit: ©GettyImages/gorodenkoff
Worried games like Monopoly will promote consumerism and selfish gain? Check out Bibleopoly, where cooperation wins the game, not accumulation. This game, for up to six players, lands players in Bible-themed squares such as "Go Meditate" square in place of the "Go Collect $200" square.
But watch out for that Abyss square!
Instead of taking body parts out of a person, you place animals inside the Ark, classic Operation style with a Noahic twist.
Thunder rumbles if you don't place the animal correctly into the ark. Make sure to get all the animals inside the boat before the floodgates of heaven burst!
Basically charades but with Biblically based actions or cards to act out. Up to twenty-four players can enjoy this game, by guessing actions such as "baptize" or "lamb".
The harder the word to guess, the more points you get. Try to guess as many as you can before time runs out!
Have any Bible experts in your family? Check out Bible Trivia, where trivia isn't trivial. Loaded with 1,000 questions, children six years and older will try to test their knowledge of the events that happened in the Bible and characters within.
Great for younger children as well as older, Chutes and Ladders has players work their way up to the top of the board. If they land on a square with a ladder, they ascend much faster. If they land on a chute, however, they have to go farther back on the board.
We live in a day and age where cell phones absorb most of our attention. Let's take family time back with clean, wholesome board games. We can avoid the cell phone snub and create lasting memories over the holidays as well as any other day in the year.
This article is sponsored by The Rank Game.
Not every board game is appropriate for every age, and every Chrisitan family. Enter The Rank Game, an exciting new family game that will help you build lasting relationships with other players by learning more about their likes and dislikes. Designed for full family participation, a ranker is given a list of four choices in a given category. For instance, their favorite movies, sports teams, etc. They will rank them from their favorite to least favorite. Then, the family has to guess how they ranked the four items. Whoever guesses the closest gets the most points.
"The Rank Game started with me asking friends and family on long car trips to rank their favorite movies, musicians and sports teams, a behavior that is completely natural for all of us," says game co-creater Chip Brown, a former Disney Studios producer, Bible publisher at Zondervan and Thomas Nelson, and parent of three. "We put structure around it, created categories, play-tested it and the result is a game that takes little to no instruction and something everyone can enjoy together."
"Most people assume that families spend their time at an amusement park on the rides, when in reality, it's the moments in-between the rides that consumes all of their time, and it's those moments that we can make more personal and meaningful," adds Chip's wife and The Rank Game co-creator Dana Brown, a former Walt Disney Imagineer. "The Rank Game's simplicity, mobility and accessibility means that it can be a part of our game night as well as our daily lives. By reclaiming our time back from technology, we can make our time more intentional."
You can pre-order your copy of the game here. And learn more about Chip and Dana and The Rank Game here.
---
Hope Bolinger is a literary agent at C.Y.L.E. and a recent graduate of Taylor University's professional writing program. More than 500 of her works have been featured in various publications ranging from Writer's Digest to Keys for Kids. She has worked for various publishing companies, magazines, newspapers, and literary agencies and has edited the work of authors such as Jerry B. Jenkins and Michelle Medlock Adams. Her column "Hope's Hacks," tips and tricks to avoid writer's block, reaches 6,000+ readers weekly in the Serious Writer newsletter. Her modern-day Daniel, Blaze, (Illuminate YA) released in June, and they contracted the sequel Den for July 2020. Find out more about her here.
Photo Credit: ©GettyImages/Goodshoot
---
Hope Bolinger is an acquisitions editor at End Game Press, and the author 21+ books. More than 1400 of her works have been featured in various publications. Check out her books at hopebolinger.com for clean books in most genres, great for adults and kids.