12 Ways to Help Your Kids Develop Faith that Lasts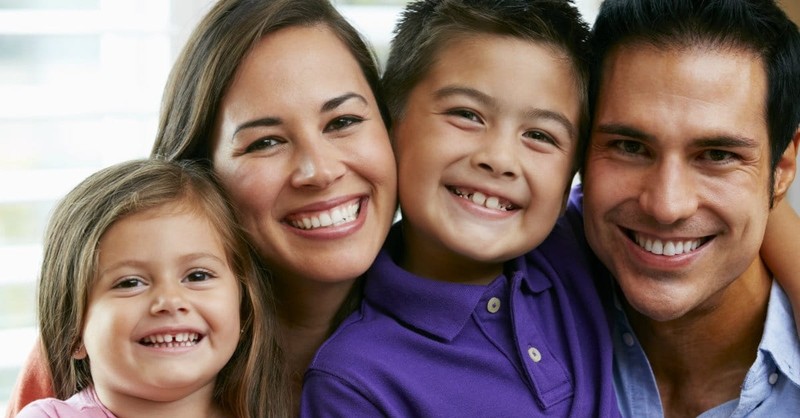 Editor's Note: The following is a report on the practical applications of Dr. Kara E. Powell and Dr. Chap Clark's book, Sticky Faith: Everyday Ideas to Build Lasting Faith in Your Kids, (Zondervan, 2011).
Tragically, many people who grew up as Christians end up drifting away from the faith once they become adults. Parents are heartbroken to watch their children leave behind the faith they'd hoped would become a lifelong priority. Meanwhile, God's great purposes for people He loves go unfulfilled.
But it doesn't have to be that way for you and your kids. You can help them develop "sticky faith" – faith that lasts and grows their whole lives long. Here's how:
Recognize how important your own spiritual example is to your children. The way in which you express and live out your faith has a greater impact on your children's Christian walk than any other factor. So pray daily that God will help you become the person He wants you to become, so you can set the best example of faith in action for your kids. Make your relationship with God your top priority in life.
Pray for your kids often. Regularly ask God to strengthen your children's faith and draw them closer to Him.
Teach your children what it means to trust Jesus. Help your children discern the difference between placing their trust in Jesus and trusting in something lesser, such as their instincts or their desires. Encourage each of your kids to focus on the quality of their relationship with Jesus rather than in how righteous they can make their lifestyle. Focus on relationship instead of rules. Tell them that God cares much more about who they're becoming as people than He does about what religious activities they do. Your children will eventually get burned out on religion, but pursuing close relationships with Jesus will give them ongoing excitement and peace, which will motivate them to stick with their faith.
Love your kids unconditionally. Ask God to help you love your children in the same way that He loves them: unconditionally. Modeling that love to them will help them understand and appreciate how God loves them, while also inspiring them to love Him back.
Use your resources wisely. Show your kids what it looks like to manage your God-given resources (such as time, money, and energy) wisely. Let them see how you struggle sometimes to make the best choices, and what a difference it makes in your life when you choose to trust God's guidance over making selfish decisions. As your children watch you manage your resources faithfully, they'll learn valuable skills that will help them live healthy lives, and they'll see firsthand how important it is to trust God.
Help your children discover their true identities. Encourage your kids to build their identities around the fact that they are God's beloved children, made in His image, with important purposes to fulfill in the world. Focus on their character development first and academic achievement second, rather than vice versa. Teach them to develop the character traits that Jesus models, such as kindness and self-control. Help your kids discover their God-given talents, develop them, and put them to use to contribute to the world around them.
Talk about faith with your kids. Be completely open and honest about discussing your personal spiritual journey with your children. Talk with them about how you've dealt with doubts, temptations, and sinful mistakes. Let them know how Jesus has helped you overcome challenges. When your kids know that you're comfortable sharing your thoughts and feelings about faith with them, they'll become more comfortable opening up to you about how they think and feel about faith. Be creative about how to fit quality conversations with your kids into your life – perhaps you can talk with them while you're in the car together, or while preparing for bed. Listen carefully and non-judgmentally when they talk with you, so and do your best to help them answer their spiritual questions while assuring them of your unconditional love for them.
Encourage your children to think for themselves about faith. While it's valid to communicate your own opinions about spiritual matters, it's important to let your kids have the freedom to think critically about what they believe, and arrive at their own conclusions. Kids who simply absorb their parent's views on faith without considering the issues themselves don't really make faith their own, and often fall away from faith. But kids who truly seek God for themselves will eventually find Him and enjoy real, lasting faith. So don't lecture your children. Instead, ask them thoughtful questions designed to encourage them to seek God for the answers.
Help your kids develop relationships with others that will nurture their faith. Encourage your children to befriend people of all ages, since intergenerational friendships will enlarge their perspective on faith. Make sure that your kids attend your church's main worship service often, in addition to any age-specific groups they participate in (such as Sunday school or youth group).
Give your children opportunities to work for justice. Urge your kids to serve people in need and work to right wrongs both in your local community and throughout the world. Find causes that matter to your kids, and join them to volunteer as often as you can. Try to build ongoing relationships with the people that you and your children serve, so your kids can see how God is at work transforming all concerned through your relationships.
Help your kids make the transition from high school to college well. Leaving high school for college can be dangerous for your children's faith if they're not prepared to take a faithful approach to starting their lives as independent adults. Too many teens become overwhelmed by all the choices facing them at this stage of their lives, stop thinking critically about their decisions, and then make destructive choices. Discuss issues like premarital sex, alcohol use, and time and money management with your teens well before they leave for college. Within the first two weeks after they begin college, help them find and connect with a local church and campus ministry group, since relationships with other Christians are essential for their faith to grow in college.
Trust Jesus with your children. As your kids go through natural ups and downs on their spiritual journeys, resist the urge to try to control them, and instead regularly pray for them, inviting Jesus to work in their lives in ways that go far beyond what you can do yourself. Foster a lifelong relationship with your children, letting them know that you'll be there for them no matter what. Then continue to live faithfully yourself and pray for your kids often, trusting Jesus to do what's best in their lives.
Adapted from Sticky Faith: Everyday Ideas to Build Lasting Faith in Your Kids,copyright 2011 by Dr. Kara E. Powell and Dr. Chap Clark. Published by Zondervan, Or., http://www.zondervan.com.
Dr. Kara E. Powell is executive director at Fuller Youth Institute and a faculty member at Fuller Theological Seminary. She has authored or co-authored several books, including Essential Leadership, Deep Justice in a Broken World, and Help! I'm a Woman in Youth Ministry. She is the general editor for The Fuller Youth Institute E-Journal and regularly speaks at conferences and seminars. She lives with her husband and three children in Pasadena, California. Visit her website at: http://www.fulleryouthinstitute.org/.
Chap Clark, PhD (Univ. of Denver), is Associate Provost for Regional Campuses and Special Projects and Professor of Youth, Family, and Culture at Fuller Theological Seminary. Chap's extensive books, articles, and videos focus primarily on relationships. Among his many books are Hurt and Hurt 2.0; Disconnected: Parenting Teens in a MySpace World(coauthored with his wife, Dee); and Deep Justice in a Broken World. Chap and Dee live in Gig Harbor, Washington. Visit his website at: http://www.parenteen.com/.
Whitney Hopler is a freelance writer and editor who serves as both a Crosswalk.com contributing writer and the editor of About.com's site on angels and miracles (http://angels.about.com/). Contact Whitney at: angels.guide@about.comto send in a true story of an angelic encounter or a miraculous experience like an answered prayer.