How to Respond When Your Child Tells You They're Gay
Meg Gemelli

Crosswalk.com Contributing Writer

2019

1 Oct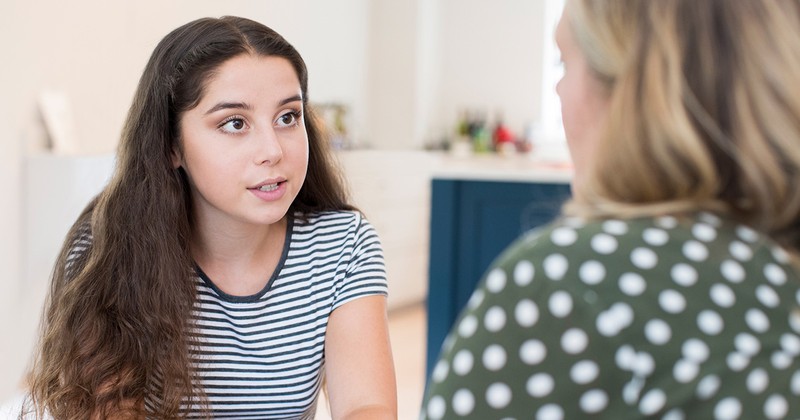 She'd always known her boy. She'd labored, kissed away the tears of his childhood, and prayed tediously over the distances brought on by his independence. The intimate knowing of mother and child—along with the pit of suspicion in her stomach—made certain that her son's same-sex attraction didn't come as a surprise.
Even so, it was a small town. A small church. A far-from-private affair. And as she sat next to her husband, weeping in the pastor's office, she struggled to absorb everything she was hearing:
Allowing your son to come home condones the sin. Send him away until he repents. The answer to this kind of sexual problem is tough love, not acceptance.
And there it was—a straightforward parental response to a misbehaving child, suggested by a respected member of the church. He'd expected his advice to sound as logical to the overwhelmed, grieving couple as not giving into a temper tantrum.
And yet, there was no peace...
No peace at all when the neighbors whispered.
No peace from the advice of those who could never relate.
No peace in Godly whispers, so contrary to the voices of human authority.
None. At least, not at first
Beloved, you might be facing conversations you never imagined having with your child. Perhaps you lay in bed at night, wondering if there's anybody who could understand how it feels to experience the death of this certain type of dream. But you can breathe.
If you're expecting judgment guised as "truth in love" within the pages of this article, you won't find it. The authors of repentance-only how-tos forget that parents navigating "ground zero" are uniquely qualified for a specific kind of ministry—fierce courage and love in crisis, not unlike that of first responders.
The preservation of life, and a masterful application of first aid, lays a foundation for the relationship repair and strengthening that awaits.
It's secondary to the initial admission of same-sex attraction. And so I come to you, not as a theologian, but as a practitioner of healing—a therapist guiding couples to navigate seemingly impossible conversations within a messy, imperfect faith.
So as we begin, let's cling to this simple truth together:
"There is no fear in love, but perfect love casts out fear. For fear has to do with punishment, and whoever fears has not been perfected in love." 1 John 4:8
Should you be struggling to find the words to meet your child where he or she is right now, let not fear force a reaction in you that would hinder God's plan for the future. God is love. That's true ground zero.
Here are some ways to respond when a child tells you that they're gay.
1. "I Will Defend You."
"Have mercy on me, my God, have mercy on me, for in you I take refuge. I will take refuge in the shadow of your wings until the disaster has passed." Psalm 57:1
You've likely noticed: parenting choices are put under the microscope the minute a couple announces pregnancy. The mother's diet, exercise habits, and delivery plan becomes public.
And once the baby is born, bedtime and discipline techniques become fair game for commentary. As it would seem, the bigger the "concern," the more bystanders feel emboldened in their advice giving.
Consider a few different types of people with me:
The overworked, single mom racking up credit card debt.
The guy who's struggled with confidence and weight problems since middle school.
The lady who married an abusive man, and secretly confides in her best friend's husband.
Do you feel a sense of compassion for these people? I do.
Depending on your understanding of the Word, these situations could be considered sinful. But many in the church have adopted "levels of sin," whereby some "struggles" are more socially acceptable than others.
Same-sex attraction has become a damning admission, while consuming unnecessary resources in repeated acts of gluttony are an American commonplace.
But no more than we would allow others to hiss words like "fatty, lush, or adulterer" in the direction of the individuals mentioned above, should we leave our children experiencing same-sex attraction open to unnecessary cruelty.
And I say this to you from a place of sensitive humility: There are times when we must not leave them exposed to the opinions of every member of the Church either.
Boundaries create safety. And defending your child doesn't mean that you must understand or agree with their every struggle, opinion, or choice.
It means acknowledging that they have dignity, and then setting them apart as humans created lovingly by a God who calls them to His purpose.
Refusing to allow others to cast stones is not condoning sin in any of its numerous forms, it's standing firm in the belief that no child of God deserves to be publicly shunned or humiliated, no matter the sin.
When there are no other words you can bring yourself to utter, speak "I'll defend you, my child."
2. "I Will Listen to You."
"A fool takes no pleasure in understanding, but only in expressing his opinion." Proverbs 18:2
I remember it clearly. 2003. I was twenty years old and attended a home church event in my neighborhood.
Shortly before the service began, a dear friend left with our group of coworkers, following a weekend visit with my family. He'd begun to identify as gay years before, and knew little of the Jesus we were about to worship.
I remember wishing that he'd stayed. He brought so much joy to others... how much more could he discover in the good news of the gospel?
He'd met a number of my neighbors over the course of that weekend, and most had been kind to the stranger who'd captured their hearts with his sense of humor and eager-to-please work ethic.
All but one.
It wasn't ten minutes into our church service that day, that the man living next door commanded the floor, explaining to the group that my friend was slated for an eternity in hell.
He confronted me in front of the gathering and demanded that I acknowledge my friend's sin—that I rebuke it on his behalf, as if that were even possible.
To this day I'm regretful to admit, that as a young woman with a lack of confidence in my scripture knowledge and an intense fear of conflict, I stayed silent.
And what was an opportunity to give and to take, to teach and to listen, passed us by.
My neighbor had never met someone experiencing same-sex attraction. He'd never considered that my friend's path could be just as lonely and confusing as his own struggles, perhaps even more isolating.
He'd never eaten at the same table or developed an intimate knowing of the soul behind the label.
In truth, the man had surrounded himself with people who were exactly like him and forgot the beauty of a teachable spirit. Of humility provoked by intense compassion.
When asked what one of the greatest fears of childhood is, the vast majority of youth will answer, "Disappointing my parents."
Your child's risk to share such a vulnerable confession with you is a practice in trust—one that you aren't likely to understand, unless you've been through it personally.
You don't have to plan your answers. And you certainly don't have to prepare as if this conversation is some sort of theological debate. There's no winner and no loser, just the sacred space between parent and child.
Can you see the real me...all of it? And can you still love who you see?
And when the years of secrets come tumbling forth, you'll go far in simply seeking to understand.
3. "I Will Mourn."
"He heals the brokenhearted and binds up their wounds." Psalm 147:3
What does it mean to mourn the death of a dream? For parents of same-sex attracted children, it may mean a number of things:
The loss of social norms and expectations, including traditional dating milestones, weddings, and grandchildren.
A loss of social support, friendships, church affiliation, and bias in the workplace, etc.
A loss of peace within extended family relationships.
A sense of responsibility for the attraction, faith guilt, or other types of self-blame.
Marital discord related to the acceptance and coping of each parenting partner.
Most children have already mulled over each and every one of these factors in his or her decision to tell you the truth. They're constant ruminations—what-ifs with a side of monster-sized fear.
Moms and Dads, you have full permission to mourn, and freedom to admit as much to your child. They already "get it." With every stage your son or daughter has gone through already, they've faced the realization that they were in the minority. And most have mourned along the way.
While the loss feels new to you, you don't have to pretend to be OK if you're not. You can admit how hard the information is to receive, while also staying present and available to the child who desperately needs you right now.
Sadness, confusion, numbness, and anger... all of these feelings connected to mourning are normal responses to this type of news. Allow God to touch those tender places as your thoughts and feelings begin to adjust, and reach out to a care provider who can help.
4. "I Will Keep Trusting God."
"You keep him in perfect peace whose mind is stayed on You, because he trusts in You." Isaiah 26:3
Good news Mom and Dad: That sweet child you've held tight against your chest, guided through teeth-grinding math assignments, and loved when they acted so unlovable—they have a Savior ready to wipe away their every tear (and it's not you).
If you've somehow gotten the impression that you need to do something to relieve the pressure on your child, spouse, or family, you can surrender the pressure to fix it.
And though I can't predict, dear reader, where you stand on the issue of same-sex attraction, I can assume that you've wished your family could just "be normal" at some point along the way.
But some things aren't "fixable" via the human hand.
Perhaps one exists somewhere, but I've never personally met a parent who's successfully "talked his kid out of a gay lifestyle." Have parents influenced their children greatly and led with inspiring faith? Absolutely!
But apart from Holy Spirit, there's little chance that any one person will successfully force conviction and repentance onto a child who doesn't believe they need it.
The most powerful action you can take right this minute is to pray. Bathe them in God's Word in the quiet places, and trust that He is still good.
Tell your son or daughter that you love them so much that you cover every part of their life in prayer every single day. Is it a job? A relationship? An illness or temptation? Ask them to guide you in ways to better intercede on their behalf.
Work, friends, and yes, sometimes even partner gender preference changes over a lifetime, but God's mercy endures forever.
Trust that He has the entire universe safely under His care, along with the issue of your child's sexuality.
5. "I Will Love You with an Everlasting Love…"
"Whoever does not love does not know God, because God is love." 1 John 4:8
Parents, I leave you with this final thought. No matter your response to the words, "I'm gay," you can choose to model a kind of love that covers a multitude of sins and help your son or daughter to do the same.
It won't be perfect. You may stumble and stutter. Your delivery may be awkward, and your tongue tied, but you, and only you, can make the choice to love your child for exactly who they are today....
Gay or straight. Gossip or gambler. Insecure. Dishonest. Broken. Adulterer.
We're all fallen, and not one of us is promised tomorrow. If faith the size of a mustard seed can move mountains, how much more can the power of God's love set all His people free?
Are you aware that every crisis is an opportunity?
You are the one to decide your attitude as you move through a difficult situation. The Apostle Paul says, "Making the most of every opportunity, because the days are evil" (Ephesians 5:16).
Yes, we are to make the most of every opportunity. How do we do that? I believe it is by seeing into every situation the opportunity for growth that is there.
What is the opportunity to trust God more? How can we grow in our awareness of His love for us, or possibly serving others? Practice today seeing every circumstance as an opportunity to have a positive attitude.
None of us deserve the grace and mercy of Jesus Christ crucified.
So don't wait to speak words of love over your son and daughter until they can "earn it," "straighten up," or "walk the line," because it may never happen.
The gift you've been given is only now. Here at ground zero. And with a knowledge that only God is in control.
Selah.
"I have loved you with an everlasting love; I have drawn you with unfailing kindness." Jeremiah 31:3
Related Resource: Listen to Our FREE New Parenting Podcast!
Christian Parent/Crazy World with Catherine Segars is now available on LifeAudio.com. You can listen to an episode right now by clicking the play button below:
---
Meg Gemelli is a Licensed Marriage and Family Therapist, and the founder of The Making of a Marriage. Along with regularly polishing her Crossfit participation trophies, she can usually be found Pinterest-failing in the kitchen, glamping with the fam, or reading a great book poolside. Whatever the challenge, she practices faith over fear every single day.
Photo Credit: ©Daisy-Daisy