Is Your Family Called to Foster Care or Adoption?
Dave Donaldson

Authors, The Compassion Revolution

2010

24 Feb
"David, your mother and I believe it is the right time to open our home to a young boy who has no home." I was sitting on my son's bed and trying to help him understand the decision that his mother and I had made. After much thought and prayer, we both felt that God was leading us to take in a young boy as a foster child. We knew that our decision would have an impact on David, so I was trying to explain why we had decided this and what its impact upon him would be.
"Son," I said gingerly, "to do this, we'll need you to share your room. We can take your double bed down to the basement and bring up the two twin beds."
He looked at me in total disbelief and a bit of panic. "Do you mean I have to share my room with someone I don't even know?"
I searched my mind for a way to help him understand as I looked out his bedroom window. It was a cold, drizzly day. "Look out there," I suggested. "If a young boy was out there and had no home, would you invite him in? If the boy had been passed from home to home, would you be willing to say, 'Come stay with us'?"
David stared out the window and did not respond. I could see the wheels turning in his brain.
"Pray about it and let me know what you think," I said, patting his knee. Standing up, I took another look at the miserable weather outside and went downstairs.
About a half hour went by, and then David came down and found me in the kitchen.
"Dad," he said, "let's bring up the beds."
Wrapping my arms around him, I said, "This earthly father is very proud, but it does not begin to compare with how proud your heavenly Father is right now."
David had to count the cost in terms of inconvenience, the loss of some privacy, and having to step outside his comfort zone. But all these concerns were dwarfed by the realization that he could not say no to a young boy in need. If we are going to consider helping children who need to be adopted or be provided with foster care, we'll have to think through similar issues. I hope that like David, we'll be willing to sacrifice some of our own ease to help others.
According to the Bible, we are all adopted. This is one of Scripture's most beautiful and meaningful images of our relationship with God. The apostle Paul writes, "He predestined us to be adopted as his sons through Jesus Christ, in accordance with his pleasure and will—to the praise of his glorious grace, which he has freely given us in the One he loves" (Ephesians 1:5-6). In the Roman culture in which Paul lived, adoption was a very serious matter.
Within Roman society…adoption was a legal reality. Under Roman law, an adopted child became a new person. He received a new name, a new identity. Adoptees were legally separated from everything that made up their past, and were given legal rights to all the wealth and fortunes of their new families!
Paul reminds us that when God chose us to be His children, He chose us and adopted us as His sons and daughters through Jesus Christ, out of His own pleasure and will! When we enter into relationship with Jesus Christ, we are adopted into the family of God. As in Roman adoption, we are given a new identity and access to the gifts that come from our new Father.
Doesn't it make sense, then, that we who have ourselves experienced the blessings of adoption by God should in turn reach out to those who need to be adopted or sheltered? James defines the quality of our faith by how we care for those without parents. "Pure and genuine religion in the sight of God the Father means caring for orphans and widows in their distress and refusing to let the world corrupt you" (James 1:27 nlt). We were separated from God our Father, alienated because of sin. Yet He found us in our orphan state and adopted us with pleasure. In the same way, when we align our will with God's and make room in our home for someone without a family, we practice "pure and genuine religion." Let that sink in. Our high calling is to lift lowly orphans up in their time of distress.
We can serve family-less children in many ways, but this chapter will highlight two ways that you might want to consider: foster care and adoption. These may not be options for everyone, but I'd like to challenge you to open your heart to the possibility.
Orphans in the USA
When we hear about orphans, we often think of children overseas in orphanages or living on the street in foreign cities. But approximately 500,000 children throughout the United States are in the foster care system, and 127,000 are still waiting for permanent adoptive families.
Ralph Berry is a former Baptist minister who left the pastorate to work with a private foster care agency in Northern Virginia. Here's what he says:
I see these beautiful kids enter foster care because they have been abused and neglected. For example, we had a boy who slept underneath his bed in the foster home for six months because that is where he slept in his birth home. [It was the safest place for him with all of the domestic violence that went on all hours of the day and night.] We had an eleven-year old who was pregnant with her mom's boyfriend's baby. We had three kids who had never been out of their home in their life. The dad wanted his two little girls back, but not the son. [The two little girls have been groomed by dad to be his paramours.]
It is heartbreaking to think what these kids have been through. When I asked Ralph why people should consider becoming foster parents, he replied, "To change the world one child at a time." He believes this is a powerful ministry that the whole church should embrace. We should be taking the lead when it comes to protecting and caring for these children.
Tear Down the Wall!
In 2004 I was asked by the United States Children's Bureau to host a historic summit between faith-based leaders and state government agency directors for foster care and adoption. The event began with the government workers on one side of a partition and the faith-based leaders on the other. I was scheduled to speak prior to the former Health and Human Services Secretary, Tommy Thompson. I pointed to the partition and looked out over the crowd of more than 800 faith-based leaders. "On the other side of this partition are well-meaning government workers who are trying to find a solution to the plight of more than 500,000 children currently trapped in a well-meaning but cold and impersonal foster care system. On this side of the partition, we are the Christian community, given a mandate to include these children in our families." I quoted what God has said in Psalms: God is "a father to the fatherless," and he "sets the lonely in families" (Psalm 68:5-6). Then, turning toward the partition and the government leaders on the other side, I stole a famous line from Ronald Reagan and declared, "Mr. Secretary, tear down this wall! We want these children!"
Make no mistake about it; these children will not remain in limbo while we make up our minds. Their futures are being determined every day that passes.
The very next morning after making this declaration, I received an urgent message from a government official stating that the homosexual community was mounting a national protest because they were not invited to participate in the summit. If we do not make room for kids without a family, other people who do not share our values are more than willing to snatch them up.
Wanted: Imperfect Parents
Across the nation, I have talked with many Christian adults who would like to become foster parents but have never taken that step because of fear of failure and the unknown. They recognize all too well their imperfections as parents. But perfection is not what is needed. Rather, these kids long for love and caring.
A few years ago the U.S. Children's Bureau produced several very creative commercials to recruit foster and adoptive parents. Their theme was "You don't have to be perfect to be a perfect parent." One of my favorites opens with a father and son playing musical instruments in their garage. The boy is on the drums and the dad is trying to play the saxophone. A close-up shows the boy grimacing as his dad squeaks up and down the scale, trying to find the right key. Then both the father and son glance at each other, smiling ear to ear, as you hear the voiceover, "You don't have to be perfect to be a perfect parent."
Another commercial begins with two boys playing basketball outside their home. One boy shoots the ball, and it gets stuck between the rim and the backboard. The two boys moan as they stare up at the ball, thinking that their game is ruined. Just then a mom enters the scene carrying a broom. She points the handle toward the basketball and dislodges it, much to the boys' glee. Again you hear the voiceover, "You don't have to be perfect to be a perfect parent." What these children need most is simply the presence of a caring adult. And as someone has said, love is spelled T-I-M-E.
What Do You Want with That?
Bob and Cheryl Reccord tell an amazing story about adoption in their book Launching Your Kids for Life. It illustrates so well the impact you can make in children's lives when you invite them into yours through foster parenting or adoption:
Several years ago, in the picturesque tidewater basin of the Virginia coast, three young boys were born in stair-step fashion. In a period of three years, all three had stepped into this brave new world. But not every child who steps into the world finds a pleasant or easy reception awaiting him. For these three, the journey ahead would be anything but smooth sailing.
The father, who was involved in the military, was an alcoholic. While some people become humorous when they have too much to drink, others take on a less than pleasant demeanor. This father happened to be in the latter category. Soon after the third son was born, the mother was stricken with cancer. Life became much more than she could handle. She was striving to take care of three children all under the age of three, she was battling cancer, and she was trying to cope with an alcoholic husband and father to her children. By the time her youngest was eleven months old, she gave up the fight and died.
The father now found himself responsible not only for a military career, but also for raising three small children. Sometimes he was up to the task, sometimes not. The responsibility and demands were more than he wanted to face. Compared to raising three preschoolers, the military was a breeze!
Also, the responsibilities got in the way of his enjoying a good drink now and then…or more often. When he got tired of the boys, he would throw them out to another home—any home—that would take them off his hands and give him a break for a while. When he needed to feel good about himself, or to claim financial aid for his dependent children, he would grab them back. Thus the cycle began: he would hand off the kids to others to get some breathing room, then he would drag the kids back and force himself into the role of a parent.
The cycle repeated until finally, having had all the fun he could stand, he threw the boys out for what was the last time. The three were passed from hand to hand and house to house, all the way from Virginia to southern Illinois, where they found themselves deposited in another home willing to take them in—at least for a short while.
Meantime, a young couple in southern Illinois had tried to have children but had suffered through three miscarriages and one stillbirth. The stillbirth had been traumatic because the baby had been discovered dead in the mother's womb. Physicians had not diagnosed it early enough, and so peritonitis had set in, which poisoned the womb of the mother. The doctors had done well to pull her through the trauma, but in the end they told her there was no hope for any more children in the future.
Hearing of the little fellows' plight, the young couple found their way to the home where the youngsters had been staying. They knocked on the front door. "We understand you have some little boys here who are in need of a home. We thought we'd come and see if we could be of any help." The gruff lady who opened the door quickly indicated that the two older boys had been taken by a couple, leaving only the youngest. "The brat's in the back! Take a look if you want to…it's up to you." With that she wheeled around and walked away.
Making their way through the house, they came to a back bedroom where the little guy was playing. It was obvious he hadn't been washed in days. He was sitting in diapers that had long since needed changing.
What was worse, the little fellow was covered with a disease called impetigo, which creates body sores that ooze with a puslike discharge. In other words, the boy was a ghastly mess.
Not to be deterred, the young wife gathered him up in her arms with no thought to the stains that immediately appeared on her new dress. "We'll take him! We'll take him!" she said. Shrugging her shoulders, the gruff home owner said, "Do what you like." And she let them out of the house.
They arrived at the local doctor's office and set the little boy on the examining table. When the doctor entered the room and saw the dirty and diseased child, the comment that came rolling out of his mouth before he could catch it was, "My God! What do you want with that?" Some people discount anyone who doesn't have beauty, brains, or bucks. This doctor was no exception.
But the young wife answered, "We're willing to take him because, if somebody like us doesn't, he'll never have the chance to become what God created him to be."
Does this sound like the beginning of a novel? Something you might see in a movie? Well, it is a true story. You've just read the beginning of Bob's own life.
The story doesn't end there. Neither of Bob's adoptive parents had finished high school. Both of them had challenging upbringings. But they loved him and shared the immensity of God's love with him. Bob's adopted mom encouraged Bob with thoughts like these:
"God has a special plan for you, and He's giving us the joy of being a part of it."
"God created you for a purpose, and we're committed to helping you find it."
"God knew your future even before you were born, and He's got a plan for you to fulfill!"
And when Bob became impatient, his mother would say, "Be patient, because God's not finished with you yet!"
Bob applied these lessons well. As the late Paul Harvey would say, here is "the rest of the story." This little boy that nobody wanted went on to become a successful pastor, a prolific speaker and writer, adviser to world leaders, and president of the North American Missions Board for the Southern Baptist denomination. He now directs a ministry called Made to Count, which inspires people to discover their calling in life and to effectively develop and exercise their passion for God and His mission. Only God knows how our love and compassion can change a life and how that life will be used—perhaps like Dr. Bob Reccord's—to change the world.
Making Room
I had the privilege of working alongside Terry Meeuwsen when I served at Operation Blessing for the Christian Broadcasting Network. Since 1993, Terry has been a cohost of CBN's The 700 Club. She also cohosts Living the Life and is director of Orphan's Promise. She is a busy woman. But more important to her, she is the mother of seven children, five of whom are adopted. Her latest book, The God Adventure, shares the story of her family's adoption of three sisters from Ukraine. She talks about how important God's leading is in the decision to adopt: "As individuals and as families we must always ask the Lord for vision and direction before doing anything. James 4:2 says, 'You do not have because you do not ask.' "3
Adopting a child, whether a child from the U.S. or a child from another country, is a big step, but do not let the fear of the unknown keep you from exploring further. Two of the best resources for answers to questions about adoption are Bethany Christian Services and Focus on the Family. Bethany Christian Services has found loving homes for more than 25,000 children since 1944 when it first began guiding adoptive parents through the exciting journey of international adoption. Christian musician Steven Curtis Chapman and his wife, Mary Beth, are among the thousands of couples who have adopted through Bethany. More information is available at www.bethany.org.
Focus on the Family has been at the vanguard in raising the awareness of the plight of orphans worldwide and challenging Christians to become "forever families" to these children. You might also want to refer to appendix 2 of this book: "Frequently Asked Questions About Foster Care and Adoption."
It won't always be easy, and compassion is rarely convenient, but countless foster care and adoptive parents will quickly tell you that your marriage, children, and home will be enriched by practicing "pure religion" that pleases God (James 1:27).
He Makes All Things New
During our training to become foster parents, our instructor handed each of the prospective parents, including my wife and me, a Styrofoam cup. He asked us to draw a picture of what we believed our foster child would look like. I traced the face of a young boy on the side of the cup, and others drew pictures of their own ideas about their soon-to-be foster children. When we were done, we all proudly held up our cups for the others in the class to see.
To our surprise, the instructor told us to tear our cup into pieces. I was puzzled, but I followed the odd request until a pile of Styrofoam pieces filled my hand. The instructor walked over to me and asked me to hand him the pieces. He looked at the pieces for a moment and then handed them back to me and said, "This is the foster care system. Here is your child. Now fix him."
I stared down at the broken pieces that represented my broken foster child. The instructor handed us rolls of tape to form the pieces back into a cup again.
"You might be able to restore the cup," he explained as we worked, "but the scars will always be there."
Suddenly I had an idea. I grabbed a new cup, drew the same picture of the boy on the side, and then placed the repaired cup inside the new one.
"What are you doing?" a lady next to me asked.
Holding up the new cup I declared, "My God, who loves this child even more than I do, can remove the scars and make him new!"
None of us will be perfect parents. We may think our home is unsuitable for a lonely child. We might say this is not the right time or stage of life to include a child. There are plenty of reasons not to become a foster or adoptive parent. But perhaps there is one reason to say yes—maybe God is telling you it is time. You see, the only way God can fulfill His promise to be a father to the fatherless is through you and me. Are you the answer to one of the 500,000 children praying to be accepted into a loving family? Will you open your heart and home and say, Yes, God, I will bring up the bed?
Sometimes the compassion revolution begins very close to home—in fact, sometimes it might even begin in our home.
February 24, 2010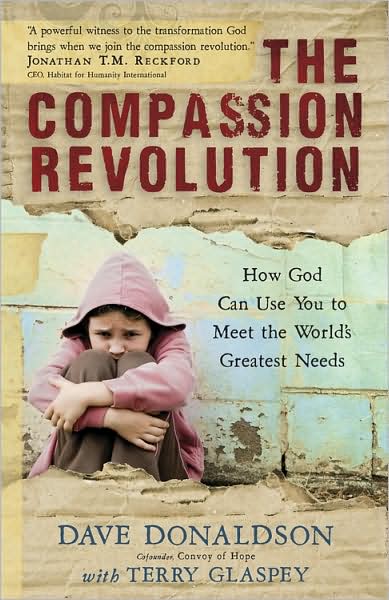 Excerpted from The Compassion Revolution by Dave Donaldson with Terry Glaspey (Harvest House Publishers, 2010). Copyright (c) 2010 by Dave Donaldson. Used with permission. All rights reserved.
Dave Donaldson is cofounder of Convoy of Hope, which feeds millions of people in need around the world, and is president of the International Charity Awards. Dave also created the Rock Solid Discipleship small-group curriculum, which has sold more than 400,000 copies.