1 Type of Screen Time That May Actually Bring Families Closer Together
Alex Abramiam

forcefield.me

2018

4 May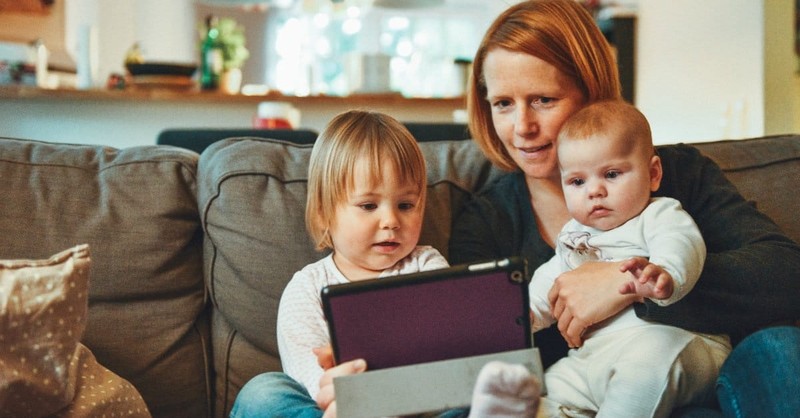 Too much screen time is the source of many family struggles: kids are distracted, sleep-deprived, and cranky; parents are stressed, annoyed, and worried.
Before you write off all time of devices as negative, however, there's one particular type of screen time that might actually benefit families by increasing family bonding.
Shared, or "intergenerational", screen time turns out to be the one consistently beneficial type of screen time that not only can help prevent arguments about devices, but can even create greater closeness between parents and kids.
Yep, that eternal source of conflict could also become a tool for closeness.
Researchers at the Arizona State University discovered that parents and kids sharing the video game experience cultivated greater family bonding, learning, and well-being.
Fascinating research from Brigham Young University has shown that tween and teen girls in particular benefit from playing online games with mom and dad. In a study of 11 to 16 year olds that involved 287 families, it was discovered that girls behave better, feel more connected to their families, and have improved mental health when they co-play video games with parents. But the research came with a huge caveat: those amazing benefits were only seen when the games were age appropriate.
Ready to try some shared screen time with your kids? Be ready for trial and error. I triedto love Minecraft with my son. No such luck. Then we discovered we both love Tasty videos on YouTube and even end up making some of the recipes at home. I used to make family photo books and calendars late at night alone. Then I realized my daughter loves graphic design, so making photo albums has become a shared hobby.  
So what are appropriate apps that can be shared between kids and parents? Here's a list of some apps with intergenerational appeal.
94% (grade school children, tweens, and teens)
Similar to Family Feud, 94% asks basic questions (What's the first thing people do in the morning?) and challenges users to come up with the most common surveyed answers. It's free with in-app purchases for hints. Keep in mind it comes with lots of annoying ads, but there is some serious fun to be had here.
Project Noah (grade school children)
Backed by National Geographic, Project Noah is mobilizing a new generation of nature explorers and helping people from around the world appreciate their local wildlife. The app lets kids upload their own photos and observations of nature around them, no matter where they live. Photos can be submitted independently, or kids can join missions to submit specific requested photos and help to document species. Kids can document those backyard squirrels, crows, and grasshoppers as well as sightings found in non-urban settings. Great for nature hikes.
Lego Movie Maker (grade school children)
Want to take Legos to the next level? Parents and kids create their own stop-motion movies with the intuitively designed app geared towards Lego lovers. Choose graphics, title tracks, and sound tracks, then use the app's camera to capture Lego figures in action. Put it all together and you've got a film all your own.
Heads Up! (tweens and teens)
This became a huge hit and it's easy to see why. This game is so insanely fun and can easily be played with older kids (although some categories, such as Academy Award Winners, won't apply). Some dexterity is required to get the hang of it if you're the one guessing.
Word Bubbles (tweens and teens)
This game is so immediately engaging. You swipe and connect letters to find hidden words. It gets harder and harder as you go and is best played together. So much fun! Free with in app purchases to buy hints (which you'll probably need at a certain point).
iMovie (tweens and teens)
Here's everything you need to make top-notch at-home movies that have a professional feel. With eight themes (including fairy tales, horror movies, and family flicks), each comes with titles, transitions, and soundtracks that carry that concept through. Use your own videos and photos, write your own credits and title tracks, record your own voice-over — this app gives you all the tools needed to become a budding Spielberg in your own right. (Parents of younger kids can try Video Star.)
Alexandria Abramian is Content Director for ForceField.
Photo courtesy: Unsplash.com