4 Ways to Eliminate Working Mom Guilt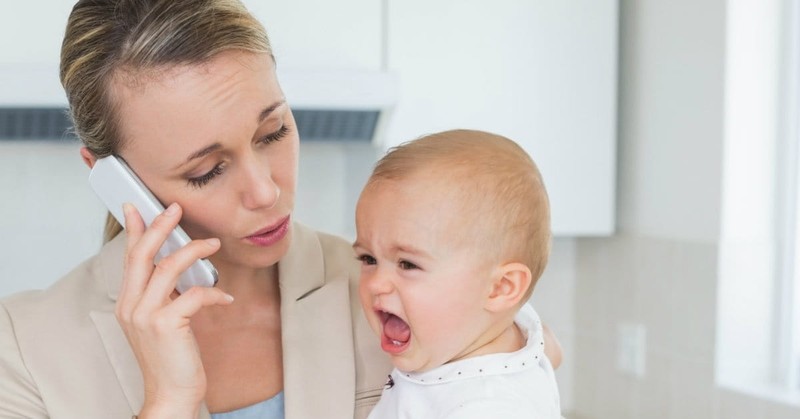 Those of us who are moms understand what it is like to juggle many things in life. The addition of children to our lives doesn't negate our other responsibilities, so amidst the blessing that is having children, we also get to figure out how to balance it all. Unfortunately, many moms who are attempting to balance everything in their lives find themselves under the heavy burden of guilt. The guilt comes in many forms, but it usually boils down to feeling like we aren't doing a good enough job of everything we are responsible for.
There also tends to be an additional thick layer of guilt occurring in working moms. Whether you are working full time or part time, by choice or out of necessity, having to leave your child(ren) to go to work can wreak havoc in the heart of a mom, and perpetuate the feelings that you aren't being a good enough mother (even more so for single moms who have the sole responsibility for providing financially and emotionally!) Having recently stepped into working part time outside of the house myself (from being a stay-at-home mom for almost 6 years) I have faced this guilt head on. My personal situation was a choice as I took a job working for my church doing something I love. This at times adds to my guilt because I had a choice in the matter, but I also know that this is something God has called me to do and my husband is fully supportive, so I know it's the right choice for me right now.
Regardless of whether you are a working mom by choice or out of financial necessity, the abundant life God wants for you (John 10:10) does not include continual guilt. When I faced these feelings of guilt, I knew they were not what God wanted for me so I prayed and read my Bible to see what God wanted to say to me about this. Here are a few of the things I felt like God laid on my heart, both for me, and for other working moms struggling with this same issue in their lives.
1. Practice Contentment
If you find yourself absent of contentment with your job, whether it be your position, your pay, your hours, or any other aspect, make it a point to seek out contentment in your current situation and embrace what you have in front of you right now. God knew what job you were going to have and when you were going to have it and He is not nervous about it! He's most likely the one who brought you the opportunity for your job! When you embrace contentment in your job situation, you then free your mind up to be at peace, instead of constantly wishing for something else and/or feeling guilty for what you are doing.
If you really desire a change in your work situation, whether it's more or less hours, a promotion, a raise, a different job or maybe even the opportunity to work from home, then I encourage you to pray about it, make your request known (if needed), make a plan and then give it over to God and be content until He changes things. Contentment will bring about the peace of God in your life and chase away the guilt.
"Not that I was ever in need, for I have learned how to be content with whatever I have." Philippians 4:11
"Don't worry about anything; instead, pray about everything. Tell God what you need, and thank him for all he has done. Then you will experience God's peace, which exceeds anything we can understand. His peace will guard your hearts and minds as you live in Christ Jesus." Philippians 4:6-7
2. Focus on Quality Time
Obviously as a working mom, the quantity of your time with your children is diminished to some point, but you can do what you can to ensure that the time you do spend with them is quality time. Do your best to eliminate time wasters in order to maximize the time you do have with your family. These can be things like time on Facebook, watching TV, and even sleeping in. All these things are very difficult for me personally to cut back on, but I know that spending more quality time with my kids during the time I do have with them, is more important.
3. Be Sure to Take a Day Off
God encourages us to take at least one day a week where you don't do any work (the Bible calls this a Sabbath) and it is for good reason! If your work is only outside the home then it should be a bit easier because you should have built in days off, but if you work from home some like I do, then this can be more difficult. In my house we designate Fridays as family day because my husband and I have the day off work and my son doesn't have school. I discipline myself to not check my work email or open my work computer on this day and to focus on spending time with my husband and kids (I also try not to do a ton of housework either because it's a fun day!) This day is very refreshing and freeing because this time helps bond us as a family, especially during busy times. I make sure to guard our schedule on this day and say no to things that come up if at all possible. If you can't take one full day off, try one evening and a different morning instead. The time with your family is what matters.
4. Allow God to Do What You Can't: Be a Perfect Parent
At the end of the day, working mom or not, we all are going to fall short of perfection in our lives because we are simply human. This is why God gives us His incredible grace.
"But he said to me, 'My grace is all you need. My power works best in weakness.' So now I am glad to boast about my weaknesses, so that the power of Christ can work through me." 2 Corinthians 12:9
To be perfectly transparent with you, my role as a mother feels like a huge weak area in my life. I get frustrated with my kids, sometimes I yell (and then feel guilty), sometimes I let them watch TV when I want a break and there are many times I honestly feel like a failure. However, this scripture helps me tremendously to know that when I am weak, God's strength can work through my weakness if I let Him. God knows my struggles and His grace is there to meet me when I make mistakes. My mom was a single mom who worked full time and while she wasn't a perfect parent as I was growing up (nobody is), what she did do is point me towards God and that was really the most defining thing in my life. When you feel like you are at your worst and can't live up to the ideal mom that is in your head, at the end of the day you can give your children and your parenting over to God and trust Him and His ability and He will take care of everything.
Publication date: January 8, 2015