Summer Vacation: Beating the Traveling Blues
Sarah Hamaker

Crosswalk.com Contributing Writer

Published

Jul 02, 2012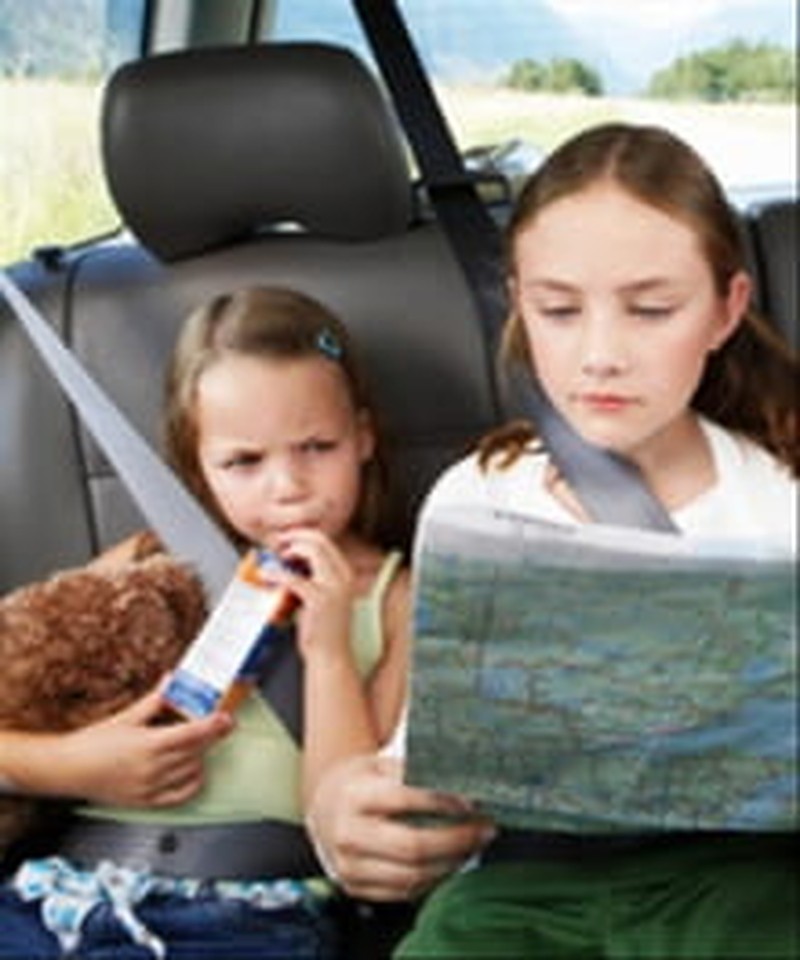 Thirty, 40 and even 50 years ago, parents piled the kids into the car for extended road trips during summer vacation and never overly worried about how their children would handle the travel time. Yet today, many parents seem overwhelmed by the thought of traveling any distance with children.
"I'm not sure parents thought nothing of piling the kids into the car, but I think they were not as anxious about what to do when the inevitable whining and sibling fighting occurred as today's parents are," adds Susan Davis Eppley, a parent coach.
Two summers ago, my husband and I encountered that mindset when we mentioned our trip to Maine, an 18-hour car ride from our Northern Virginia home. We broke the drive into two days. The most frequent question asked was, "How did you survive the car time?"
Our four children, who were 2, 3, 7 and 8 at the time, made the trip without any electronic devices—no DVD in the van, no handheld electronic games, no Angry Birds. Instead, each child had his or her own bag of in-car activities, including books, portable games, lace-ups, and a stuffed animal. With a minimal amount of fussing and fighting, we had a very pleasant drive to our destination and back home again.
With the summer travel season in full swing, you, too, can stop dreading the getting-to and going-home parts of your trip.
Vacation Missteps
While nobody can design a perfect getaway, a little planning and thought can help parents prevent a vacation derailment. "I think the biggest mistakes parents make is not communicating their expectations of behavior to their children," says Eppley. "Many parents believe they are at the mercy of their children's behavior, and therefore don't want to say or do anything to upset them. That fear allows the children to believe they are in the driver's seat (pun intended), and then the power struggle continues all the way to grandmother's house."
To counter that, parents should clearly state what is expected in relation to behavior while traveling. Remind the children of the car rules, such as keeping all body parts to yourself and no shouting. Pick two or three behaviors that absolutely need to be controlled in a confined space and relate those to the children.
Another mistake parents make relates to what the kids do in the car or on the plane. "I think the change is in our expectation of our kids and feeling like they shouldn't—or cannot—entertain themselves," says Susan Heid, who blogs about parenting at TheConfidentMom. "Today our kids are kept busy nearly every minute of the day, so to even think of putting a child in a car for any duration of time and expect that they can just enjoy the ride puts most parents into fear mode, expecting the worst."
That's Entertainment!
While it might seem easier to pop a DVD in to keep the kids quiet for the trip, reliance on electronic devices can rob a child of seeing the beauties around him and of interacting with the family. "When we rely on screen devices as our 'insurance' that our child will be entertained, it leads to a dependence on them every time your child rides in a car or airplane," says Heid. Instead, think outside the DVD or iPad box and use these easy and interactive ways to help kids stay busy in the car or on a plane.
Turn up the volume. "Audio books or stories and some kid-friendly music is a great way to create fun and interest. Listening to music still allows a child to observe the world around them," says Heid.
Author Melanie Dobson often travels with her husband and two daughters, using books on CD, such as the Chronicles of Narina or Magic Treehouse series to entertain. "I'm not a big fan of TV/videos in the car because I want them to be looking outside and talking to those around them, but I do enjoy listening to books on occasion," she says.
Simple is better. Give kids paper, pencils, a clipboard and fun stickers. Eppley recommends buying a new book or travel game for the trip. "Cracker Barrel has great word games for kids," she says.
The Dobson family recently took an 1,800-mile Oregon Trail car trip—all with only one toy for the car, plus a few books and coloring papers. "That one toy (along with a Happy Meal box and toy we got on the road) entertained them for days. They were so creative with the games they came up with," she says.
Interact with the family. Being confined in the car can spark interesting and fruitful conversations. "Make sure you, as the parent spend time having conversations, playing simple games and participating in the journey rather than just expecting the kids to behave," says Heid. "Engage with them and they are more apt to stay entertained and happy."
"We talk, talk, talk on our trips. It's our special time for us to connect with our kids. We like making up stories together to which everyone contributes," adds Dobson.
Have a snack plan. Figure out portable snacks, like granola bars and fruit leather, ahead of time. Give each child a refillable water bottle for the trip, too. Being able to toss back sustenance during a traffic jam that has delayed you can be a life-saver. Be sure to pack some baby wipes for cleaning up sticky fingers, faces and messes in the car.
Give a child ownership. Have each child pack her own backpack of parent-approved car toys, books and travel-sized games. "It is so much fun for them to unpack their backpack on the plane, and it entertains them for a long time," says Dobson. "They are responsible for their backpack, and this responsibility helps keep them engaged as we go through the airport."
Go on a car hunt. To engage children in their surroundings, talk about the scenery and all the different things that can be seen. "On road trips, we spot unusual things, like the tugboats down the Columbia River and the 'real' cowboy we saw riding his horse in Idaho, and write those down," says Dobson.
Schedule breaks. Remember that children, especially younger ones, need frequent stops. Plan your trip accordingly by stopping every two to three hours to get gas, take a bathroom break or eat lunch. Being able to stretch your legs will often keep everyone from getting too confined.
Plan for discipline. Riding in a car or on a plane for extended periods of time can trigger conflict. Expecting issues to crop up—and knowing ahead of time how you'll handle them—can help you to avoid big blow-ups.
"Have a plan in advance," says Heid. "Give your children clear expectations as well as what will happen if they choose to not comply."
"It's important to have a plan so that when the misbehavior occurs, and it will, parents are not thrown off balance," agrees Eppley. "They can respond in a calm, secure manner that communicates 'I'm in charge here' to the children."
When traveling, Eppley recommends using a ticket system because of its portability. "They are great to use for family vacations," she says, adding that she explains the system in detail on her website. Basically, tickets—small pieces of cardboard—are lost for misbehaviors you outline before the trip begins. You also explain the consequences for losing all tickets—and make sure it's something you can follow-through on if necessary.
"Imagine telling the kids they have three tickets each for a five-hour ride to the beach. You let them know that the price of admission to the water upon arrival is one ticket. Then, all you have to do is take a ticket from each kid if there's fighting, or whining or whatever short list of targeted behaviors you listed before the trip started," Eppley explains. "No screaming or idle threats are necessary."
With a little forethought, you can look forward to your family vacations and even have a positive experience while traveling with children.
Sarah Hamaker is a freelance writer and editor, and author of Hired @ Home: The Christian Mother's Guide to Working From Home. She lives in Fairfax, Va., with her husband and four children. Visit her at www.sarahhamaker.com.
Publication date: July 2, 2012