Is My Child Too Young to Learn Gratitude?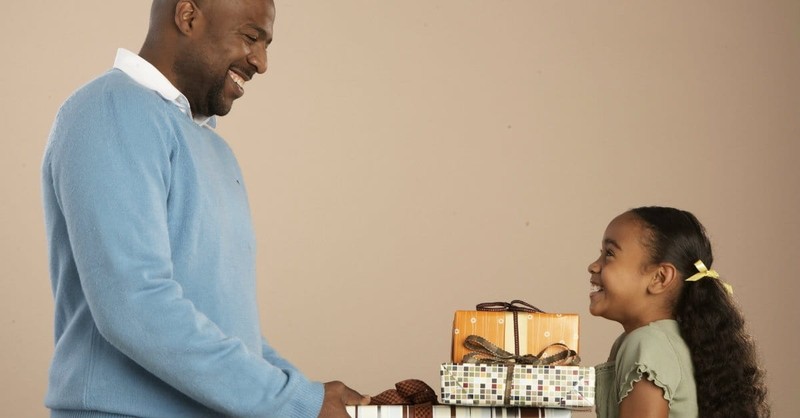 When my daughter was two, like a tyrant she would yell, "MILK!!!" Of course, this was my cue to pour her a glass of milk. But I refused to pour until she changed her words to "Milk please" and "Thank you."
Even a toddler can be taught to speak gratitude. Maybe you've wondered at what ages children can show gratitude. Is it reasonable to expect your five-year-old to draw a picture to say thank you for a gift?
In our book Growing Up Social: Raising Relational Kids in a Screen-Driven World, Dr. Gary Chapman and I outline some ages and stages of gratitude in kids:
By age two or three, children can talk about being thankful for specific objects, people, pets and experiences. A toddler can say, "Thank you for the doll" or, "That was fun. Thanks!"
By age four, in addition to being thankful for material things like toys, they can express thanks for hugs, affirming words, and other caring acts.
By five or six, kids can write their own thank you notes with some help from mom or dad. They can give a hug to a loved one, look them in the eye, and express their thanks. They can call a relative who lives far away to say thank you for a birthday gift.
By seven or eight, a child can keep a notebook where they write down a few things they are thankful for each day.
By nine, many children are mature enough to help with a service project with those who are less fortunate. Volunteering in a soup kitchen or orphanage can serve as a real eye opener for kids.
By their tween and teen years, your children can do just about anything you can to show and communicate gratitude to others. They can bake cookies for others, write thank you letters to teachers and youth leaders, or participate in a short missions trip. Dr. Chapman's fourteen-year-old granddaughter recently cooked an entire meal for her family to say "thank you" to her mom and dad for the work they do every day.
You don't have to wait until your children reach a certain age before teaching them about gratitude. All throughout their childhood, you can be modeling a thankful heart and training them how to express thanks in age appropriate ways. Here are a few ideas to help you cultivate a grateful heart in your child:
Scavenger Hunt – Equipped with paper and pen, go through your room and write down all the items you are thankful that you have.
Family Tree – Have your child draw a family tree, complete with parents, grandparents, siblings, aunts, uncles and cousins. Talk together about positive things you enjoy about each person. Pray and thank God for your family.
Fight Hunger – Volunteer at a food bank to help stock food in a warehouse, assemble bags of food, or distribute food. Talk about your experience over family dinner.
Save Money for a Cause – Sponsor a child through a relief organization, buy a well for a needy family in a third world country, or send toys to a poor family at Christmas. You can keep a jar in a central location so everyone can contribute their loose change and bills. Be creative – maybe you can skip dessert for a week and put the money you save into the jar.
Be a Good Neighbor – Bake cookies or brownies for your neighbors just because. Attach a note of appreciation "Thanks for being a great neighbor!" and have your children sign it. Deliver the cookies together and make sure your children see how the neighbors respond.
Operation Care Package – Have your kids outgrown some clothes or toys? Find someone in your school or church who has a child that would really benefit from those old clothes and toys. Make a big care package and deliver it to that family.
Write a Treasured Note – Have your child think of someone important in her life: a teacher, coach, pastor, or relative. Have her complete this sentence in her note: You have made a difference in my life because __________________.
Keep a Gratitude Journal – Have your child write up to five things they are grateful for each day. At the end of the week, have your child read the list aloud to the family.
Play Grateful Hot Potato – Have your family sit in a circle. It doesn't matter if you use a potato, ball, rolled up socks, or stuffed animal. The object of the game is to say something you are grateful for and then pass the hot potato to the next family member. If you can't come up with anything new to say within five seconds, you are out.
Now my little toddler who screamed "MILK!!!" is in first grade. I poured her milk yesterday at dinner and she automatically and sweetly looked up and said, "Thank you." What a difference from her toddler tyrant days – and I am so grateful.
When you teach your child the skill of showing gratitude, it will serve them well for a lifetime.
Publication date: September 1, 2015