Put Jesus on the Shelf this Season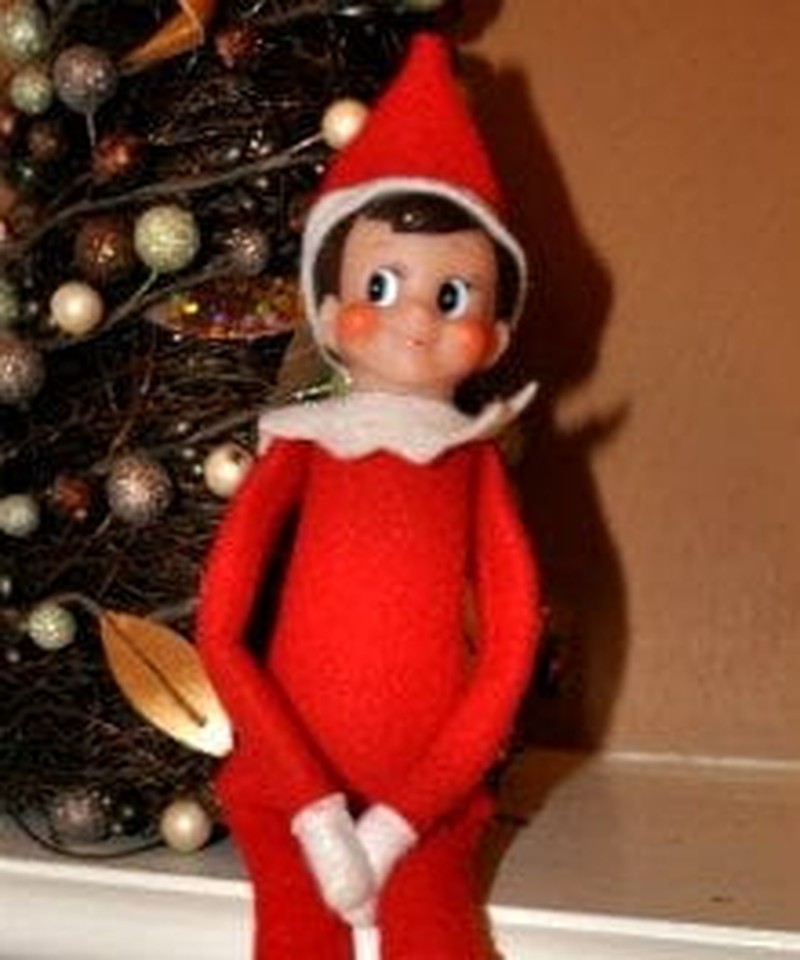 For the past five years, December 1st has marked the arrival of Elf on the Shelf in our home. It's a highlight of the season. You're probably familiar with how this works, but I'll fill you in just in case. Affectionately named Goody, our Elf's job is to observe our behavior and report to the North Pole every night to let Santa know if we've been naughty or nice. When Goody returns each morning we find him in a different location. Peeking out between the leaves of a silk poinsettia plant, dangling from the dining room chandelier or munching on some snacks in the pantry. We engage in a month long game of Hide-and-Seek with our felt-covered friend! (Some people claim their Elf on a Shelf gets into mischief while they sleep, but Goody is on the straight and narrow.)
The other day I was trying to figure out exactly why my children love this game with Goody. They are more excited for his arrival than they are for Santa – and Goody doesn't bring presents! Then it dawned on me – Goody brings out the best in them. He encourages them to be kind and helpful. And it FEELS great when you are your best self.
You know who does that for me? Jesus. Of course you knew I was going to say that. But what if I told you I was going to make Jesus my Elf on a Shelf? No, I'm not planning to create a fabric Baby Jesus and hide him in my house every night. (That might be frowned upon in some circles.) But here's what I am going to do:
Three Ways I'm Going to Put Jesus on the Shelf this Christmas Season
1. I'm going to look for Jesus every day. Just like my children search for Goody in anticipation first thing in the morning and then delight in his discovery, I'm going to make it my mission to seek Jesus in the most unusual places each day. I'm going to keep my eyes open for the presence of Christ in every corner and crevice of my life. I'm going to recognize his light in the grouchy sales clerk and the impatient driver honking his horn behind me. I'm going to marvel at his works shining brightly despite the bullying and terrorism and apathy and despair of our world. And when I find him, I'm going to jump for joy!
2. I'm going to let Jesus bring out the best in me. If I can keep Jesus – the reason for the season – at the forefront of my thoughts all month, then I won't get wrapped up in the consumerism and stress of the holiday. If I can search for Jesus first, then I'll give him an opportunity to guide me and challenge me and shift my priorities. I will let his presence bring me peace and joy – and let go of the stress and chaos inside me. I will lean on him to help me become a light in the darkness for others.
3. I'm going to have fun! Jesus loves all God's children – including me and you. And if we're planning to throw him a birthday party at the end of the month, I think he wants us to have fun with it! I typically spend the entire holiday season planning for other people's fun. Sometimes I forget to enjoy myself. So while my children are filled with joy for Goody's arrival, I'm going to take a break from my seriousness and have fun being a child of God. Instead of merely checking my list, I'm going to approach my holiday preparations with a joyful heart.
And you know what else? I'm going to make sure my children understand that while Goody is here for a month, Jesus is watching over us every day. That it's more important to be on God's side than it is to be on Santa's "nice" list. And that serving others is much more fun when there is joy in your heart.
How about you? What will you do to put Jesus "on your shelf" this season? Share your suggestions with us here!
Article originally appeared at TheresaCeniccola.com. Used with permission.
Theresa Ceniccola is The Christian Mompreneur—a mentor to moms who are running a business that supports their values of faith and family. As president and founder of the International Christian Mompreneur Network, she empowers entrepreneurial moms to build profitable businesses with wisdom and grace. Join the International Christian Mompreneur Network for free and receive the Ten Commandments of a Mompreneur toolkit!
Publication date: December 13, 2013