Pass On a Rich Inheritance to the Next Generation
Tonya Ruiz

Contributing Writer

2005

4 Mar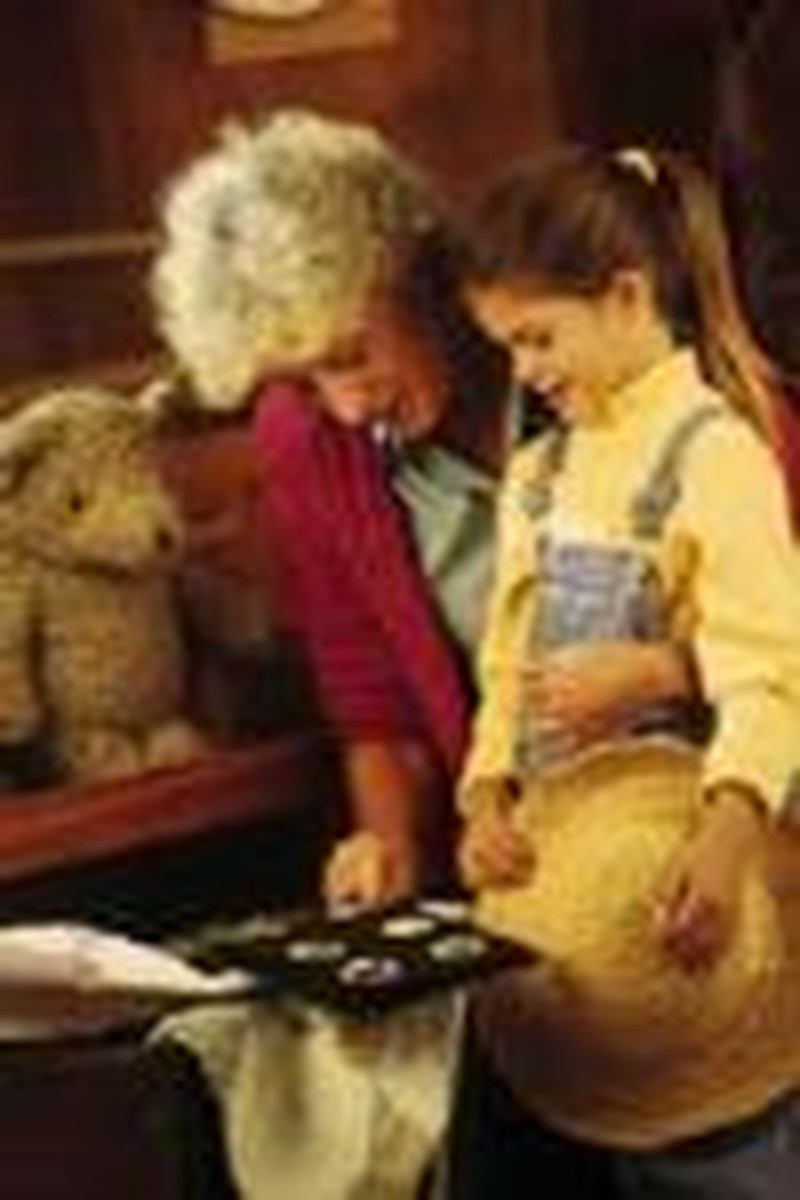 "When I call to remembrance the genuine faith that is in you, which dwelt first in your grandmother Lois and your mother Eunice, and I am persuaded is in you also." -- 2 Timothy 1:5 [paraphrase].
"The hand that rocks the cradle rules the world."- William Ross Wallace, Poet
"Was it because I drank Dr. Pepper when I was pregnant?" I asked the doctor when my son was born with slightly deformed fingers and toes.
"No, Syndactly syndrome is genetic and it can be corrected with surgery. Does anyone in your family have this?"
"Not on my side," I accused, looking at my husband, Ron who obviously had some weird relatives I had never met.
"Mom," I said over the phone that night. "Some of Jeremy's fingers and toes are formed together. It's genetic, but Ron said it's not from his side."
"I have a cousin who has webbed feet," She answered.
My husband smirked, "Who has the strange relatives?"
That night, I went to sleep and dreamed of giving birth to twin ducks.

A Family Resemblance
My husband's family might have normal fingers and toes but their noses are unique -- large even. My mother-in-law, Frances, gave birth to nine children and on each face is an identical nose. You can tell a Ruiz from a mile away. Two of our children have the Ruiz nose and two have my family's toes. At least we're even.
It's common to look like your kinfolk. A while back, my mother gave me a black and white photograph, so I framed it and hung it on my wall.
My husband came home from work and asked, "When was that taken? I've never seen that picture of you before."
"Ron -- that's my Great-Grandma Boone."
"The resemblance is scary," He replied.
And how about this for a family resemblance? Recently, my doctor called just to let me know that my cholesterol is up to 278.
"Are you kidding? After all this time on a low-fat diet?" I asked.
"Both your parents had high cholesterol."
"Well, this is another genetic trait that I could live without."
Fortunately, we've passed down more in our families than big noses, webbed toes and high cholesterol. There hasn't been any money, but there is Aunt Mabel's recipe for piecrust that we bake, the antique clock that winds with a key, many beautiful handmade quilts, and our love for fried green tomatoes just like my Grandma Denney serves.
And then there are those really special items passed down that I hope stay in the family for a long time to come.
My Favorite Heirloom
My all-time favorite heirloom is the Denney bassinet. It was purchased at a second-hand store in the winter of 1938 by my Great-Grandma Sadie Denney, who bought it for her newborn granddaughter (my mother).

It wasn't much -- just a used yellow wicker bassinet with a blue bow painted on the side. My mother slept in it and in the following years so did her two younger sisters and then a brother. It made the rounds when the next generation used it including my sister, brother, some cousins and me. My mom repainted it when I was pregnant with my first child. The wobbly, old legs were secured just in time for my daughter's arrival. Her sister, two brothers, and more cousins eventually slumbered in the bassinet.

Last June I asked my husband to dig the bassinet out of the attic and dust it off. You see, our first grandchild was on the way.
The Next Generation
Early one morning, we got the call from my son-in-law: "She's in labor and we're on the way to the hospital."
We arrived in plenty of time to greet the seven-pound-five ounce bundle that turned us into grandparents. And, yes, he does have the Ruiz nose, but his toes are fine. The next day they brought him home, and little Jude Lee Wingo become the 4th generation of my family to sleep in that Denney bassinet. With arms outstretched I began singing "Tradition" like Tevye in Fiddler on the Roof, but only until I woke the baby.
A Rich Inheritance
Maybe to some it would seem that we don't have a rich inheritance to pass on, especially since there's no significant financial inheritance waiting for the next generation. But I know that isn't true.
I open my Bible and turn to the book of Deuteronomy where it tells us that before the Israelites entered the promise land, they were instructed to teach their children about all the miracles that God did for them: how He helped them escape from Egypt, parted the Red Sea, fought their battles for them, and miraculously led them through the desert for 40 years. The Israelites were commanded to tell of God's wondrous works from generation to generation. It even tells them when to instruct their children: "when you sit in your house, when you walk by the way, when you lie down, and when you rise up."
Reading these passiages I realize that more than any other type of inheritance, God thinks it is important that we pass on our spiritual heritage -- so I hope they bring my grandson over to visit frequently.
• When I'm sitting in my house I will rock Jude, so I can tell him about all the incredible things God has done in my life.
• When we walk by the way I'll point out the flowers and the trees and let him spend time looking at God's creation.
• When we lie down at bedtime, I'll read him Bible stories.
• When he rises up in the mornings I'll bathe him and tell about how Jesus washes our sins away.
For Many Generations
Lord willing and the creek don't rise - as my Great-Grandma Sadie used to say - I will have many grandchildren, and they will all get to sleep in the Denney bassinet. I hope that many generations will eat Aunt Mabel's pie crust, and I plan on saving a few special keepsakes for each of them to remember me by. But most of all, I pray that our Christian faith will be passed on for many generations.
Many years from now, when Jude rocks his grandchildren, I hope he tells them about his special Grammy and how she taught him about Jesus.


Tonya Ruiz wears many hats as an author, speaker, pastor's wife, homeschooling mother, and grandmother who calls Southern California home. www.TonyaRuiz.com.