10 Practical Ways to Help Your Children Have Sexual Integrity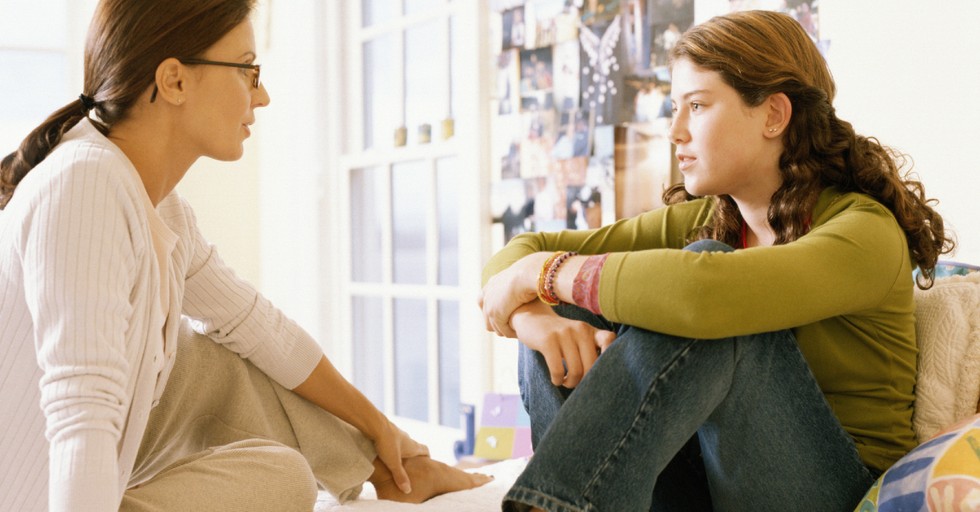 As Christian parents, we want our children to know, love, and live for the Lord. But, let's be honest, we also want earthly pleasures for our kids. For some, this list might include good grades, accomplishments in sports, college scholarships, financial success, etc. At the end of the day what it boils down to is that parents want their children to be their version of happy.
In this day and age, in the sex-craved society we live in, I would challenge you to add sexual integrity to your list of wants for your children. This, whether your children know the Lord or not, is far more important than good grades and financial success. Teaching your child to have sexual integrity is one of the best ways to ensure they have any version of happiness.
When it comes to sexual integrity, the choices our children make will impact their physical, mental and emotional health, not to mention defining their character, moral compass, and future relationships.
And what do I mean by sexual integrity? We shouldn't want our children having sex or being sexual before marriage, looking at pornography, or taking part in degrading or dehumanizing the same or opposite sex. Ever. The big question is, where do we start?
Photo Credit: ©GettyImages/Ryan McVay
1. Start with the Heart!

Slide 1 of 10

We don't wait until our children are teens to start teaching them to share, be honest, be kind, etc. So, why wait until our kids are teens to teach them to honor the Lord with their sexuality and to respect all men and women as image-bearers of God? Sexual integrity is something our kids need to be learning from an early age just like all the other godly attributes we try to instill in them.

The question we must ask our older children is, who do you worship? Yourself or God? We often overlook the fact that sexual sin ultimately goes back to idolatry. Because basically, idolatry is going to someone or something, other than God, seeking something that only God can give.

In the case of sexual sin, we are turning to lust for satisfaction rather than God. We are allowing our hearts, minds, desires, and imaginations, to be captured by a fleeting moment of pleasure, rather than being fulfilled in the eternal joy found in glorifying God by being sexually pure. It's more than appropriate to point your older children to what the Bible says about sexual immorality. But I would also encourage you to point them to the goodness of God, to Jesus, and to the cross. Remind them of Who they serve and why.

Photo Credit: ©GettyImages/Kieferpix

 

2. Remind them who they are in Christ

Slide 2 of 10

While we should always point to scripture when reminding someone who they are in Christ, it's also helpful to simply ask questions. For instance, a question for your daughter might be, "Are you choosing to wear that because it's really comfortable, or because you like how the guys look at you?" A question for your son might be, "Are you choosing to swim without a shirt because it's more comfortable, or because you like knowing the girls are looking at you?" Ask this in a gentle way that isn't assuming or accusatory, but rather is seeking understanding in humility.

While we all have different ideas of what "modesty" means, I think we can all agree that a big part of modesty is what's going on in our hearts. I'm not advocating that our kids intentionally dress in a way that makes them feel unattractive, but if we encourage our kids to sexualize themselves because they like how it feels, it's easier for them to justify sexualizing others.

So, reminding them who they are in Christ and that their worth is found within is a good place to start. It's also a good way to teach them to find worth in others by looking at their hearts, not their bodies. Remind them of 1 Samuel 16:7 (People look at the outward appearance, but the Lord looks at the heart) and pray they will see themselves and others the way the Lord sees us.

Photo Credit: ©GettyImages/Rawpixel

3. Lead by example

Slide 3 of 10

Do you, as a parent, have sexual integrity? If not, you can't expect your children will either. Do you watch TV shows or movies that show sexually explicit scenes? Do you tell or laugh at jokes that degrade or dehumanize others?What we as parents allow in our homes as entertainment sets the standard for our children.

What we should be doing is explaining to our children why we won't watch a particular TV show or movie. We should always take our reasoning back to glorifying God in all we do (1 Cor 10:31). And that includes what we do in private, meaning as parents we can't tell our kids we won't watch a particular show or movie, but then watch it in privacy after they've left the room or gone to bed.

Related: Listen to Our FREE Parenting Podcast!

Parenting in this day and age is not for the faint at heart. Mama Take Heart host Robrenna Redl is here to help equip and empower you with resources and practical takeaways, whether you're looking for ways to intentionally connect or to have hard conversations. So don't fret. Instead, take heart! Listen to an episode here, and then head over to LifeAudio.com for all of our episodes:

Photo Credit: ©GettyImages/Siri Stafford

4. Be open about your own sexual sin

Slide 4 of 10

Has pornography been a part of your life? If so, talk to your kids about it. Let them know firsthand how pornography affected you and if so, your marriage. Spend time doing research with your child on how pornography is linked to human sex trafficking. Spend time as a family praying for those who make a living from this industry and for those whose lives are ruined because of it.

This is also a perfect time to discuss God's design for sex, what the Bible says about lust (Matt 5:28 for example), and how giving in to this temptation is a sin against our perfect and holy God.

It's never fun to talk about our own sin, especially to our children. But our children need to know that temptations don't disappear once you reach adulthood. They need to know the struggle for sexual integrity is real and they need to see you fighting it. They will know how to safeguard their own homes one day by remembering how you safeguarded yours.

Photo Credit: ©GettyImages/digitalskillet

 

5. Talk about motivation

Slide 5 of 10

One thing kids learn early in life is that people disappoint. We disappoint others and others disappoint us. So, using people as a motivation to make good choices rarely works. In other words, fear of disappointing you or fear of being punished probably won't keep your kids free of sexual sin. We must help our kids stay focused on God and let Him be the motivation for sexual integrity.

Romans 12:1 tells us that in light of God's mercies, we are to present our bodies as a living sacrifice. We are to be holy and acceptable to God. In other words, we strive to live our lives in a way that is pleasing to God out of gratitude for His mercy.

You don't have to look hard to find evidence in the Bible that sexual immorality is NOT pleasing to God. So, point your kids to Christ, to the ultimate sacrifice He made--giving His life--that we might be forgiven of our sins and live with Him one day in paradise. This must be the motivation for you and for your children. To live a holy life because He is holy.

Photo Credit: ©GettyImages/monkeybusinessimages

6. Set up safeguards

Slide 6 of 10

Purchase a filtering program such as ClearPlay or Vidangel, explain to your children why you're filtering out the sexual content and show them that sex isn't what entertains. Lead with the example of honoring God by having sexual integrity and you have a better chance that your children will too.

Install accountability software on all devices. Companies such as Covenant Eyes provide accountability for the entire family--and when I say the entire family, I mean the parents as well as the children. Tell your kids you're being held accountable too because temptation is real and no one is immune, no matter your age.

Photo Credit: ©Unsplash/Lisa Fotios

7. Be in the know

Slide 7 of 10

Do you know what your kids are doing on all their devices? Familiarize yourself with the apps your kids use and ask to see their activity on a random basis. Explain that this isn't punishment, this is soul care.

Are you familiar with the video games your kids play? If the games promote degrading, dehumanizing, or dishonoring either gender, the game should go. And while you might have this under control in your own home, what about when your kids go to a friend's house? Make boundaries and expectations clear, and the heart behind it, so that your kids can be equipped wherever they go. Also, discuss with their friends' parents your standards and concerns so they can be on the same page.

Photo Credit: ©GettyImages/diego_cervo

8. Help your kids make a plan

Slide 8 of 10

We can't know when our kids will be subjected to pornography for the first time or when they will be in their first sexually compromising situation. What we can know, is that they will have a much easier time resisting and fleeing temptation if they have a plan.

Talk about how they'll get out of looking at an inappropriate image shown to them by a friend. Talk about the strength it will take to look away from an inappropriate image they see in private. Help them make a plan for telling their friends they don't want to play certain video games or watch certain movies. Set up boundaries for dating so they aren't put in compromising and tempting situations.

Photo Credit: ©GettyImages/natasaadzic

9. Be a trusted support system

Slide 9 of 10

The ugly truth is that we are fallen people living in a fallen world. We know all too well how easy it is to give in to temptation and sin against our holy God. Because of this, we also know that no matter how much our children know and love the Lord, they will likely fail when it comes to sexual sin as we too have failed.

One of the best things you can do for your children is to let them know you are there for them, even when they've sinned. Let them know you're a safe place for confession. Let them know if they come to you and confess sexual sin that your heart isn't set to punish them, but to help them.

Help them see the error in their ways, help them right themselves before their loving God and anyone else they may have sinned against. Help them; care for their souls, as your children, but also as your brothers and sisters in Christ.

Photo Credit: ©GettyImages/yacobchuk

10. Pray, pray and pray some more

Slide 10 of 10

Here's a pray to get you started:

Father God,
         Forgive us for taking your gift of sex and turning into something ugly, sinful, and destructive. Forgive us for not always fleeing from temptation and for worshiping ourselves rather than You. Because we know how hard this struggle can be, let us teach our children about sexual integrity with compassion and with the understanding that they are being raised in a world where everything about sex seems to be distorted. Allow us to guide our children in Your ways with gentleness and loving-kindness, not with anger or frustration over the guilt of our own failures. Please protect our children. Give them clean hearts. Give them a love for You that will surpass the sexual temptations they face. You say You will always provide a way out when we are tempted, Lord allow our children to see the way out and to choose that path. Give our children eyes to see the people around them as your image-bearers, not as bodies for their pleasure, entertainment, or ridicule. May our children love others with Your love and not be tempted to degrade or dehumanize anyone for any reason. Lord, we pray for revival and groan along with creation for the redemption of our bodies. In Jesus' name, Amen.

---

Beth Ann Baus is a wife and homeschooling mom of two boys. She is a freelance writer and author of the novel, Sister Sunday. In her writing, Beth often pulls from her own experiences of abuse, anxiety, depression, and OCD. Beth has a heart for women's ministry and is in the process of becoming a certified Biblical Counselor. She loves serving alongside her husband and pointing couples to the Word for strengthening their marriages and home life. You can find more from her at www.bethannbaus.com.

Photo Credit: ©GettyImages/AIPortraiture