The Single Mom and Her Rollercoaster Emotions
Pam Kanaly

Co-founder, Arise Ministries

2014

30 Oct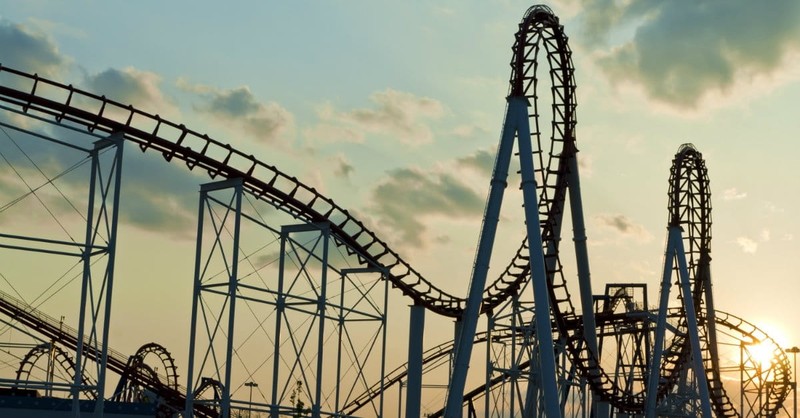 Being a single mom is the hardest job in the entire world! Why is that?  Because it's easy to feel like the frazzled passenger on a rollercoaster, twirling round and round from one unresolved pain to the other. So we ask, "Does anyone have a manual in calming these unresolved emotions?"
I don't have a manual, but I did write a book - The Single Mom and Her Rollercoaster Emotions - complete with God's answers to the clickety-clack track of bumpy emotions and how he is able to stabilize the runaway feelings of fear, loneliness, anger and more.
Let's coast through the book chapter by chapter. Do any of these obstacles relate to your single-mom world?
Chapter #1–From the Doom of Devastation to Accepting 'What Is'
Are you finding it difficult to let go and accept what is?  It's hard to accept "what is" when we want "what was" or "what will be?" God's Word comes alongside: I would have despaired unless I believed I would see the goodness of the Lord.  Wait; be strong, and let your heart take courage (Psalm 27:13).
Chapter #2– From Fear of the Unknown to Trusting in God 
I've never seen a single mom who did not struggle at some point with fear of the unknown. Physical challenges are difficult, but the emotional whitecaps that break over the top feel like the final blow in holding you under. God provides a solution. Psalm 34:4 comforts – I sought the Lord, and he heard me, and delivered me from all my fears. 
Chapter #3– From the Quagmire of Anger and Bitterness to the Release of Forgiveness
Did you know that anger is not a bad thing? It's a useful tool in leading to forgiveness. Ephesians 4:32 spoke to my heart as a single mom: Make a clean break with all cutting, backbiting, profane talk. Be gentle with one another, sensitive. And forgive one another as quickly and thoroughly as God in Christ forgave you.  
Chapter #4– From the Jitters of Anxiety to Resting in God's Peace 
What makes you anxious? Finances? The children? Another relationship? God's Word is true: An anxious heart weighs a man down. Anxiety can feel like our worse enemy when it interferes with daily life. Left unsettled, it creates critters more destructive than termites: worrymites. But we don't have to live under their torment.
Chapter #5 – From the Wilderness of Loneliness to Practicing God's Presence 
Ninety percent of single moms surveyed admitted to suffering from loneliness. As a single mom, I was one of those. God's given us his alphabet in showing us how to deal with alienation. In this book, you'll discover the ABC's of taming this painful reality. God's Word brings comfort: All deserted me, but the Lord stood with me and strengthened me (2 Timothy 4:16-17).
Chapter #6– From the Falsehood of Low Self-Worth to Knowing Your Identity in Christ
Do you feel like you don't matter? Compound that with feelings of rejection, and you'll find yourself swallowed up in a bubble of insecurity. But the truth is you can emerge as a woman walking in the fullness of what God says about you. You are not who you think you are; you are much much MORE!  In Christ you are a "brand new me."  
Chapter #7 – From the Swells of Guilt to Abounding in God's Grace 
I took a survey asking single moms why they feel guilty. Believing if you were a better mom, the children wouldn't be in this predicament. Fearing that your children are disadvantaged because there is no male role model in the home. Do these sound familiar? But take heart: God's grace covers every wrong, heals the past, empowers the present, and restores the future.
Chapter #8 – From the Rubble of Discouragement to Expectation of Victory 
Who doesn't love the sound of victory? God's at work even though you think not. If God subtracted one letdown or one failure, then you would be less than the woman you are now and ill-equipped for where God is taking you. You can enjoy victory. Do not grow weary in doing good, for in due season you will reap a harvest if you do not lose heart (Galatians 6:9).
You can do it as single mom, for you are not alone in what often feels like a rollercoaster adventure.  
From The Single Mom and Her Rollercoaster Emotions by Pam Kanaly © 2014 by Pam Kanaly used by permission of the publisher, Pelican Publishing Company, Inc. www.pelicanpub.com.
Pam Kanaly, popular author of The Single Mom and Her Rollercoaster Emotions and nominated by the Governor of Oklahoma for "Mother of Achievement Award - 2015 "-  remains one of America's leading advocates for single mothers. As founder of the single mothers' conferences – Survive 'N' Thrive, Pam exudes with a God-given passion in seeing women know their value in Christ. She is the co-founder of the national organization Arise Ministries, having been featured on the 700 Club and other national programs. www.ariseministries.net
Publication date: October 30, 2014