You're Going to Be Okay: An Open Letter to Daughters of Divorce or Separation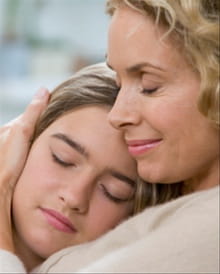 Dear Daughter,
When I was a little girl, my parents divorced. I don't even remember them together as a couple or us as a family because I was so young. Then, when I got a little older, my mom divorced again. This one, I remember. I remember the arguing and the tears, and I remember not feeling safe in my own home and wanting to be anywhere but there.
I went on to get married, promising myself I would never, ever put my own children through what I went through. And here you and I are.
Your father and I are ending our marriage. We are breaking up our family. And you are in the middle of it all.
I wonder if you have any idea how much guilt I carry around, knowing I'm putting you through all this pain. Do you know? Can you see it in my eyes?
I remember being a young teenager – just like you – and feeling the weight of my mother's sadness, of feeling the responsibility fall to me to cheer her up and carry her burdens with her, sometimes for her. And I look at you and I hope and pray that you do not feel that way about me.
I am supposed to be stronger than you. I am supposed to be the safe one. I am supposed to be your refuge. I am supposed to be your example. But there are days when I don't have enough strength for myself, let alone for the both of us. But you, at your tender age, already know that, don't you?
I know this is a very difficult time in our family. Trust me, I know. I know that everything feels shaky and uncertain. And I know that you are probably feeling everything from scared to angry to wounded and betrayed by the two people you thought would never hurt you. Can I tell you I'm sorry? I'm sorry for failing in the one relationship that was supposed to be your model for your future. I am sorry that my weaknesses are causing you pain. I hope you'll see one day that in my choices and decisions always, I've always had your best interest in mind. I am truly doing what I think is right. But I know it still hurts. A lot. (Even when you don't show it.)
But I have some good news, sweet girl. Some news that I did not know at your age because I didn't know Jesus yet. Some truth that I did not know to cling to when I went through my rocky childhood. These are things that you have heard me say probably more than you want to hear, but I want and need to say them again.
If I could tell you anything and you would never forget it, this is what I would want you to know:
The problems between your father and me are zero percent your fault.
It is not your responsibility to pick up the pieces or make me feel better on a sad day.
Your father loves you completely.
I love you completely.
You and your father are a family.
You and I are a family.
You do not have to go through this alone. More people love you than you know.
You are being prayed for.
No boy can fill the holes in your broken heart that my broken marriage caused. Only God can.
You are not doomed to a bad marriage. Do not be afraid to love and commit to someone (when it's time, of course…you know, like in about twenty years).
Choose your husband with care.
What is happening in our family is not a surprise to God; therefore, he is in charge.
There is no sin or no failure that will keep you from the great love of God.
God has said, "Never will I leave you; never will I forsake you." (Hebrews 13:5) In other words, God will always be there for you and his love can carry you through anything.
You're going to be okay.
I know we didn't see this coming…we wouldn't have planned this for our family. But darling girl, we will be taken care of by a Heavenly Father who cares about every detail of our lives and our hearts. Hold onto his hand, and he will hold you close.
Love,
Mom
(c) Copyright Elisabeth K. Corcoran, 2011
Elisabeth is the author of At the Corner of Broken & Love: Where God Meets Us in the Everyday; One Girl, Third World: One Woman's Journey into Social Justice (Kindle); He Is Just That Into You: Stories of a Faithful God who Pursues, Engages, and Has No Fear of Commitment (WinePress), In Search of Calm: Renewal for a Mother's Heart (Xulon), and Calm in My Chaos: Encouragement for a Mom's Weary Soul (Kregel).
Visit her blog here or watch Elisabeth and her friends spread hope through Africa with Samaritan's Purse.
Elisabeth is a proud member of the Redbud Writers' Guild.