12 Things I Wish I'd Told My Daughter before She Graduated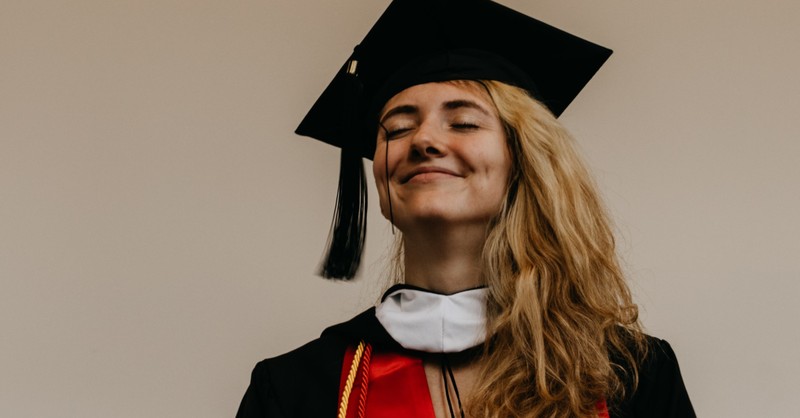 As the band played Pomp and Circumstance and the hopeful, smiling graduates filed in, my heart filled with dread, thinking: Someday my kids will be graduating—and then they'll leave home (maybe forever).
And it wasn't long until my daughter marched into the same auditorium, wearing a cap and a gown and a glowing smile. It felt surreal. I wondered: How did she get here so quickly? I held it together pretty well during the graduation ceremony and the dinner afterward, only to have a really ugly cry late that night, drowning in the fear of the unknown:
Could she handle college work?
Would she make good decisions?
Had I prepared her well enough for . . . life?
If your kids are graduating, or even close to graduating, you may feel the same way.
My prayers are with you. Graduation can be very stressful for parents. You may feel a lot of conflicting emotions:
Wanting both to draw near and to let go.
Tearing up when you should be laughing.
Reminiscing one minute, looking ahead the next.
I get it.
Overall, my daughter had a wonderful college experience. But just to be honest, she did have some really tough times, too. Yet surviving the struggle, without my constant hovering and micromanagement, made her so much stronger. Now that she is an adult, I'm amazed (and very grateful) for who she has become.
Throughout her college years, I saved bits of wisdom in my journal, things both she and I learned, as she grew and faced new challenges. And I'd like to share these with you now, as graduation nears, to cause you to carefully consider what you want to tell your children when they graduate.
12 Things I Wish I'd Told My Daughter before She Graduated:
1. Stay close to the Lord.
There is an empty space in your heart that only He can fill.
Don't try to fill it with activities. Substances. Achievements. Or significant others. Make time for the Lord. Read His word. Pray. Worship. Feed your soul every day. (My book, Seeking a Familiar Face, can help).
2. Feeling lonely sometimes is completely normal.
Leaving home is a really big change. Sometimes, you will miss the comfort and stability of home. But that's part of the process.
While loneliness feels lousy, it can be a great motivator to help you reach out and make new friends. Good friends can become your surrogate family while you're away from home. Lean on them for comfort, advice, and strength.
The Bible says: "Two people are better off than one, for they can help each other succeed" (Ecc. 4:9).
3. It's okay if you don't have your life planned out.
Most people don't. Maybe you know a few kids with immense talent and drive who know exactly what they want in life. Don't envy them. Even if it seems like they have their act together—and you don't, don't despair.
Here's why: no matter how much you plan, life doesn't usually go according to plan.
So, it's okay if your future isn't totally mapped out. You have plenty of time to discover what you were born to do. Set goals for yourself, use your gifts, and head in the best direction you can. Be mindful, so that when you do discover your "thing," you'll be ready to soar.
4. What makes you different is what makes you great.
You'll never influence the world by trying to be like it. You'll never find your calling by following the crowd.
God made you different for a reason, and what sets you apart links to His plan for you. So listen to that quiet voice inside you and remember yourself as a child.
Cling to the passions you had in your early years, because they hold more answers than you know.
5. Discover who you truly are.
The college years are foundational years; don't live them by default, merely reacting to what's going on around you. Define who you are, what you believe and who you want to become.
Be specific. Write your life statement down in a journal and date it. Pray over it and try to live by it.
6. Aim for progress, not perfection.
You will make mistakes. I did, too. Forgive yourself and move on. If you fall, get up again. Accept God's forgiveness, knowing He still loves you, mistakes and all (Rom. 8:34-38).
Remember to surround yourself with like-minded people who won't drag you into making further mistakes.
7. Find a few true friends instead of striving for mass popularity.
Be friendly to everyone, but be sure to reach out to people who have similar beliefs, dreams and goals. Friends affect you greatly, so choose wisely (Proverbs 22:24-25). If someone does not respond to your friendship, accept it and move on to someone else.
And remember, you always have a friend in Jesus (Jn. 13:34-35).
8. Be yourself, but also be open to growth and change.
Ask yourself: What's it like to be around me? Am I annoying? Self-centered? Rude? If so, then stop it. Be painfully honest with yourself.
Ask God to show you what you need to change and work to change it. Let the Lord help you become a better you (Ps. 16:5-11).
9. Failure can make you stronger.
You may fail a class or two, but don't give up. Failure doesn't have to be a terrible thing—each failure can help you grow, if you're willing to learn from it. Michael Jordan, one of the most successful basketball players ever, once said, "I've failed over and over again. That is why I succeed."
Even though it hurts, failing can teach you far more than success can.
10. Make the most of your college years.
You only have the college experience once, so make the most of it. Become a zealous learner.
Be willing to try new things and to take some risks. William Ward once said, "Opportunities are like sunrises. If you wait too long, you will miss them." Don't be afraid to embrace the opportunities the Lord sends your way.
11. Protect yourself.
Have the courage to get up and walk away from a bad relationship. Consider the long-term effect of your behavior. Being mature is being able to choose what you want in the future over what you want right now. It's time to mature.
Don't wait until you have made a lot of mistakes. Protect your body. Protect you heart. No one else will.
12. You can do it!
Believe in God. Believe in yourself. Disbelief only drags you down. Dare to dream big dreams and then go after them. The Lord can help you.
The Bible says, "Commit everything you do to the Lord. Trust him to help you do it, and he will." (Ps. 37:5) Remember, you can do great things, not because you're great, but because you have a great God.
Draw closer to the Lord first, and then, swing for the fence!
Related Resource: Listen to Our FREE New Parenting Podcast! Christian Parent/Crazy World with Catherine Segars is now available on LifeAudio.com. You Can Listen to the First Episode Now:
Photo Credit: ©Unsplash/Seyi Ariyo
May Patterson has been writing and teaching Bible study classes for years. Recently she released her first book, "Seeking a Familiar Face." Now, she has just released its companion Bible study workbook. May trained in small group dynamics for over ten years with Bible Study Fellowship, serving as a leader for four years. She has written for various magazines including Focus on the Family, Upper Room Magazine and iBelieve, and is a sought-after public speaker. May is married to her dear friend, Mike, and they have three grown children. She loves to tell stories, laugh, and talk about the adventure of seeking God. Read more from May by visiting: http://www.maypatterson.com.