15 Things to Do with Your Family While You Are Quarantined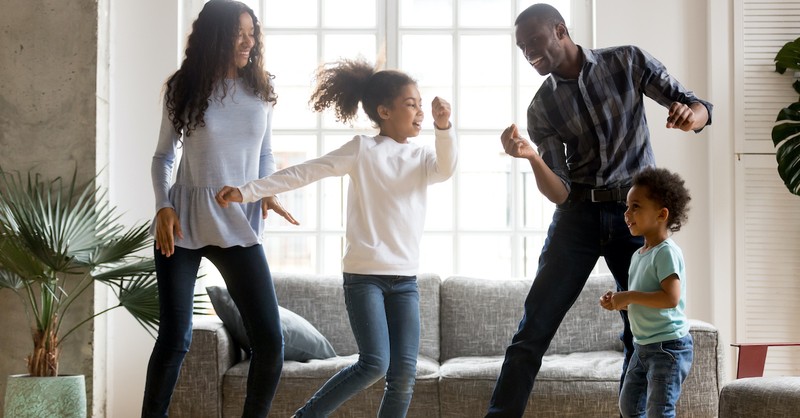 In hopes to defuse and prevent the spread of the COVID-19 or Corona Virus a nationwide quarantine has come about nearly overnight. Many schools across the country have closed down for a minimum of two weeks with the potential to be longer. Many jobs have shifted to a work-from-home status or closed until the end of March. The White House has also asked for groups to be restricted to less than ten in efforts to social distance. Social distancing will help reduce the risk of being infected with the virus and help to contain those who are sick until they are well. Quarantining is wise for protection, but it does not have to be a time filled with fear. This can be a time of rest and real connection with your family while staying home to stay safe.
Here Are 15 Things to Do With Kids and Teens During the Quarantine
1. Play Board Games, Trivia Games, or Break Out a Puzzle
Playing classic board games or trivia games has been a great pastime for snow days or long summer afternoons because they provide hours of entertainment. Classic games like Monopoly can bring out some healthy competition, while games like Apples to Apples bring about roars of laughter. Trivia games will test your knowledge, and you just might learn a thing or two along the way! Puzzles are another great way for the family to strategize together and offer each person something to work on until the final result is achieved by all. Playing games like these can also be a much-needed break from screens; it allows you to look at other people in the room and have discussions while being entertained. This is an activity that gets the whole family involved whether young or old, and it has the tendency to produce cherished memories of family fun and laughter. Nymag.com offers a list of best family board games from Amazon.
2. Journal the Experience for Historical Record
A nation-wide quarantine is quite rare, and most definitely will be written about in history books for years to come. This is a great time to write a record day by day of not only events on the news, but of personal opinions and perspectives. What a gift it will be to a later generation to feel as if they were living in the events themselves as they read these entries, and they will serve as a time capsule for us to reread in the future of what life was like during such an age. If you have children of reading and writing age, assign a day to each child and rotate with that person being the family notetaker for the day. What did we do that day, what is the best memory of the day, who laughed the most, who did we pray for, what did we eat, did we learn anything new? It might be fun later for kids to read back over the quarantine journal and remember how the family bonded during a time when usual activities were put on hold. Like the games idea above, it's another strategy to reduce screen time and get family members involved in each other's lives. Kids could even create a family newspaper to practice writing skills and might have fun playing journalists finding out what each family member is focusing on for the day.
3. Host a Favorite Movie Night
Everyone has a favorite movie, and this is a great time to join together as a family and share together some favorite films. Perhaps each evening one member of the family can choose a favorite film in rotation. Much can be known about a person based upon their favorite films, so intentionally ask why a certain film strikes a heart chord. What sparks a feeling of admiration? Get to know your family even better by seeing what films make their eyes bright with wonder. Here's a list of our top movies to watch while quarantined; there's some for older and younger kids alike. If you're trying to reduce screen time, or your kids seem bored of movies by this point, invite them to be creative in coming up with their own play or musical. They can write lines, come up with a story, make costumes, and then put on the play for parents or even send a video copy to grandma and grandpa.
4. Teach Your Kids a New Skill
Learning or teaching new skills is important, and this is a great time to share new skills with family members. Perhaps your grandmother taught you how to sew and you can teach your kids. Learning good car maintenance like how to check oil or how to change a tire is very important in life, especially for teens, and this is a good time to teach your household how. Basic home repairs can be fun, and seeing problems solved or transformed is inspiring. This is an opportune time to prepare your kids for life ahead so that they will not need to hire someone, they will know for themselves. If you're not sure how to do the skill either, rest assured that there's a YouTube tutorial for almost everything. Maybe your kids have been wanting to learn to play an instrument they have, practice artwork, or maybe they can help mom or dad plant new flowers or vegetables outside. Baking is a science that usually produces yummy results, that's one skill most kids are willing to help learn if it means they get to eat the end result.
5. Look at Old Photos and Share Memories
It is a bit old fashioned but making photo albums or looking at photo albums is like blasting off in a time machine to another age. Recalling vivid memories, joyous events, comical stories, or memories is important. Learning about family members who have passed on continues their legacy, and lifting up those who are still alive and recalling old times can encourage hearts to become sentimental. Perhaps even take a photo during this time to capture memories made today! Both younger kids and teens love seeing pictures of their parents as children too; use this time to go through photographs and share stories about yourself or other family members. If you've been meaning to make a photo book of your vacation have your kids help you put the book together online; it will help them relive the experience and think of ideas for future vacations or family activities.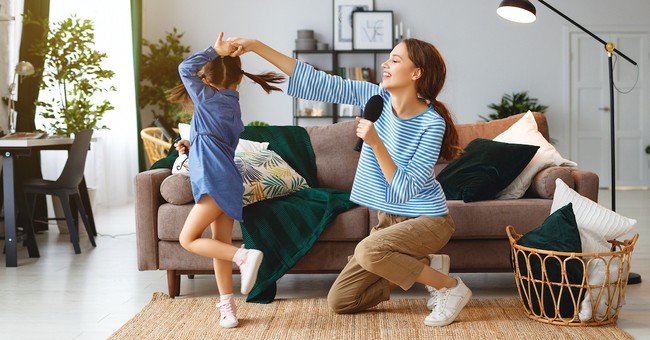 ©GettyImages/evgenyatamanenko
6. Listen to Music and Sing Along
When was the last time you listened to an album all the way through without doing anything else? Most of us have a favorite record or band, songs that instantly zoom us back in time. Sometimes sitting still and really listening to these records can be refreshing to the soul, and just like sharing a favorite movie they share aspects of a person's soul unlike anything else. Singing aloud is good for the soul; in addition to listening to your favorite songs have a time where your family sings a hymn or two together or a Christian worship song. The music can help reset worry and remind us of God's love for us. It can also help us meditate and release the tension we were holding in. If you find yourself glued to the television set, take a few minutes a day to turn off the screen and listen to gentle music turning your thoughts to God. Dance around to fun beats too, whether oldies-but-goodies or something new, it's a great way to have everyone relax, laugh, and get moving.
7. Bake Cookies or a Favorite Meal
Getting creative with toppings for pancakes can add giggles to breakfast time, or inventing new concoctions to taste. Adding family recipes can bring a blast from the past, or making new family recipes serve as a gift for generations to come. One night let your kids pick the recipe and everything that goes with it; it will be a culinary adventure and kids will (probably humorously) figure out what foods work together and what doesn't. You can't have too much laughter during a quarantine.
8. Make Cards to Mail to Loved Ones
The art of handwritten letters is as old as time, but so often this correspondence is seldom used due to technology. Writing a handwritten letter or card to someone you love would brighten the day of the recipient. Write something meaningful they will hold on to, or if you have young children including drawings from them would be kind. Send a smile today. Though the coronavirus can live on surfaces for a short while, by the time the mail is processed and arrives the virus should be gone. If you are worried upon receipt of a letter, simply quarantine the mail for two days or use gloves to open it. Communication is so important especially for our family members who are lonely or older and may not have access to a computer or phone for video calls. If you don't have family to send mail to, have your kids write letters to a local nursing home or shut-ins at your church.
9. Go Outside
Social distancing from groups is important but spending time in the backyard is still safe. Playing catch, tossing a Frisbee, or kicking around a soccer ball is a great way to spend the days while getting some of much needed Vitamin D! Physical exercise is important and since many children will not be getting the usual activity they are used to in gym or recess encouraging outdoor activity is a smart alternative during this time. This is great for parents or individuals who have been working from home all day too. It's good to get your legs moving and breath in fresh air outside, especially with these warmer temperatures coming our way. There is something about going for a walk, taking in the sights, and looking at the vast sky above to remind us that God is so much greater than any of the worries taking up space in our minds. Show your kids that it's okay to have fun still, it's okay to run and jump and laugh outside. It doesn't do anyone any good to stay in a constant state of worry.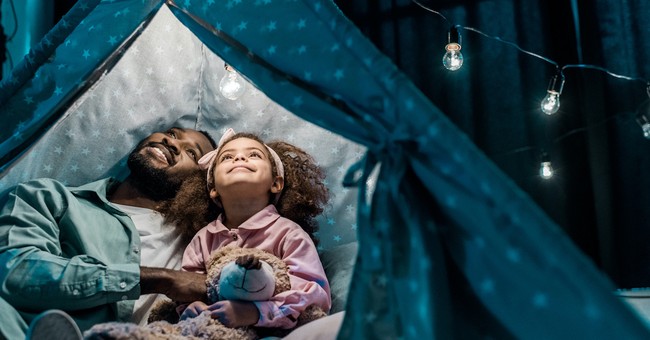 ©GettyImages/LightFieldStudios
10. Build a Pillow Fort
A good old-fashioned pillow fort is always a fun option, especially when it is encouraged to distance. Grab a sheet, pillow cushions, and all the fluffy pillows you can find and craft the best fort you can. Make it even more fun with a challenge of forts or adding in nerf guns! This can be helpful if your kids are starting to lose focus on indoor activities, especially if you're trying to encourage quiet time or reading time. Have them help you build the fort complete with a lamp or twinkling lights and blankets so that they can crawl in and feel like it's a space just for them. They might be more motivated to read, nap, or journal in their new kid-friendly space. It's likely something they will remember as well: that time we built the fort together during the quarantine. You might find yourself crawling in to read after dinner as well.
11. Have a Picnic
Backyard picnics are another great way to get outside for some Vitamin D while never leaving the yard. Wrap up some hand-crafted sandwiches and place out a good-sized blanket and enjoy. Have your kids help with the process so they get excited about spending lunch together on nice days. Afterward, spend some time cloud watching and allow your imagination to take flight as the day drifts by. Is there an old stump in your backyard from a tree long since gone? It may be the perfect place to create a fairy garden. A fairy garden is like a dollhouse made from stumps and beauties found in nature like flowers, sticks, pine cones, and vibrant leaves. Rocks, twine, and fallen feathers can add flair to the garden home. The more creative the better to craft a little spring oasis for little imaginary friends. If the weather doesn't cooperate simply have the picnic inside; spread a blanket on your living room floor and have everyone sit together and eat. Changing up the routine slightly can lift spirits and keep everyone involved. Another suggestion for young kids is to have an indoor camping night (probably best for a Friday or Saturday) where everyone camps out in the family room (bonus points if you have smores supplies).
12. Check-in with Others
Just because you're quarantined it doesn't mean that you can't still check on others in need. Check-in on relatives via phone or video chat, make sure your older relatives or relatives with immune-compromised conditions have the supplies they need. Offer to pick up any groceries or prescriptions for them so they don't get exposed. Check-in with friends and neighbors too; if you're looking for something your family needs and can't find it teamwork is helpful if someone else can look for it and possibly find it at another store for you or share what they have. It's also a good idea to check in with your pastor and his family, as well as older church members and shut-ins. Even a simple phone call to see how they're doing would be welcomed and can really lift spirits. This is the time for the church to unify and help those in need. Christians can share with others that even in times of distress God is their Rock and Refuge. While we need to take the proper precautions and follow our government's guidelines, Christians need not fear because the believer's life is hidden with Christ.
13. Get Creative with Crafts
Keeping up with school is vital for children and teens, but they need creativity too. Choose some crafts for them to do whether for learning or for fun. For older kids and teens, vision boards can be a good activity. Vision boards are boards for hopes, dreams, desires, hobbies, and goals made with visual representations. Cutting out scenes or pictures from magazines and pasting them on a vision board can help keep inspiration and imagination alive while we wait out this trying time. Remembering that there are better days to come ahead, and goals to reach. What are your goals in the seasons to come? Where do you long to travel, or what skills do you want to learn? Perhaps a vision board will inspire something new in you! Vision boards can also be created digitally. And if you don't have craft supplies there are websites where you can print free coloring pages and puzzles.
14. Family Prayer Time
Everyone is so busy in the morning trying to get to work or school; this may be a rare opportunity where your family actually has time to pray with one another for those you know, the church, our country, and those affected internationally by the coronavirus. Give your kids a prayer point to talk about, or assign people to pray for that day for young kids. Today you can pray for Grandma Julie and her friends. It's a great way to remind the whole family to be thinking of others, and thinking of others is a great distraction from worry. If your kids are struggling to pray, have them journal the prayers or draw a picture for what they'd like to talk to God about. Even if it's just five minutes where everyone sites together to thank God, you're teaching your kids and reminding yourself the right way to start and end your day. Each day is a gift from the Lord, no matter what is going on in the world, so let us remain grateful and let us exemplify it for those around us.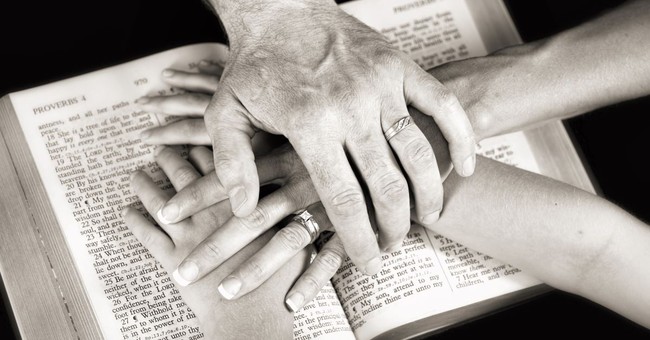 ©GettyImages/AIPortraiture
15. Family Bible Study or Devotionals
Perhaps the greatest thing we can do during this time, with most churches not meeting, is to have a family devotional time. Reading a Bible passage, praying for one another, or listening to a sermon together and discussing it will bring your family closer than ever. Taking this time away from usual busy schedules can allow for a readjustment of focus where it belongs - to God. At such tense times, it is imperative to encourage prayer for our country, for those who are sick, for those who are caring for the sick, and for each other. Encourage authentic and honest discussion to bring forth a new level of heart intimacy your family is yet to know. When we find ourselves worrying we need to dig into God's Word further because at it's core the Word of God is Truth, Hope, and Life. We can find such comfort in reading God's words to us. If you're not sure where to start, it's always encouraging to read through the Psalms. If you want to prepare for Easter, have your family start with the gospel accounts. Family worship time and couple's devotional time is never a waste and can only edify us and bring encouragement to our weary hearts.
A Prayer for Families Quarantined
Lord,

We know this is a critical and tense time in our world. It is easy to feel a lack of control in the midst of such confusion, but we want to respond to this well. We pray for Your peace, and we pray that instead of spending these quarantined days in fear that we would spend them making intentional memories. We pray this would become a time of rest and reflection. That during these days ahead, we would come to know You better in relationship and our families better as well. We pray these days may even be marked with sweet and tender memories we will cherish. We pray for stars amidst the dark sky during this time.

In Jesus name, Amen
The next few weeks of quarantine do not need to be spent in anxious fear. It is important to be mindful of the times, to prepare for them and uphold wisdom, but we must not stop living. Life and life abundantly can be achieved ever still with memorable activities and connection with your family. May God bless these next weeks with peace, wonder, and pearls of surprising treasure.
Main Article Photo Credit: ©GettyImages/fizkes
Cally Logan is an author and US History teacher from Richmond, Virginia. In her free time, she enjoys mentoring youth and spending time in nature. Her book, Hang on in There, Girl! Will be available everywhere on April 1, 2022. Check her out on Instagram and Twitter, @CallyLogan and TikTok Cally_Logan.