Veggie Tales Creator Makes Bible "Edible"
Kelly O'Neil

Contributing Writer

Published

Sep 24, 2004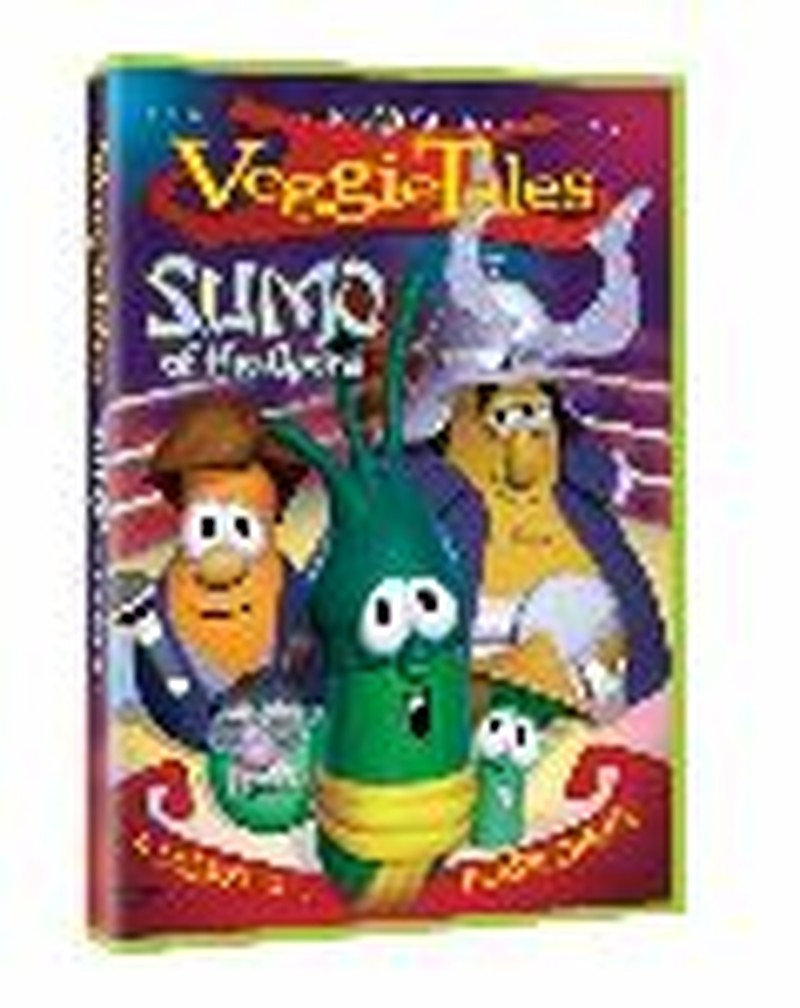 There are many video series out to teach kids Bible stories. But how many of them teach grammar and classical music as well? Look no further than VeggieTales. These brightly colored, wide-eyed appendage-less characters have been entertaining families for more than 10 years with a garden full of different lessons from scripture, all set to a menagerie of different musical styles.

From the sounds of a barbershop quarter to the Backstreet Boys, silly song man himself Mike Nawrocki (Larry the Cucumber) gives the dish on the latest from VeggieTales. "We've been on a big Gilbert & Sullivan kick and we've incorporated a lot of music from The Mikado and rewritten the words to incorporate this Japanese wrestling theme," Nawrocki explains about Sumo of the Opera, out on video Aug. 28.

Larry is the Italian Scallion and accepts the challenge of Apollo Gourd for the Sumo Championship Match. Add a little Rocky-esque theme music, some WWF notions and a few haikus and you have yet another story worthy and weird enough to be told by the veggies at Big Idea Productions.

"It teaches a story about perseverance," says Nawrocki. "Larry needs to learn to persevere to go up against Apollo Gourd while keeping his eye on the Tiger Bike." The grand prize.

There are two other stories to teach kids to keep on keeping on. "'Going Up' is a Three Stooges silent film. I like silent films. So Larry, Curly and Moe are played by Larry, Jimmy (Gourd) and Mr. Lunt," Nawrocki explains. "It's a fun little story also about perseverance." It also has a wonderful out of tune piano accompanying the short sketch.
For a change of pace, a flannel graph story is inserted. "I just finished a series of books on church history by Justo Gonzalez called The Story of Christianity." While reading this extensive volume, Nawrocki was struck by the story of Saint Patrick. "I realized how much about church history I didn't know and how much kids are not taught about church history." Naturally, Nawrocki thought it would be a lot of fun to incorporate the history of Saint Patrick's Day into a VeggieTales episode. By using Lutfi's Fanciful Flannel Graph no vegetables are involved and Bob the Tomato doesn't need to try and speak with an Irish lilt.

Lastly, what would a VeggieTales video be without a silly song? In "Schoolhouse Polka" Larry dons a horrible hairpiece, nerdy glasses and an accordion to get down to the "Homophone Polka" followed by short ditties about pronouns and adjectives. See how much the Veggies can teach you in 50 short minutes.

Larry the Cucumber learns his lesson about the great feeling one gets from hard work and perseverance, based on Hebrews 10:36, and certainly has come a long way since the first time audiences saw him play a tuba. It all began when Nawrocki and Phil Vischer (Bob the Tomato) were in college playing with puppets.

"The voice that I started off Larry was a puppet that I had done back in college named Soupy," recalls Nawrocki. "And if you ever listen to any of the earlier episodes, like the first three episodes, Larry's voice is a lot different than it is now. Larry used to be kind of lower and dopier and he had a lisp. So he's kind of gone through reverse puberty over the years!" Nawrocki laughs. The Larry voice we hear and love today is higher and squeakier. "And he's been to speech therapy and he's lost his lisp," adds Nawrocki.

Bob and Larry take their personalities directly from Vischer and Nawrocki. "We had done a lot of writing together and just really worked well together that way creatively and then those personalities worked real well together," says Nawrocki of his partnership with Vischer, the Big Tomato. Even physically, while Vischer isn't short, round and red, Nawrocki is taller and leaner than his counterpart, albeit not green. "It's funny because I tend to be more of an introvert you know just to meet me on the street," Nawrocki admits. "Larry just allows me to be extroverted without me having to be. I can turn into Larry and be all of the things that I don't do in my normal life!" he laughs.

With a full-length feature film, two Christmas specials and dozens of episodes already to their credit, the future looks bright for the veggies. "My hope is [VeggieTales] would be property like Winnie the Pooh or Sesame Street," says Nawrocki. "New generations of kids will fall in love with them over and over again." With a large ensemble of vegetables and a few fruits to choose from, the veggies can assume any character in any time period. In Sumo of the Opera the veggies all have jet-black hair and are knowledgeable in martial arts in ancient Japan. The next episode, still in production, is the story of Ruth where the veggies will be in a fairy tale setting with kings and castles.

"I love what I do," says Nawrocki. "I feel so blessed and happy to be able to do what I do. I'm just telling stories that help kids learn Biblical values and lessons for their life. I just couldn't imagine doing anything more fun or more worthwhile." We can partake in some of that fun by sitting and enjoying the goodness of VeggieTales with our kids. When they get a little older you can try taking them to the opera.

* Interview by Janet Chismar, Senior Editor for Faith

For information on purchasing Sumo of the Opera,  the newest addition to the VeggieTales series, visit www.bigidea.com.