8 Ways That Parenting Is the Adventure of a Lifetime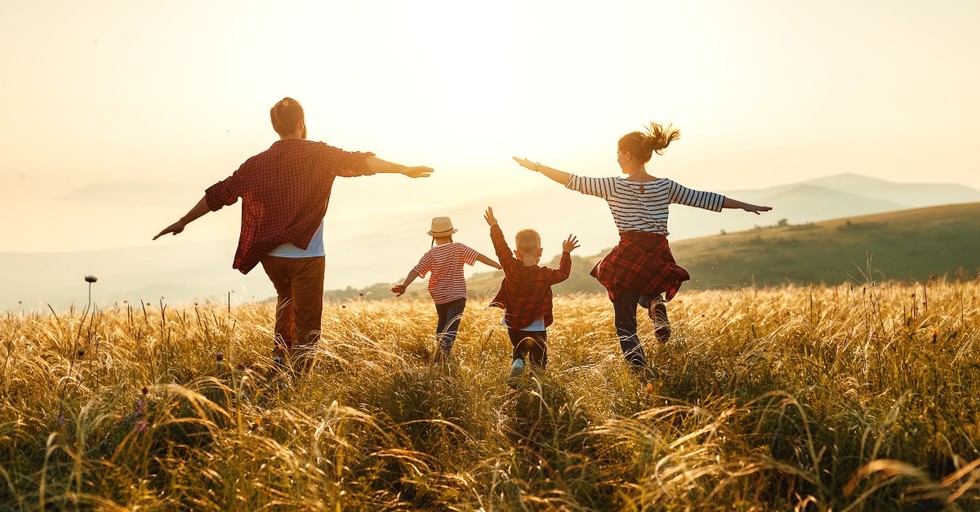 The moment we become parents we embark on a new adventure that changes us forever. It's full of surprises and twists that can happen in an instant as well as a slow journey of guiding a baby to first learn to move and talk and later to becoming an independent person.
Adventure is defined as exciting and possibly dangerous activity, or a bold and risky undertaking. Raising children is risky and we must always be mindful of safety.
The adventures are often more intrinsic although some are physical challenges. Parents find adventure in nurturing, growth and building lasting bonds.
Photo Credit: ©Getty Images/evgenyatamanenko
1. New Perspective on Life

Slide 1 of 4

Children have such natural curiosity and show us continually a new view on life. Whether it's examining a bug, finding joy when a breeze hits their face, or dropping an egg and watching the liquid ooze out, they find something new with everything they see, touch, or hear.

Their giggles and sheer joy at a discovery draws us in to see what they see and find delight in their joy and a new perspective on what aroused it.

We can engage in their sense of awe if we pause to look through their eyes. Their experiences reawaken our imagination and appreciation for the little things in life. A child lives in the moment and beckons us to enjoy each moment's wonders.

They appreciate life because they see the world as a place filled with wonders.

For parents, the work of keeping a child contented and safe sometimes sidetracks us from exploring the world. As children grow, they form their own ideas and process input to share with us and that also broadens our outlook.

When we open our ears to hear their ideas and notice how they process concepts we enter the adventure of discovering how their mind works and the adventure of sharing new perspectives.

2. Love Like You've Never Experienced

Nothing changes a parent's heart like the first touch of embracing their child. The realization that this life is in your hands and how much you are needed inspires love to blossom and grow.

You experience a roller coaster of emotions of fear, joy, pain, worry, and excitement. You want to protect this life and you see that child within and recognize his or her voice. Because of love, a fistful of dandelions becomes a golden bouquet to remember.

The sight of the child dancing between the weeds to pluck each yellow flower is also a treasured memory.

In loving a child, you also understand God's love more fully.

As we understand and forgive our child, we know God forgives us. We want to help shape the child's future and make choices but know this little one must learn to make choices and we must let go. That brings conflict as we continue to love even if the child walks away.

The memories and love always give us hope that the relationships will grow, and bonds will last or be rebuilt when needed. That's the adventure of a parent's unconditional love and the adventure of enjoying a relationship that changes as your children mature.

Photo Credit: ©Kay-Fochtmann-EyeEm

3. Growing Character, Courage, and Compassion

Slide 2 of 4

Parenting pushes us to be our best as we want to set good examples for our children. Our desire to protect our children also make us more courageous. When we hear a child echo what we said we sometimes smile and sometimes cringe and realize we need to improve our words.

In facing a major hurricane that did lots of damage to our home (while hubby was away on military orders) the children also showed courage and worked hard to clean up debris and put a fence back up. That gave them each more confidence and made them feel brave.

When they grew and had their own families, they had the strength and encouragement to face lots of challenges including natural disasters. That's when we know that our facing the challenges with them became adventures they helped conquer and added to the memories we share and laugh about for years afterward.

In facing the hurricane cleanup, we and other families helped families who suffered more loss than we did. That included doing laundry for those whose homes remained powerless, rebuilding fences in parks, and entertaining children in tent cities that sheltered families that lost everything.

That helped all of us develop more compassion. Families who venture out to help after disasters discover the blessings of watching their children learn to care about people in need.

4. Building a Legacy That Can Impact the World

I listened to a woman whose words with a cashier lit up the clerk's face. Her children also thanked the clerk. That reflected another type of adventure. For people, including children, speaking in public is one of the greatest fears.

You can make it a small adventure to challenge yourself and your little ones to speak up and see if you can bring a smile to someone's face.

I've known families where the oldest generation showed great kindness and I saw the same kindness down through the grandchildren. The daily adventure of being kind in spite of their own circumstances became a legacy. Kindness promotes peace, generosity, goodwill, and lifts people's spirits.

We also impact the world when we raise children who serve others and make a difference.

Nancy Edison, when told her son could not learn and would never read, chose instead to believe in her son. She had been an educator and chose to homeschool him.

He said, "My mother was the making of me. She was so true, so sure of me; and I felt I had something to live for, someone I must not disappoint." His experimenting with electricity, sound, and more changed the world.

Raising children is an adventure in impacting the future.

Photo Credit: ©Unsplash/Jordan Whitt

5. Opportunity to Reach Out

Slide 3 of 4

Finding ways to serve as a family makes the world a better place and can also bring new adventures.

For several families, making sandwiches for the homeless led to sharing them in person and even helping in a soup kitchen. To add fun, families drew smiles on the sandwich bags and wraps. They also passed out soaps and other sanitary supplies and simply chatted with people who faced tough circumstances.

Other families spend time cleaning a bay or other waterway to make the earth more beautiful. They can snap before and after photos to see how their efforts transformed a little bit of water and land. Afterward, enjoying the area becomes a special adventure in hiking or watersports because they value the clean water more.

It's easy to look around us and find ways to help our neighbors, community, or the world. It might be as simple as chalk drawings on the sidewalk to show appreciation or make people smile as pass by, or it might be helping to raise money for wells in third world countries.

Involving our children in service is an adventure where we see them get excited about touching lives. Through the years we see them continue to grow their hearts and look at the world with a wider lens.

6. Learning about New Passions

Your children will have many interests as they grow where you'll also be learning. It might be bugs, snakes, music, or sports. Whatever the interests, you'll read about it with them when they are young, support their pursuits as they grow, and learn more facts as well as more about your child.

Sharing over meals what you learned that day expands everyone's knowledge. Look around for opportunities to fuel a child's interests as that shows you affirm their passions.

That helps with building bonds and also lets you open doors to continue your child's adventure. You take part in that adventure too. Life becomes more than your goals and dreams as you share in your children's dreams and see them stretch their minds.

Some interests may seem impossible, but parents can foster the impossible.

As a young boy, my mother's cousin, Dan Doody, shared his dream to climb the tallest mountains in the world with his father. Wanting to affirm his dream but also add a little practical advice he suggested that his son consider how to earn money while climbing. He studied that problem and realized he could hang a camera around his neck and become a photographer.

His mother studied geography with him to learn about the world's tallest peaks. He became the photographer on the first American climb up Everest. His family felt like they were part that climb.

Photo Credit: ©GettyImages/fizkes

7. New Reasons to Laugh

Slide 4 of 4

Children laugh easily and far more than adults and their joy is contagious. When we look for the funny side of life, we find adventure in our spirit that brings more laughter.

We realize that our children will get over a first crush, little failures, and struggles because we did. We can sympathize and cheer them up with our own stories that make them laugh. That helps us take our own problems less seriously and trust our new difficulties will work out so we can keep smiling.

Looking through our children's eyes we can relive some of our past experiences and reframe some of the past to find the good outcomes and ways those experiences shaped up and laugh at our past. That helps us look to the future with hope.

Watching humorous movies, going to the zoo to observe the animal antics, and even enjoying leaves blowing around can help us share laughter.

Science has delved into the proverb that laughter is good medicine and found it to be true as it reduces stress hormones, expands the lungs for oxygen flow, exercises muscles, and releases endorphins that make us feel happy. Silliness and being playful also help children feel safer.

It's an adventure as we discover what tickles each person's funny bone.

8. New Purpose in Life

Parents find new purpose in raising children. We know at birth how much they need us and how they quickly trust the ones who care for them. The lasting relationship, influencing a life, and watching a child grow and bloom add more reasons to live. We have someone else we want to love and cherish.

Children stretch us as we learn to do more and need to teach them to follow rules, ride bicycles, swim, play games, and talk. They make us more accountable for our time and actions as they need our watchful eyes and listening ears to protect them and nurture their growth.

We reach new heights as we discover we can do it.

We can be more than we were before children. We learn the value of forgiveness and mercy, the joy of loving unconditionally and that transforms our thinking and interacting with other people too.

We become better, kinder, and more understanding of the needs of people around us.

They remind us that we have purpose together to make the world a better place, promote peace, and rejoice in each individual's uniqueness.

Celebrate and enjoy the many ways parenting is an adventure of a lifetime.

Photo Credit: ©GettyImages/fizkes