What Do You Want Your Kids to Learn from Your Marriage?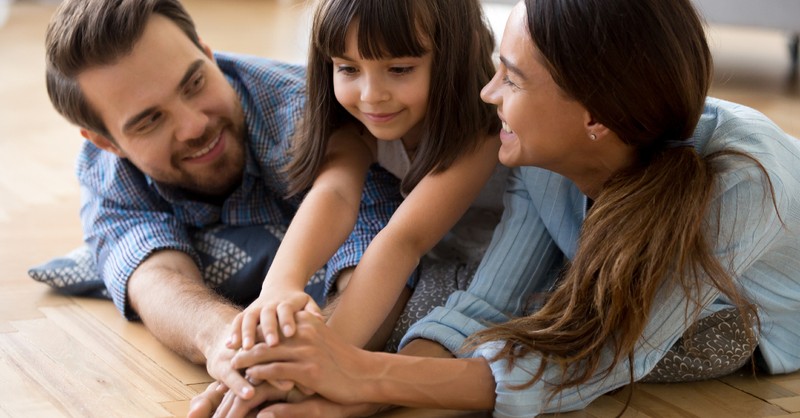 In the 1990s, Nicholas Wolfinger, a sociologist and professor at the University of Utah, began studying the connection between a parent's divorce and their children's future marriages.
What he found was this: children of divorce are more likely to get divorced themselves than are people from intact families. Also, people with divorced parents are far more likely to marry other people with divorced parents—and couples in which both partners are children of divorce are even more likely to get divorced.
All of us are impacted by divorce. If not our own marriages or parents, we have family members and friends with broken marriages. I've known people with parents who have gone through numerous divorces. I had one friend in college who, between her parents and step-parents, had nearly 10 divorces among them.
How is a child supposed to learn about love and marriage in that environment?
Like sponges, our children are absorbing everything about marriage and relationships, based on what they see in us as parents.
A study published by the U.S. Department of Health and Human Services found that the quality of a child's parents' marriage had as much influence on his or her future mental and physical health and well-being as his or her own relationship with either parent.
In other words, the marriage relationship has as much impact on a child as the parent-child relationship.
Understanding this--that the success or failure of the marriage--will have long-term effects on the child should cause us to reflect and ask the right questions. What are my children learning from my marriage?
If the only information they will have is what they've learned already, will they have a successful marriage? What behaviors do I need to correct?
Our children are learning from us every day. We only have about 18 years with them at home.
As I think about my own marriage, there are a few things that I pray my children will learn by observing me and my wife.
1. The Importance of Honesty
You've heard it said that "honesty is the best policy." In fact, when it comes to marriage, honesty is one of the most important traits you need in a spouse. You have to have open lines of communication to share your fears, problems, hopes and dreams.
In Psychology Today, Dr. Barton Goldsmith writes, "What honesty gives you is a great deal of comfort. Knowing you can implicitly trust your mate allows you to be your best self, and your relationship will continue to thrive because you are able to give each other the positive energy you need to navigate life's ups and downs… Honesty is a way of life, not just a behavior. Keeping it paramount in your relationship will bring in more good and keep the bad stuff at bay. Knowing you can totally trust one another brings a type of freedom and comfort that helps your relationship work in the best way possible."
To foster honesty in our kids, they need to observe husbands and wives making it a priority to be open and honest with each other.
2. How to Forgive, and Ask for Forgiveness
Forgiveness is hard--both asking for it and granting it. My wife and I don't fight a lot, but we don't always see eye to eye.
Sometimes, our differences of opinion can spark disagreements that cause us to treat each other in ways we shouldn't. It's during those times that our children need to see and hear us acknowledging the problem, and making the effort to fix it.
Sarah Hilgendorf writes for Focus on the Family these helpful tips for conflict resolution and forgiveness: First, "when an argument disintegrates, heading out of earshot is wise. But reappear for the resolution--model asking for and granting forgiveness. Be sincere. If you sulk and avoid eye contact after making up, what message does that send about the hollow nature of apologies and forgiveness? Tempting as it is to point fingers, focus on your own part in the argument, rather than your spouse's."
Most of what our kids learn about conflict resolution will come from inside their home. When someone wrongs them, they'll only know how to forgive them if they've seen it modeled at home.
On the other side, knowing when to humble yourself and ask for forgiveness is a learned trait as well. It's unnatural for us. We need to set children on the right path and prepare them to thrive in future relationships.
3. How to Practice Patience
Award-winning singer-songwriter Laura Story is known for her hit worship songs like "Blessings" and "Mighty to Save." She has a powerful testimony. Not long after marrying her husband Martin, he was diagnosed with a brain tumor.
While it was able to be removed, he suffered some long-term damage and disabilities that require regular care. Laura knows a little about the importance of having patience, and she shares about it often.
"The root of impatience in any relationship is that person is not meeting my expectations," she says. "Whatever it is that is causing tension in your marriage, at some point in time, you just have to step back and say this is something I need to surrender. This is something I need to put in God's hands and trust Him with it."
Due to Martin's cognitive issues, he often repeats himself or asks the same questions multiple times. God has used this as an opportunity to work in Laura's life and change her perspective. Instead of getting frustrated, she knows she needs to use it as opportunity to reflect Jesus.
"If I have to ask him to do something five times, that's five opportunities for me to ask him in an honoring way. The greatest thing we are learning in our marriage is how to show each other grace more, and to rely on Jesus more."
Patience is hard. In the most basic sense, it requires us to set aside our own wishes and desires and think about others. "Do nothing from selfish ambition or conceit, but in humility count others more significant than yourselves. Let each of you look not only to his own interests, but also to the interests of others" (Philippians 2:3-4).
Our children need to see us showing this kind of patience if we want to have any hope of them showing patience as an adult.
4. Their Need for a Savior
God created marriage. "Then the Lord God said, 'It is not good that the man should be alone; I will make him a helper fit for[a] him.'…Therefore a man shall leave his father and his mother and hold fast to his wife, and they shall become one flesh." (Genesis 2:18, 24).
In his guide to the book of Ephesians called Ephesians for You, pastor and author Richard Coekin writes this of marriage: "According to Ephesians 5:21-33, our loving Creator has instilled marriage into the instincts of humanity and fabric of human society in order to stir longing and prepare hearts for the love of Christ. Marriage conducted in God's way is a glorious demonstration to the heavenly realms of the triumph of his plan to gather all things under his Son.
"Among God's people marriage is no longer a battleground but a field of victory, where sinners can remain united to each other in the service of Jesus. Indeed, it's God's chosen illustration of Christ's covenant love for his church. So for all of us (whether single, married, divorced, or widowed) this passage not only speaks of the things we can pray for married couples, but also celebrates the intimate union of all believers with Christ—the one to whom we will one day be united in the ultimate 'marriage made in heaven."
Being joined together in marriage provides a wonderful picture of God's character, heart and image. It gives us an opportunity to have a clearer picture of God's love and our need for him daily.
When our children witness a healthy, loving marriage, it instills in them the reality of their own need for love and their own need for a relationship with God.
What things do you want your kids to glean from your marriage? Always remember, more is always caught than taught when it comes to passing things onto our kids. But with great humility can come great blessings!
---
Related: Listen to Our FREE Parenting Podcast!
Parenting in this day and age is not for the faint at heart. Mama Take Heart host Robrenna Redl is here to help equip and empower you with resources and practical takeaways, whether you're looking for ways to intentionally connect or to have hard conversations. So don't fret. Instead, take heart!
Photo Credit: ©GettyImages/fizkes
Brent Rinehart is a public relations practitioner and freelance writer. He blogs about the amazing things parenting teaches us about life, work, faith and more at www.apparentstuff.com. You can also follow him on Twitter at @brentrinehart