4 Steps to Take if You're Unhappy at Christmas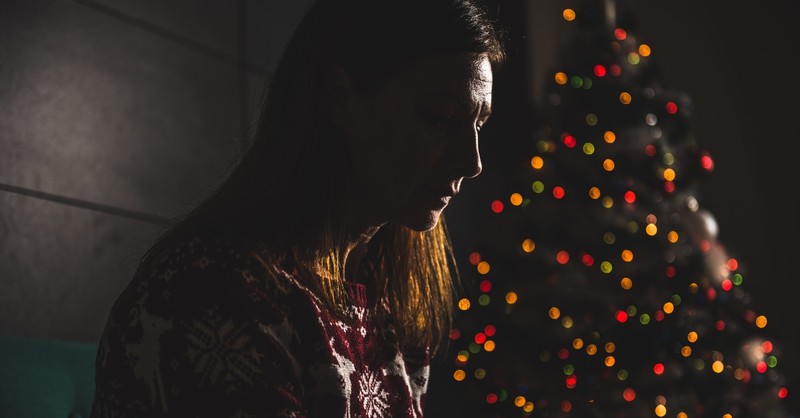 "I think there must be something wrong with me, Linus. Christmas is coming but I'm not happy. I don't feel the way I'm suppose to feel. I like getting presents and sending Christmas cards and decorating trees and all that. But I'm still not happy. I always end up feeling depressed."
-From the animated television special A Charlie Brown Christmas.
These are the melancholy words of Charlie Brown but could you have just as easily uttered them? Sometimes the holidays intensify unhappy realities. Family dysfunction, financial hardship, or the loss of a loved one can take what is supposed to be the most wonderful time of the year and transform it into the most difficult time of the year.
Yet it's important to know that if you're feeling sad, you're not contradicting Christmas. Instead, you're testifying to the reality of and need for this lovely holiday. The baby born in Bethlehem was born to redeem. We are not alone in our sadness, fatigue, or anxieties. The Son of God came in flesh to rescue the lost, forgive the rebels, and heal the brokenhearted.
But what do we do with the pressing sadness? How do we grab hold of the Christ of Christmas? And how can we know his joy even in the midst of our pain? Let's consider some ways to approach this holiday season.
Give Yourself Room to Grieve
Christmas brings to some painful memories of the past. If we've never actually grieved our painful memories, we cannot heal. Only after we grieve can we begin to forgive and be restored. Talk to another Christian and take your grieving heart to the Lord. This season we are celebrating Emmanuel, God with us. Jesus is with us in our sadness and pain. He is our comforter and prince of peace.
Grief is especially true and necessary for anyone who is experiencing this holiday without a loved one. If someone we love has died, we must give ourselves the right to take the time to remember and to weep. Life is not as it should be. It does our hearts well to be honest about the hole in our lives.
Yet, remember, we grieve with hope:
Brothers and sisters, we do not want you to be uninformed about those who sleep in death, so that you do not grieve like the rest of mankind, who have no hope. For we believe that Jesus died and rose again, And so we believe that God will bring with Jesus those who have fallen asleep in him… For the Lord himself will come down from heaven, with a loud command, with the voice of the archangel and with the trumpet call of God, and the dead in Christ will rise first. After that, we who are still alive and are left will be caught up together with them in the clouds to meet the Lord in the air. And so we will be with the Lord forever. Therefore encourage one another with these words (1 Thessalonians 4:13-18).
Adjust Unrealistic Expectations
We're not living in a fairy tale. Life can be hard. Often sadness is amplified this time of year simply because we set expectations that can never be met. Be honest. Hope for what is good, but don't expect your family to look like a Norman Rockwell picture when, in fact, they far more resemble the Griswolds.
Don't try to get everything done before the holidays. Often we feel pressure to complete those home projects in time for the Christmas party. This puts undue stress on everyone. There are enough extras this time of year, and house projects often take longer than expected. The house does not need to perfect.
Additionally, don't feel the need to fix the difficult relationships in your life. It's actually much better to tackle tough relationships at another time. Seek God for the grace to love that family member who grates on your nerves or who has hurt you in the past. Give yourself the freedom to take a break and get some space.
Focus on Others
Take the initiative to care for others. Head to the rescue mission downtown. Invite others who may be alone or in need to your church or into your home. We may be resistant to make changes to old family traditions, but creating new traditions can be a key factor in experiencing joy this season.
Focusing on others doesn't mean we need to break the bank. We all want to provide a happy Christmas morning and/or give gifts to our friends and family. But we must fight the urge to compare ourselves to other families, and we must reject the cultural message that more presents or more expensive gifts equal more love. If you have kids, serve in a way that they can catch that Christmas is not about the presents under the tree. They will get this message more readily if you actually involve them in some hands on service for the homeless or kids in need. Also, you can be penny smart all the while investing in the people in your life by making something meaningful. Handmade gifts are treasures. Bake. Write. Sew. Take pictures. Be creative in your gift giving.
Focus on the One Who Loves You
The Charlie Brown Christmas special begins with Charlie Brown feeling blue. The Peanuts character doesn't know what Christmas is about but he does sense that it's about more than presents. Something inside him rejects the commercialization of Christmas. Something in him longs to know the truth. This classic special ends with just that. Charlie Brown's friend, Linus, tells him that he knows the meaning of Christmas.
He drags his blue blanket to the center of the stage, and with the spotlight on him, in a simple, sweet voice (can't you just hear it?) proclaims:
And there were in the same country shepherds abiding in the field, keeping watch over their flock by night. And, lo, the angel of the Lord came upon them, and the glory of the Lord shone round about them: and they were sore afraid. And the angel said unto them, "Fear not: for, behold, I bring you good tidings of great joy, which shall be to all people. For unto you is born this day in the city of David a Savior, which is Christ the Lord. And this shall be a sign unto you; Ye shall find the babe wrapped in swaddling clothes, lying in a manger." And suddenly there was with the angel a multitude of the heavenly host praising God, and saying, "Glory to God in the highest, and on earth peace, good will toward men" (Luke 2:8-14).
With this truth, Charlie Brown's heart is transformed. He walks away from the Christmas play with a spring in his step and joy in his heart. But he is not the only one changed by the truth that God came as a baby to save the world. His friends follow him and together they sing "Hark the Herald Angels Sing."
We can celebrate with full hearts this Christmas. We are profoundly loved. We are known and remembered by the babe who grew up to be King, who reigns now and forever. Jesus Christ is coming for us and will someday wipe away our tears, restore our tired bodies, and fully mend our hearts.
Steve Arterburn is the founder and chairman of New Life Ministries and host of the #1 nationally syndicated Christian counseling talk show, New Life Live! heard and watched by 2 million people each week on radio and TV. Steve is the founder of Women of Faith conferences and serves as a teaching pastor at Heartland Church in Indianapolis, Indiana. Steve is a bestselling author of books such as Every Man's Battle and Healing is a Choice. Steve resides with his family in Fishers, Indiana.
Publication date: December 9, 2014
Photo credit: © Getty Images/Kerkez