How to Conquer Discouragement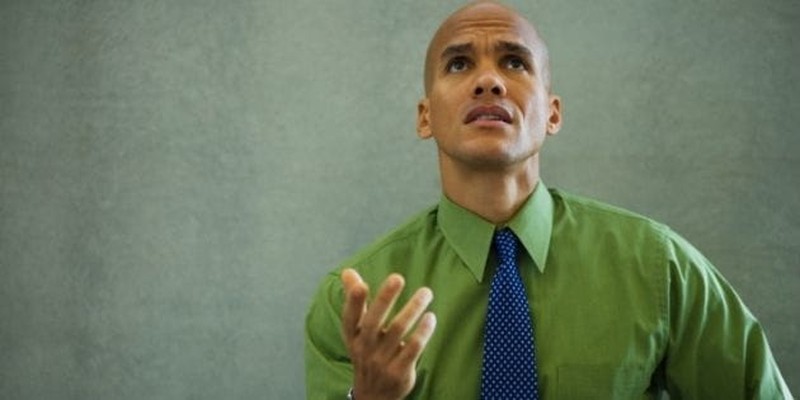 "I have a tough life," my five-year-old cousin said.
"Really? Why is that?" I asked.
Folding his arms, he looked up at me with his big blue eyes as he rattled off his complaints. "Well, I get spankings, I get time out, and I have to clean my room!"
I couldn't help bursting out in laughter. In return, he just looked at me quizzically as if silently asking, "Why are you laughing? I'm serious!"
After regaining my composure, I shook my head and said, "I don't think that's too terrible, buddy. I think you're gonna be okay."
Later that day my cousin's complaint made me wonder: How often does God smile down at us and say, "Everything is going to be all right, my child"?
In our fallen world, we're constantly bombarded with situations that tempt us to complain about how tough our lives are. Sometimes our troubles are miniscule (like traffic or a cranky boss), but other times they are genuinely difficult and can be quite discouraging (like an abusive spouse or a dying loved one). Our worries can weigh us down and cloud our perspective, causing us to forget:
that, since we are citizens of heaven, our problems on earth are only for a season (Philippians 3:20).
that God works out everything—even tough situations—for the good of those who love Him (Romans 8:28).
that we can trust God with our lives (Psalm 55:22).
When trouble hits, we tend to see only challenges. So, how can we get a fresh perspective on life when discouragement is weighing us down?
Here are a few things that have helped me:
1) Determine if the cause of discouragement is worth being discouraged about. First, I ask myself: Am I upset about something important or something trivial? Often a long line at the supermarket or a rude stranger can put a damper on the entire day. But are those worth being upset about?
2) Determine if the loss is imagined or real. Frequently I'm only upset because of my own "what if…" thoughts: What if she thinks this? What if they do that? What if I don't do well? What if they don't like it? 
When "what ifs" or imagined thoughts weigh you down, ask God to help you take those thoughts captive (2 Corinthians 10:5). Choose instead to dwell on "whatever is true, whatever is noble, whatever is right, whatever is pure, whatever is lovely, whatever is admirable—if anything is excellent or praiseworthy—think about such things" (Philippians 4:8).
3) Talk to the right people about the problem. In 1 Samuel we find the story of Hannah, a woman deeply grieved because she was unable to have children. In her sorrow, Hannah cried out to the Lord for comfort. She went to the temple year after year to pray, and the Lord heard her prayers and opened her womb. Her story is an excellent reminder that we should, first of all, talk to God about our sorrows. "Cast all your anxieties upon Him because He cares for you" (1 Peter 5:7).
We can also dialog with encouraging Christians who will speak God's truth into our lives. However, we need to be careful when selecting these confidants. Discussing the matter with those unable to provide wise advice doesn't help us. It may even deepen our discouragement or spread it to others.
4) Dive into the Word. God's truth is the best defense against Satan's schemes. Several years ago I had two stress fractures which kept me from being active. It put my hobbies—and career—on the line. Needless to say, I was very discouraged. But during that time I dove into the Bible and, in the depths of my sadness, He spoke to me in deeper ways than I had ever experienced. The trial didn't disappear, but God's Scriptures lifted me out of the valley of discouragement. It empowered me to endure the trial with contentment and peace instead of depression and bitterness. Sometimes our lows in life are what bring us closest to God. Don't miss the opportunity by pushing away from God; run to the open pages of the Word!
5) Pour into others. I once heard someone say that it's better to live life giving away than pulling away. Giving to those in need reminds us of what we have to be thankful for. So, visit a lonely person. Help an elderly neighbor with their yard work. Write a letter to someone who needs cheering up. Are there children at your church that need a mentor? Take the opportunity to disciple them and point them to the Lord. The more you serve, the more you'll find that your perspective change from gloominess to thankfulness.
6) Rest in the Lord. Psalm 55:22 says, "Cast your cares on the Lord and He will sustain you; He will never let the righteous be shaken." During an extremely difficult situation in the life of Christian author and pastor, Andrew Murray, he eloquently penned:
"First, He brought me here; it is by His will I am in this strait place: in that fact I will rest.
Next, He will keep me here in His love, and give me grace to behave as His child.
Then, he will make the trial a blessing, teaching me the lessons He intends me to learn, and working in me the grace He means to bestow.
Last, in His good time He can bring me out again—how and when He knows.

Let me say I am here,

1) by God's appointment
2) in His keeping
3) under His training
4) for His time" 
No matter what your trial, God will see you through it. "Trust in Him at all times, you people; pour out your hearts to Him, for God is our refuge" (Psalm 62:8).
Felicia Alvarez lives in Southern California and loves avocados, sunshine, and serving her Savior. Currently, she teaches dance to over one hundred students and is working on her second book. Connect with Felicia on her blog or Facebook—she would love to hear from you.