Purity: Does It Really Matter?
Lori Smith

Crosswalk.com Staff

2004

28 Sep

COMMENTS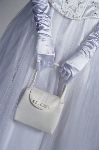 Sharon's '85 Nissan coughed and rumbled in the cold. She pulled up to the curb. It was 7 a.m. Maybe Carol would be in the shower and wouldn't catch her on the doorstep in yesterday's clothes.
This made three times. Three times Jack, or her – she wasn't really sure now - pushed the line and she ended up spending the night.
She was numb, actually. She'd turned into someone she had always criticized. She'd let go of the standards she'd set and held onto for 15 years.
And she had asked for forgiveness about 6,000 times. Every ten seconds or so this morning.
She knew that as soon as she asked, she would be completely forgiven, washed clean. But she didn't feel that way. It didn't seem that God had really heard her at all.
And part of her didn't care. Was it really wrong anyway? She wasn't so sure.
More and more Christian singles seem to be throwing out the old, sure standard ("Don't have sex before you're married"), deciding it's no longer relevant to their spiritual lives.
Does it really matter?
In the next few articles, we'll look at what the Bible says, delving deep into a few passages. It's important now to set our hearts to really know what God wants from us in this area. We can't go into this trying to justify what we want. We've got to acknowledge His authority, and seek His will.
Copyright Lori Smith, 2000 - 2003

Lori Smith lives in northern VA where she frequents a local ballet studio, hikes in the Shenandoahs, and throws the occasional pity party.  Find more of her writing and preview The Single Truth at www.thesingletruth.org.