I'm in Love with My Best Friend--What Do I Do?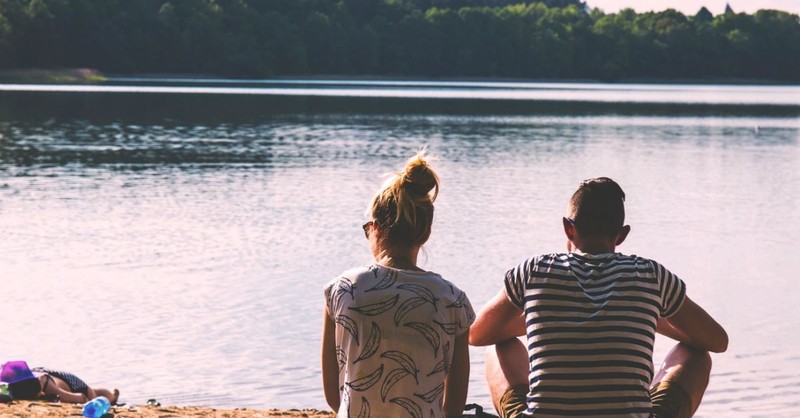 Editor's Note: Crosswalk's Singles Advice is an advice column for singles featuring an anonymous question from a Crosswalk.com reader with a thoughtful, biblical reply from one of our single editors.

I have known my very best friend for over 8 years now and I love her so very much. She says that we are just best friends, but at the beginning of our relationship she always joked about being my girlfriend. She used to say if we shared the same religion, she would have married me.
I would rather just stay best friends with her, but I am so emotionally attached to her. I have asked Jesus what to do, and what I get from him is that she does like me a lot, but she does not love me. What should I do now, knowing that she knows I love her?

Remember the importance of being "equally yoked"
Right off the bat, you deserve a pat on the back. I can't tell you how many times people have chosen to overlook having different faiths because they felt so deeply connected to someone. You've already jumped a massive hurdle by remembering that God asks us to be equally yoked with our partner.
As I broke down in a January column, in order to be equally yoked, it is–at the minimum–vitally important for your partner to also be a follower of Jesus.
In 2 Corinthians 6:14 Paul says, "Do not be yoked together with unbelievers." I take this to mean that you should not be in a relationship with someone who does not follow in Jesus. Like your question suggests, the two of you do not share the same religion and therefore, dating your friend would not be the right move at this time.
When looking for a partner you should look for someone who shares the same spiritual beliefs and values with you. Someone who is pursuing the same spiritual goals as you.
Do what you can to move on from these feelings
Knowing this, I think your next step is simply trying to get over your feelings for your friend. I know it sounds harsh, but as you stated, you would like to stay best friends with this girl, so you need to start by actively working on getting over your feelings for her.
That doesn't mean cutting her out of your life completely, but what it does mean, is maybe you can spend more time with her in a group setting than in a one-on-one setting. Maybe you allow yourself some separation so that you can really focus on yourself and move on.
It's not going to be easy, especially if she is your best friend, but sometimes space and time help us process our feelings more fully.
Try journaling to help you work through your emotions. While journaling is not for everyone, it is a fantastic way to brain dump all of your thoughts and emotions onto paper. I have found that when I put pen to paper to work through something, it helps me thoroughly process and make sense of what I am feeling.
You should also talk to God about it. God doesn't want you to be broken hearted, so bring any disappointments you may have to him.
"The righteous cry out, and the LORD hears them; he delivers them from all their troubles. The LORD is close to the brokenhearted and saves those who are crushed in spirit." - Psalm 34:17-18
This Bible verse encourages us to cry out to the Lord when we are troubled–that includes when we are feeling downtrodden or sad.
I should also note that there is the possibility that it will get weird. If your friend is uncomfortable knowing that you have feelings for her, she might withdraw from the relationship too. It is okay. It's possible you both need time, and when you feel like you've processed your feelings enough, reach out and see if she is ready to talk through the situation so you can move forward as friends. If it does get weird, it could work itself out, but I would be doing you a disservice if I didn't say it may not.
It depends on who you ask, but some people find it really difficult to have platonic male-female friendships. Now, I have some great friends whom are males and I have never had romantic feelings for them, but then I've also found myself catching feelings for others. I encourage you to look at yourself and decide if you think having a male-female friendship–especially with the girl you already know you have feelings for–is plausible in the long-term without causing you anguish. Ask God for guidance here and know that at the end of the day, no matter how it works out, God will be there to catch you.
Philippians 4:6 says, "Do not be anxious about anything, but in every situation, by prayer and petition, with thanksgiving, present your requests to God."
Show her Jesus
I also encourage you not to forget to plant those seeds in hopes that your friend will come to the knowledge of the truth about the gospel. God presents us with opportunities to advance the kingdom of Heaven every day. You don't need to be so on the nose with it, but remember, actions are loud. Try to show your friend Jesus-like, platonic love in the hopes she can see God's love for her, but don't forget to guard your heart.

Kayla Koslosky loves her faith journey as a Christian single and is the News Editor for ChristianHeadlines.com. Kayla has worked as a mentor for college leaders offering them advice and assistance throughout their leadership journeys, led a women's Bible study, and wrote an advice column for her college's Yellow Jacket Newspaper.
Disclaimer: any single editor replying to reader questions through this advice column is a Christian seeking God's direction through his Word. We are not trained psychologists or licensed professionals. As we explore issues with you, we will seek God's guidance through prayer and the Bible.
Have a question? If you have a question about anything related to living the single life, please email singlesadvice@crosswalk.com (selected questions will be addressed anonymously). While we cannot answer every question, we hope you'll find encouragement in this column.
Photo Credit: ©Unsplash/freestocks.org