Three Critical Dimensions of the Great Life
Dr. Neil Clark Warren

for the eHarmony Research Library

2003

4 Apr

COMMENTS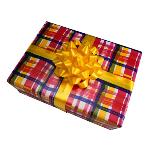 Imagine that you awaken one morning with three presents, beautifully wrapped, sitting on your bedside table. You open one and you immediately experience a deep inner peace. You feel a total sense of reconciliation with every person you know. More than that, you feel totally reconciled with God. And you are wonderfully in sync with your own internal self. You experience a tranquility, a serenity, a deep-down contentment like you have never known before.
I assume that you would be ecstatic and overjoyed, given to shouting, dancing, and celebrating throughout the house and the neighborhood. 
And then you open the second present. Immediately you are filled with love for every single person in the world. You love God, you love every member of your family, you love yourself, you love your neighbors, and you even love your enemies. More than that, you love every stranger in the world. You open your morning newspaper and grieve with the sad while celebrating with the glad. You are overwhelmed with love.
I assume that you would be beside yourself again, simply filled to the brim with the desire to tell everybody you know about the love you have for them.
Then, finally, you open the third present. And your faith in God reaches unbelievable heights. He is as real to you as your breathing, as close to you as your thoughts. You know beyond the shadow of any doubt that you can trust him with every ounce of your being.  Your faith is totally established.
I assume that you would run into the "highways and byways" and tell every person about your faith in this God.
These are the presents that Paul asks God to give to his readers. I call them presents because Paul views every good thing we have from God as a gift, an illustration of his grace toward us, another evidence of his kindness.
So if you already have these qualities, I assume you will want to do everything that I mentioned above. And if you receive them in a moment just ahead, I will expect to hear your shouts and your songs and your laughter.

Ephesians 6:23  "May God give peace to you, my Christian brothers, and love, with faith from God the Father and the Lord Jesus Christ."
The eHarmony Research Library is a branch of eHarmony.com(tm), North America's most successful Relationship Building Service. Our precise technology searches a database of 500,000 persons to find truly compatible matches. Then, eHarmony's guided communication system helps you meet and get to know each other in an appropriate, in-depth manner. Click HERE to learn more about eHarmony.