Chattanooga Home School Student to Show Work at New York Fashion Week
Casey Phillips

timesfreepress.com

2012

3 Jul

COMMENTS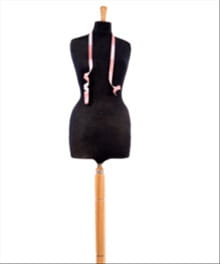 Editor's note: This article ran initially on the "Homeschooling News" section of HSLDA on June 26, 2012.
Some people look at a dress and see only a dress. When Brandon Carruth looks at a dress -- his own design, anyway -- he sees a colorful statement wrought in fabric.
At 15, the East Brainerd teen has been pursuing an interest in fashion design for only 18 months, but he said he quickly determined that he could achieve more with his work than just covering skin.
"I want people ... to be able to relate to the collection," he said. "To me, it's not just fabric and a sewing machine -- it's art."
Slender and red-haired, Brandon spent years modeling locally through Ambiance Models and Talent and acting in plays at the Chattanooga Theatre Centre. In January 2011, he suddenly announced to his mother, Jennifer Carruth, that he was interested in designing clothes.
Carruth said her long-standing assumption was that Brandon would be on a runway or treading the boards, and she initially dismissed this new interest as a passing fancy.
After looking at the designs in his sketchbook two days later, however, Carruth said her attitude quickly changed.
"I was really just taken aback" she said as she and Brandon drove to Nashville, where he has shown his work most often and where he most recently was enrolled in a modeling agency.
"He was only 13, so I thought it would be more childish drawing, but he was just more mature than that," she added. "It was very professional and not what I was expecting to see."
Brandon and his mother enlisted the help of his grandmother and a local seamstress to bring his designs to life under the name Carruth Couture. Three months later, he debuted his first collection, "Simply Flawless," in a showcase during Nashville's Middle Tennessee Fashion Week.
The eight pieces in his first collection were primarily youthful dresses that incorporate trends such as color blocking. Brandon's age and the quality of his work attracted a lot of attention.
He has produced a fashion show for Nashville-area designers, models and musicians and has shown his first collection at a half-dozen other shows, including one in Dallas last November and locally during Palate 2 Palette. He said he also has been invited to show at events in Norfolk, Va., and New York City.
Brandon, who is home-schooled, said the management and self-promotional skills he learned as an actor and model have prepared him for his new role. He said he also serves as his own manager, publicist and creative director.
"I literally do it all. It's me, myself and I," he said. "It gets stressful and challenging at times, but determination and support from family and friends keeps me going."
Brandon is currently preparing a 12-piece collection for fall and winter. The new designs include longer dresses and a more somber color palette to reflect the depressed mood he was in when developing the designs earlier this year.
He was invited this February to show his initial collection during New York's Plitzs biannual New York City Fashion Week but couldn't make the trip on short notice. He said he instead will debut the new line during Plitzs' second showcase week in September.
"[The new collection] definitely shows I've grown. It's more me," he said. "I've worked very hard to go to this show."
Brandon is working a part-time job grading papers to pay for his design work. Someday, he said, he hopes to open a studio in New York. In the meantime, his short-term goal is to get his designs carried by local boutiques.
Although designing clothes is a relatively new pursuit, Brandon said he thinks he has found what he was destined to do.
"My modeling career introduced me to the fashion industry, and my life suddenly changed," he said. "I grew up thinking I was going to be an actor or a model, and I'm neither of those."
Courtesy HSLDA. Used with permission.
Casey Phillips has worked at timesfreepress.com as a features reporter in the Life department for three years. He writes about entertainment, young adults, animals and people of interest. Casey hails from Knoxville and earned a bachelor of science degree in journalism and a bachelor of arts in German. He previously worked as the features editor for Sidelines at Middle Tennessee State University. Casey received the East Tennessee Society of Professional Journalists Award of Excellence for Reviewing/Criticism in 2007. In his spare time, Casey is an Irish musician, video game fanatic, movie junkie, avid reader and all-around geek extraordinaire. Also, he really likes jogging, cooking and puppies, but not at the same time. Contact Casey at 423-757-6205 or cphillips@timesfreepress.com.
Home School Legal Defense Association is a nonprofit advocacy organization established to defend and advance the constitutional right of parents to direct the education of their children and to protect family freedoms. Through annual memberships, HSLDA is tens of thousands of families united in service together, providing a strong voice when and where needed.