Honesty is Essential
Whitney Hopler

Live It Editor

2001

20 Sep

COMMENTS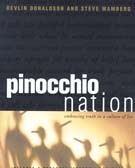 Blatant lies upset us, but how often have we considered the effects of more subtle forms of dishonesty - the "little white lies," half-truths, spin-doctored facts and cover-ups that unfortunately have become prevalent in our society.

Whenever the truth is compromised, trust that's vital to build relationships is destroyed. Only a love for truth and help from the source of truth - God - can enable us to live truly honest lives.

Here are some ways to pursue greater integrity:
Embrace the universal truths mentioned in the Bible and operating in the world. Don't cave in to the deception of relativism. Just as absolutes exist in the natural realm (such as through mathematical laws), they also exist in the spiritual realm.
Realize that God had good purposes in mind when He created the universal truths that shape our lives. Trust Him to act in your best interests, out of His love and wisdom.
Know that you're actually loving a person more by telling him or her the truth than by lying in order to try to avoid hurting his or her feelings. You should use tact when telling the truth, but you should always be sure to state the truth openly. The truth is valuable information for people to hear - information that can help them grow. See the truth as a gift and don't withhold it.
Ask the Holy Spirit to reveal the truth about yourself to you. Don't lie to yourself about any issues. Doing so will only hinder your development. Pray for courage and grace to truthfully assess yourself and grow as a person.
Don't compartmentalize your life, acting in different ways in different situations. Integrate your values into every aspect of your life - church, home, work, school, etc.
Understand words' power, and strive to be as accurate as possible when expressing your thoughts and feelings. Know that no person is able to perfectly describe the reality of a situation, because every person approaches life with certain biases.
If a problem exists in a situation or relationship, speak up about it rather than letting your resentment fester. If there's no problem, assure people on a regular basis that everything is okay so they're not wondering what you think and how you feel.
Try to focus on facts rather than emotions or opinions.
Compliment people when they do a good job on something. Don't withhold praise, but don't go overboard by gushing too much so that people doubt your sincerity.
When correcting someone who has made a mistake, be as specific as you can about the problem, and don't just dwell on the negative. Be positive by trying to give practical suggestions about how he or she can solve the problem.
Give appropriate credit to people who help you in various situations.
Make sure your motivation to tell the truth is to heal a relationship rather than to attack someone.
Try to listen actively to people as you talk with them, focusing on what they say rather than thinking of your response when they're still speaking. Repeat back to them what you understood them to say, and ask them to clarify if necessary.

Adapted from Pinocchio Nation, copyright 2001 by Devlin Donaldson and Steve Wamberg. Published by Pinon Press, Colorado Springs, Colo., www.navpress.com, 1-800-366-7788.
Devlin Donaldson spent 18 years with Compassion International, most recently as director of marketing and development. Steve Wamberg runs The Wamberg Group, through which he has written ad copy, curriculum, marketing communications, and business plans for many not-for-profit organizations and mainstream businesses.
How have you recently encountered dishonesty? In what ways do you struggle to be honest in your own life? How has the truth transformed a recent situation in your life? Visit Live It's forum to respond, or read what others have to say. Just click on the link below.