Parents and Adult Children Can Enjoy Friendships
Whitney Hopler

Live It Editor

2001

16 Oct

COMMENTS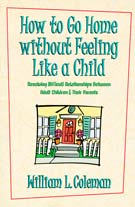 When children grow up, the relationships they and their parents share change significantly. Those relationships can turn into fulfilling friendships for everyone involved. But often there are issues that either the parents or the adult children need to deal with in order to build healthy futures together.
Here are some ways you can resolve some common issues that exist between parents and their adult children:
Commit to living in the present, not the past. Realize that God intends for you to keep growing through each season of life, and that will likely mean that you will relate to those you love in some different ways than you have in the past. Ask God to show you the ways He wants you to grow. Embrace God's vision for your future. Don't try to play "catch-up" with the past; mourn for lost opportunities and commit to take advantage of new ones.
Pray for the Holy Spirit to help you go through the process of forgiving your loved ones for any ways they have previously hurt you. Don't allow bitterness to poison your current relationship. If you have confessed a mistake to God, repented, and accepted His forgiveness and grace to do better, don't feel guilty about it anymore and don't allow others to make you feel guilty anymore.
Don't use any control tactics - such as bribes or withholding affection - on your loved ones. Instead of trying to change them, pray about difficult issues and trust God to deal with them.
Set appropriate boundaries when interacting with each other. For example, it's OK to let your loved ones know that it's not a good time to talk when they call, or to say that you won't be able to make the long drive to their house as frequently as every week to visit.
Have courage but use tact when confronting your loved ones about a difficult issue. When discussing it, make sure your purpose is to work toward the goal of strengthening your relationship. Rather than just pointing out problems, suggest solutions.
When dealing with financial issues, realize that adults make fair trades with each other. It's not appropriate for grown children to be depending on their parents for money they should be making on their own, or for parents to use money as a way to control their adult children.
Take the time to actively listen to your loved ones. Do all you can to encourage your loved ones as they pursue dreams. Take care not to criticize each other.
When sharing advice, think of it as a respectful exchange of information. Never demand that your loved ones follow your advice, and offer options if you can. Tell your loved ones that you value input, but will not necessarily take the offered advice. Don't attempt to rescue a loved one who has made choices with which you don't agree; trust God to use his or her experiences to teach life lessons.
If you have an empty nest, find new ways to live an abundant life. Never rely on your grown child or children for fulfillment, but find it in other ways through a well-rounded, active life. Don't worry about things you can't control - such as trying to help your adult child in another state when you can't travel there fast enough. Commit your concerns to God in prayer.
Rather than asking what you owe your parents, ask what you would like to do for them because you love them, and then do what you can.
Respect your spouse's parents' ways of doing things, but create new traditions together. The new traditions may incorporate some of you and your spouse's childhood traditions, if that works in your current, shared life.
If your adult child returns to your home to live, let it be only because of an emergency. Make sure that your grown child sets and works toward specific goals about when to move out, and contributes significantly to the household (through chores, buying groceries, paying rent, etc.).
Show love and humility when talking with your loved ones about conflicting values, and pray for the Holy Spirit to bring both of you into alignment with God's will.
Frequently tell each other, "I love you," whether in person, on the phone, or via e-mail or letter.
Adapted from How to Go Home without Feeling Like a Child: Resolving Difficult Relationships Between Adult Children and Their Parents, copyright 1999 by William L. Coleman. Published by Discovery House Publishers, Grand Rapids, Mich., www.dhp.org, 1-800-653-8333.
William Coleman is the author of several books for children and adults. He is a graduate of Washington Bible College and Grace Theological Seminary. He and his wife, Patricia, have three adult children and live in Nebraska.
If you're a parent of a grown child, how is your relationship with him or her? If you're an adult child, how do you get along with your parents and in-laws? What has made your friendship particularly enjoyable? What issues have been challenging to resolve? Visit Live It's forum to respond, or read what others have to say. Just click on the link below.