Strengthen Your Immune System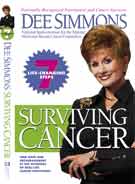 Today a growing body of medical research provides overwhelming evidence that there's much we can do to avert the downhill slide of our essential immune system. During the past decade especially, many cancer survivors like myself have made it our business to learn what the immune system is, what it does, and how we can strengthen it. ...
I simply want to emphasize the importance of making every effort to empower the immune system to kick-start or boost the body's built-in capacity to heal itself. Remember these facts:
The human immune system can be strengthened and improved.
It defends us against viruses, bacteria, common infections, chronic diseases, cancers, and other ills.
We can activate the immune system by enhancing our daily nutritional intake and adding certain dietary supplements.
Vitamins, minerals, herbs, and other natural remedies are important additions to cancer therapy, as many physicians and research scientists now know.
Nutriceuticals are safe when chosen well and used appropriately.
Never self-medicate with conventional pharmaceutical drugs or with vitamin or herbal supplementation. A health care professional should make sure your nutriceutical choices are pure and of standard dosage. Your doctor should know of any natural drug you take in order to avoid adverse interactions with therapies that he or she is prescribing.
The immune system responds to numerous kinds of therapies, including relaxation ... exercise, positive thinking, prayer ... and simple jolts of human joy.

Sick or well, make boosting your natural immune system a top priority. Investigate some of the ways to strengthen a so-so immunity or therapies that can help rebuild one that has broken down.
Excerpted by permission from Surviving Cancer, copyright 2001 by Dee Simmons. Published by Harrison House Publishers, Tulsa, Okla., www.harrisonhouse.com, 1-800-888-4126.
Dee Simmons, a breast cancer survivor, serves as chairman of Ultimate Living International Inc., a nutritional product manufacturer and distributor. Her daily nutritional program, Health Views, is seen across the United States. She has also served as the national spokesperson for the Making Memories Breast Cancer Foundation since 1999.
Why are you glad that God has designed an immune system for your body? How has God used it to help you successfully fight off illness? Have any particular ways of strengthening your immune system proven especially helpful to you? If so, what were they? Visit Live It's forum to respond, or read what others have to say. Just click on the link below.