10 Myths People Believe about Their Church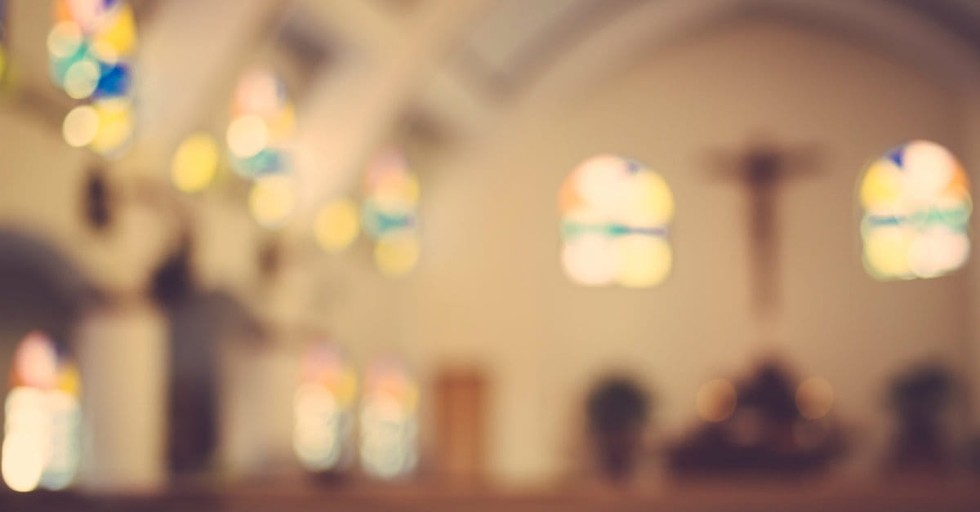 There is no denying the fact that a perfect church does not exist. Many people think they do, that by some miracle there is a place where quarrels never happen, everyone gets along, and all aspects of ministry result in win-win scenarios. Sadly, there are no perfect churches, because there are no perfect people. Just as companies and organizations are run by imperfect individuals who make decisions out of selfish motives, act out of greed, and abuse power so does the church.
The size, denomination, age, and socio-economic status change nothing because it is the people who are flawed—not a building, doctrine, or set of core values. The perfect church is one of the greatest fabrications in the Christian world—the belief that if I could just move to "that" church, life would get better.
It is a terrible myth and it's not the only one. We've managed to come up with 10 others:
Photo credit: ©Thinkstock/Sean824
1. The church just wants my money.

Slide 1 of 10

Most of us know that this isn't true, but some still act like it. When the offering moment arrives, they find some way to distract themselves from the plate being passed from one person to the next: They run to the restroom, strike up a conversation with a neighbor, or zone in on their phone screen--anything to hold their pocketbooks just a little tighter. 

These are the type of people who don't understand that without the regular offering, there wouldn't be air conditioning in the summer, toilet paper in the bathroom, or a facility and workers eager to hang out with their children during the entire service. It takes money to turn on the lights, and open the doors of the church, just as it does in their home.

 

Photo credit: ©Thinkstock

2. The church understands (and is meeting) the needs of the community.

Slide 2 of 10

Just because there is a need, it doesn't mean you have all the information, or that it is even on anyone's radar. For example, perhaps homelessness is an obvious problem within a city, and there are individuals eager to roll up their sleeves to serve. Obtaining all of the facts is important. 

If there is a need that God has been pressing on your heart, speak up about it. Ask questions, send an email, see if the issue is even on the radar of the church leadership. If not, chances are there are community leaders and/or organizations that are already tackling the problem. Connect with them and become informed. Don't let your emotions overshadow the need to become educated before addressing a need. 

There is a good chance that there are other individuals in your church who have a desire to help also. Don't wait until the pastor rolls out a new ministry opportunity; be proactive and move in the direction God is leading you.

 

Photo credit: ©Thinkstock/BrandXPictures

3. The church is full of phony/problematic people.

Slide 3 of 10

While there may be some truth in this myth, it is not completely accurate. Yes, the church is full of phony people, as well as those who could be labeled "problematic", but we could easily exchange those words for "hypocrites", "addicts", or those battling mental issues. Those struggling with identity, who are riddled with guilt and shame, and who are working through loss, anxiety, and fear make up the other half; everyone has an issue. 

But, while some look down their noses, others are eagerly showing up—despite the mess and chaos of their lives. They have experienced much grace and so they are generous in showering it on others. They are joining hands with others who are broken and serving wherever they can. They are diving deep into relationships where they sharpen others and are growing together towards a more whole and beautiful version of themselves. 

 

Photo credit: ©Thinkstock/Rawpixel

4. The church has enough help.

Slide 4 of 10

You see the same smiling face as you drive into the parking lot every Sunday. You are waved to, and then five minutes later you walk into an air-conditioned lobby where someone greets you, places a piece of paper in your hand, and/or helps you find a seat. It's the same bubbly face who takes your child by the hand and walks them into class every week, and another familiar voice makes announcements, sings songs, and delivers a message. 

The fact that it's the same faces week after week would suggest one thing: that a small percentage of people are serving on the weekend. Most churches will gladly accept more help; many are in desperate need of it.

 

Photo credit: ©Thinkstock

5. The church cares only for its own.

Slide 5 of 10

One look at any church budget will dispel this myth. Most churches, if they are led well, have an enormous desire to impact their city, nation, and the world. While there may be groups for new moms, adoptive moms, empty-nester moms, and grandmas, there are probably just as many mothers outside the walls of the church who are being impacted by its presence. 

Most churches have programs to feed, clothe and shelter the needy within the community, and others partner with and/or raise funds for local organizations, law enforcement and charities that exist to help the city. When catastrophes strike, the church rallies. When needs arise globally, the church digs deep. When missionaries step off a plane in a foreign country, it is often with the support and financial provision of a local church. 

 

Photo credit: ©Thinkstock/MikeWatsonImages

6. The church is good at creating community.

Slide 6 of 10

Many people get turned off once they recognize that many churches are not good at creating community—especially the instant kind that our culture craves. They walked in with high expectations and didn't receive the red-carpet welcome they had played over and over in their minds. They figured that being a believer was enough of a common ground to establish solid relationships and they didn't plan on having to seek people out. 

The truth is that most churches may have a solid "small group" program in place with the intent to help people form relationships, but newcomers often need more than to be placed in a group with eight strangers. The best relationships tend to grow organically and over time, which is not what many want to admit. 

Instead of pointing fingers, maybe the question should be asked, "What part did I play in making connections and building community?"

 

Photo credit: ©Thinkstock

7. The church is full of old people/young people.

Slide 7 of 10

It's difficult to know from a quick glance at a website what kind of church community you're going to find. You may see flashes of young married families, all with perfect Colgate smiles and children who look eager to be in service on the weekend, but what you encounter in real life is that 50 percent of the church demographic is 30 years older, or younger than you are! 

While that may be shocking, and provide some challenges, the truth remains that we need people of all ages and stages in our lives. As young singles and newly married people, you need the older generations to share their wisdom and experience. And those who are in the years of "passing on to the next generation", you should be actively seeking out those to pour into. 

 

Photo credit: ©Thinkstock/Highwaystarz-Photography

8. The "other" church is better.

Slide 8 of 10

This myth is closely related to the one presented at the beginning—the belief that a better church exists down the road, across town, in another state, or denominational family. While there may be more popular choices or even churches that are thriving, it is a dangerous place to always be comparing where God has you, to what someone else has. If you're not careful, you move into the land of coveting, instead of being thankful for where God has you. 

Maybe you should spend time seeking to provide solutions and be of service to your leadership rather than grumbling and complaining about how so-and-so's church across town is doing their youth ministry, outreach, or worship nights better.

 

Photo credit: Unsplash.com

9. Church is the perfect place to find a spouse.

Slide 9 of 10

Being "equally yoked" is different than actively dating through an entire singles ministry. Having common ground is good, establishing a strong spiritual foundation for a relationship is great, but stepping through a different set of doors every six months on your journey toward landing "the one" is not the best strategy. 

"Being connected to the body" is different than signing up to serve in the college ministry the day after you got dumped. A vibrant spiritual life is the fruit of being rooted in a community of believers who are as eager for your personal growth as you are.

 

Photo credit: ©Thinkstock/satura86

10. The church is where to bring unbelieving friends.

Slide 10 of 10

There are churches that sell this myth well—the lie that "if you just get your unbelieving loved ones in the door, I guarantee their salvation!" This is about as far from the truth as you can get. 

Nowhere in Scripture is the church labeled as the place to "bring" the lost; rather the disciples of Jesus were commissioned to "go out" and be a light in the darkness, to bring the Good News to others. 

The goal of Christians is to preach the Gospel to the unbelievers in our lives—to family and friends, neighbors and co-workers who have yet to understand what Amazing Grace really means. It is the job of each follower of Jesus to introduce people to His goodness and power through their regular interactions, not bait them into attending a church service. 

 

Malinda Fuller is a freelance writer who loves to adventure with her homeschooling family. She is passionate about sparking conversations and igniting women towards authentic faith. You can connect with Malinda on Instagram or through her website.

Photo credit: ©Thinkstock/digitalskillet