10 Myths People Believe about VBS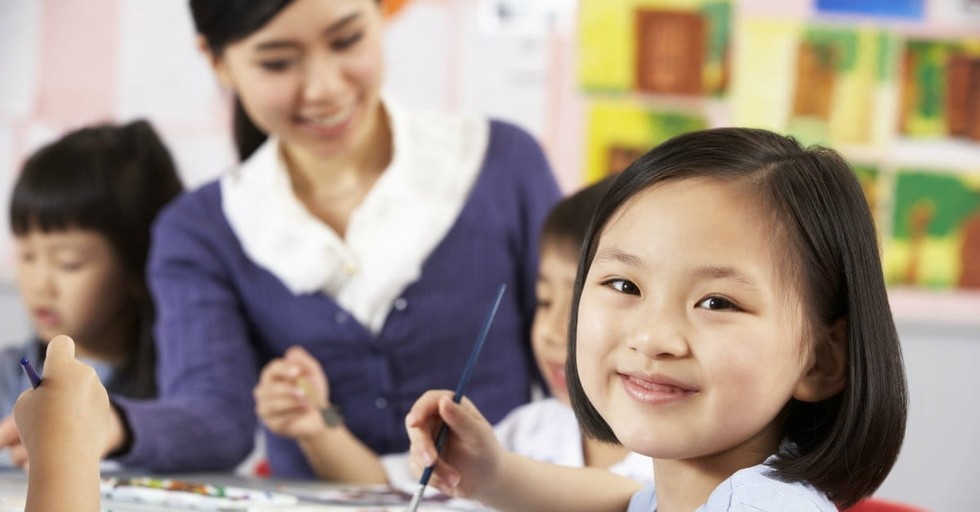 When I was six, a friend invited me to Vacation Bible School at a tiny Primitive Methodist church in our neighborhood. I'm not sure why my mother said yes to the invitation. In those days Methodists and Catholics rarely crossed each other's liturgical thresholds. Perhaps she thought that since the gathering didn't occur on a Sunday morning, it wouldn't count against us.
What I remember most about the experience was drinking orange Kool-Aid out of Dixie Cups, eating flower-shaped butter cookies during snack time, and memorizing Bible verses for candy. Oh, and the end-of-the-week program. I had a speaking part – two lines – which I'd learned backward and forward. Unfortunately, when my moment in the spotlight came, that's how I delivered them – backward.
VBS remains one of the greatest evangelistic tools for churches, reaching an estimated 3,000,000 children in 2009. At least 10 percent of those were unchurched. As you and your church look ahead toward VBS 2018, let's take a look at 10 myths about this beloved summer outreach.
Photo credit: ©Thinkstock
Myth 1: It's a Southern Baptist thing.

Slide 1 of 10

In the article, From Beer, to Bibles, to VBS,Christianity Today tells us, "It's possible to trace the roots of VBS as far back as the 1870s, when the Methodist Episcopal Church offered summer Sunday school institutes to the general public near Lake Chautauqua, New York.  

"In 1873, Bishop John H. Vincent proposed the movement should include educational and cultural programs, and soon other Christian groups across the country followed suit with their own summer retreats, many of them offering services for children." In contrast to today's VBS, which usually lasts for five days, early gatherings often lasted all summer. While Southern Baptist churches are among VBS's greatest supporters, it's safe to say they happily share the fun with many other denominations.

 

Photo credit: Unsplash 

Myth 2: It began in the church.

Slide 2 of 10

Vacation Bible School as we know it today began in the 1890s. Initially, it was a plan of a compassionate doctor's wife who sensed a need to get children off the streets of New York during the summertime. VBS – An Historical Perspective tells the story: 

"Mrs. Walker Aylett Hawes went to New York City from Charlottesville, Virginia, with her husband who was specializing in a medical ministry to children. She noted that many of the children attended to at her husband's clinic received injuries as they played in the streets of New York City. She surmised that they needed something safe and fruitful to occupy their time.

"In 1898 and 1899, Mrs. Hawes rented a beer hall in the city's East Side to conduct her Everyday Bible School. Thus, Bible School began with an evangelistic thrust of taking the study to where the people were."

 

Photo credit: @Thinkstock/Rawpixel

Myth 3: VBS is old-fashioned and outdated.

Slide 3 of 10

While some equate VBS with days gone by, Vacation Bible School has transitioned nicely into the 21st century and continues to be immensely popular. "According to a Barna study commissioned by Gospel Light, more than two out of three churches in America (68%) offered VBS in 2012, and 91% of Southern Baptist Churches sponsored the annual event. In recent years, this level of involvement has remained fairly stable." 

The pastors most likely to champion VBS for their churches are the Generation X pastors, people aged 30-48. Perhaps they remember their own VBS experiences or are more likely to have VBS-aged children.

 

Photo credit: Pexels

Myth 4: Children are too young to make lasting decisions for Christ.

Slide 4 of 10

Many express doubts about the authenticity of children's faith decisions, saying that peer pressure or a desire to please their teachers prompt many children to "walk an aisle" or pray to receive Christ. Researchers who surveyed adults who identify themselves as born-again believers, however, discovered a strong link to their childhood VBS experiences.

Barna research indicates "nearly half of all Americans who accept Jesus Christ as their savior do so before reaching the age of 13 (43%), and that two out of three born again Christians (64%) made that commitment to Christ before their 18th birthday. 

"Additionally, the trajectory for a person's lifetime habits and behaviors—including spiritual behaviors—are often set in childhood, an idea explored in George Barna's book, Transforming Children into Spiritual Champions."

 

Photo credit: ©Thinkstock/Sasiistock

Myth 5: VBS is for big churches.

Slide 5 of 10

While it is true that large churches (more than 250 in attendance and an operating budget of $500K or more) are 91% more likely to sponsor a summer program, 56% of smaller churches do also. These statistics give a nod to the very real cost of hosting VBS.

Curriculum, craft materials, and snacks all cost money, especially since the programs are usually offered free of charge to participants. Larger congregations also provide a greater pool of volunteers from which to draw, a significant factor in the success of such an endeavor. 

Smaller churches, like the one I attend, can still successfully host a VBS. During the year we keep an eye out for craft material sales, and have sometimes borrowed VBS curriculum from a larger church in our city. Older members who are physically unable to volunteer contribute by providing snacks and doing prep work. A special offering allows members to supplement what the church budget has allotted.

 

Photo credit: ©Thinkstock/Design Pics

Myth 6: It's just for kids.

Slide 6 of 10

"VBS is also an opportunity to engage young adults in service," says Clint Jenkin, PhD., vice president of research at Barna Group. "So many young adults lose their connection with a local church because they feel underutilized. Churches can give key VBS volunteer roles to young adults and college kids in their congregations. Colleges (or even large churches) could sponsor teams to travel the country and host VBS for churches that cannot afford or staff their own. Using young people as servants and not just consumers is an important way of establishing a faith that lasts."

My small church, for example, struggles to recruit enough adult workers because many members are elderly or work during the day. For several years, a team of summer evangelists from Child Evangelism Fellowship has come alongside us and made it possible for us to offer a week-long program in our neighborhood. We couldn't have done it without them.

Some churches even offer VBS for teens and adults. Melita Thomas, in the article, 6 Things  You Need to Know About Working with Adults During VBS, says, "When we host VBS for kids only we are missing a tremendous opportunity to share God's Word and the Gospel with older siblings and parents. If the truths being taught during VBS are important for kids then they are just as important for teens and adults. LifeWay (the leading producer of VBS materials) creates VBS resources for the entire family - babies through adults - because we believe VBS remains one of the most successful ways to evangelistically reach families and not just kids."

The Covington Baptist Association agrees. Listen to the logic in its article, Reasons for Conducting Adult VBS. "Parents consistently show they are interested in participating in the activities of their children. Just spend a morning at a little league ball field and you will see dozens of parents actively and enthusiastically participating in their children's activities. If given the luxury of time and resources today's parents often desire to take an active role in their children's extra-curricular activities. Why should VBS be any different? Given the choice, many parents will choose to attend an Adult VBS in order to stay close to their children and know what is being taught and the people doing the teaching."

 

Photo credit: ©Thinkstock/oneinchpunch

Myth 7: To be successful, it has to be big, loud, and high tech.

Slide 7 of 10

My children have attended VBS at a 6,000-member megachurch and a tiny, 25-member church. Both experiences were significant and life-changing. One daughter, an extrovert, loved the excitement of 800 kids crowding the sanctuary of the big church we attended. The high tech sound, lighting, and drama engaged her imagination and provided oomph to the message. The sheer number of adults volunteering their time to share the story of Jesus added a weight and credibility to the faith stories she heard that week.

My other daughter is an introvert. VBS at a large church would have been overwhelming and intimidating for her. She thrived in a small environment where everyone knew her name, and she had a chance to shine. She eagerly memorized Scripture verses every day because she knew she'd be asked to quote them one on one to her teacher. Being selected as VBS Camper of the Week was an honor she's never forgotten and probably wouldn't have experienced if we'd taken her to a larger program. 

The key to a successful VBS program isn't money, facilities, or manpower; it's dedicated believers who love God and love children.

 

Photo credit: ©Unsplash/PhotobyCaseyClingan

Myth 8: VBS is just a babysitting service.

Slide 8 of 10

For every church member who's excited about VBS, there's usually be one who isn't. "People use VBS as a babysitting service," they say. "Parents don't care about spiritual things. They just bring their kids to get them out of their hair. And they'll probably never come to church here, anyway."

These statements may be true, but this shouldn't stop you. That unsaved or uninterested parents would entrust their children to you and allow you to share your faith with them? What an opportunity! The chance to pour spiritual truth into a culture suffocated by spiritual darkness? Priceless! The privilege of loving a child in Jesus' name? A privilege! "The King will reply, 'Truly I tell you, whatever you did for one of the least of these brothers and sisters of mine, you did for me'" (Matthew 25:40).

 

Photo credit: ©Thinkstock

Myth 9: VBS isn't effective anymore.

Slide 9 of 10

A national VBS statistics study from Lifeway, VBS, a Most Effective Evangelism, shares these impressive stats:

25 percent of baptisms reported by the SBC (Southern Baptist Convention) come from VBS.
Every one person trained in VBS results in 1.1 salvation decisions.
10 percent of people enrolled in VBS are unchurched.
2.7 million people enroll in VBS each year.
72,925 people each year accept Christ as Lord and Savior.
2,666 people commit their lives to church-related vocations through VBS.
56,386 people enroll in Sunday School/Small Group Bible Study as a result of attending VBS.

These stats testify to VBS's success on many fronts. Would your church like to connect with more unsaved people? Host a VBS. Is it struggling to lead people to Christ? Host a VBS. Would it like to encourage people to consider full-time Christian service? Host a VBS. In whatever way your church is struggling to fulfill its mission, Vacation Bible School can be a valuable tool in its arsenal.

 

Photo credit: ©Unsplash/BenWhite

Myth 10: VBS is a failure if no one gets saved.

Slide 10 of 10

I often wonder what conversation took place at the close of VBS in the little Primitive Methodist Church I attended so long ago. Did the men and women who volunteered that week wonder if they'd wasted their time? After all, no one had accepted Jesus as their Savior that they knew of. And if success is measured by whether a participant eventually became a church member, the time they invested in me was a failure.

Isaiah 55:11, however, promises us God's Word never returns empty, but "will accomplish what I desire and achieve the purpose for which I sent it." Any time we speak the Word of God, whether it's to 10 children or to a thousand, he promises to use it for his good purposes. This was certainly true in my life. 

As your church decides whether to have Vacation Bible School this year, and you choose whether to volunteer, Jesus, our example for life and godliness, exhorts us, "Let the little children come to me, and do not hinder them, for the kingdom of heaven belongs to such as these" (Matthew 19:14). I can't think of a better, more effective way to teach children about the kingdom of heaven than Vacation Bible School.

 

Photo credit: ©Thinkstock/gentleman111

Lori Hatcher is a blogger, women's ministry speaker, and author of the Christian Small Publisher's 2016 Book of the Year, Hungry for God … Starving for Time, Five-Minute Devotions for Busy Women. A Toastmasters International contest-winning speaker, Lori's goal is to help busy women connect with God in the craziness of everyday life. She especially loves small children, soft animals, and chocolate. You'll find her pondering the marvelous and the mundane on her blog, Hungry for God. . . Starving for Time. Connect with her on Facebook, Twitter (@lorihatcher2) or Pinterest (Hungry for God).