21 Things I Do to Keep Myself 'Young' at 78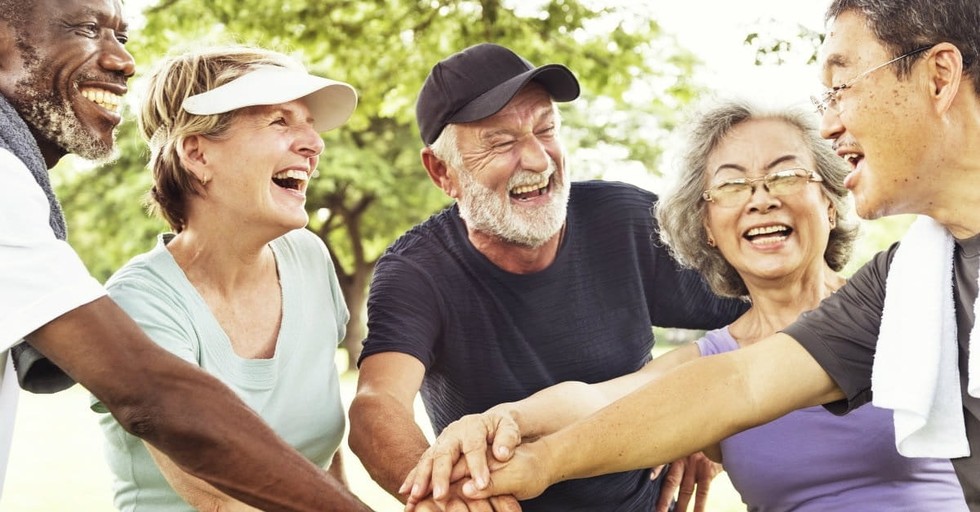 "They will still bear fruit in old age. They will be full of sap and very green…" (Psalm 92:14).
In no particular order–other than this is the order that occurred to me after going to bed last night (and getting up to write it down!)—here is what I do. Don't miss the addendum at the end on what I'm not doing right! Might as well tell the rest of the story.
Photo courtesy: ©Thinkstock/Rawpixel
1. I laugh a lot.

Slide 1 of 10

I love Genesis 21:6, "God has made laughter for me." Laughter is a vote of confidence in the Lord, that He is in control and has it all in His hands. This means some of what you'll hear around this house is pure silliness. And I'm good with that. Many years ago, as six-year-old Abby and I played at the swing in her front yard, she said, "We're being silly, aren't we, Grandpa?" I said, "Yes, we are. Why do we like to be so silly?" She said, "It's a family tradition."

2. I take a full regimen of vitamins.

In the mid-1990s, when I'd gone a decade without seeing a doctor, I went with my wife for her appointment and ended up becoming a patient too. One day the doctor gave me a list of vitamins and minerals (including baby aspirin and a fiber capsule) she wanted me to start taking. As I left, she said, "Mr. McKeever, I think we have just prevented a heart attack in you." Well, apparently so. I have almost never missed a day, although the list of what I take has varied a little over the years as successive doctors have tweaked it.

Photo courtesy: ©Thinkstock/monkeybusinessimages

3. I have an annual checkup, complete with bloodwork.

Slide 2 of 10

4. I see the dentist at least twice a year. 

It was his assistant who found the oral cancer in 2004. So, I owe my life to the dental hygienist. (The cancer was surgically removed in December of 2004, and I went through months of radiation in 2005. No recurrence, but I go in for a quick visual check up regularly.)

5. I walk every day, and have for 40 years. 

Originally, in the 1970s I was jogging. By the 1980s I'd transitioned to walking (it's less strenuous, less dangerous, and I can think and talk and pray). For years I did four miles at least five times a week, but now it's only a mile or so. In addition, we have a walking path/trail in our small subdivision where we walk our dog. All walking is good, so this counts also! Not far from our house is a city park with a one mile walking trail. Bertha and I walk it several times a week, holding hands and talking non-stop. We love the smiles on the faces of the other walkers who see these two seniors so obviously still in love with each other and life.

Photo courtesy: ©Thinkstock/Darrin Klimek

6. I read, read, read.

Slide 3 of 10

At this moment, there are probably a dozen books near my side of the bed. Many are westerns–my love at the moment–but there are biographies, crime mysteries, and politics. And yes, even a book or two on religion!

7. I pray all the time.

All. The. Time. Even now, for this piece and for those who will come across it, that the Lord will be glorified and people helped. "Thank you, Father."

8. I work puzzles.

They say that keeps the mind alert and active. I do crosswords occasionally, but the Sudoku and the cryptogram almost daily. We do jigsaw puzzles too, particularly those from the wonderful Dutch cartoonist Jan van Haasteren.

My parents, both of whom lived to be almost 96, filled books of puzzles in their latter years. We played cards (rummy is the family game) at every opportunity.

Photo courtesy: ©Thinkstock

9. I blog and interact with people on the internet.

Slide 4 of 10

Our website www.joemckeever.com was begun in 2003 and now has over 2,000 articles on all kinds of subjects. Editors comb through these and select things to post on their websites, usually without my knowledge (but with my consent and appreciation). From time to time, editors ask me to write on specific topics. At the moment, I'm working on an article for one of our denominational magazines on longevity in the ministry.

10. I draw cartoons all the time, going back to childhood.

For the last 15 years, the Baptist Press has posted one of my cartoons on their website every day. They have thousands which anyone can see and editors can download and use. Go to www.bpnews.net, and click on "comics." In my notes to friends, usually it's a cartoon with some character saying my message. (I tell people the fun thing about being a cartoonist is you send someone a note and "they frame it!")

Photo courtesy: ©Thinkstock

 

11. I sketch a hundred people every week, and a few thousand every year.

Slide 5 of 10

I draw at events (like the Easter egg hunt at a friend's home this Saturday, a seniors' meeting in Starkville, Mississippi next Tuesday, and a wedding reception in Mobile, Alabama in two weeks) and I walk up to strangers on the street and ask, "May I draw you?" In hotel breakfast rooms, I often end up drawing everyone there, and meet a lot of wonderful people. One of the best compliments ever came from someone as I left a waiting room where I'd sketched everyone. A woman said, "You brought a party into the room when you entered." And who wouldn't want to do that?

12. As a preacher, I'm always working on sermons, studying God's word, and paying attention to other preachers, trying to do a better job for the Lord.

During the next month, I will have spoken to a seniors meeting in Starkville, traveled to a Baptist encampment in Texas and spoken four times to a seniors retreat, led a deacons retreat for an association south of here, preached for the host church on Sunday morning, and that evening, travel to McComb, Mississippi to speak at a church's fundraising banquet at a restaurant.

Photo courtesy: ©Thinkstock/sc0rpi0nce

13. I teach a Sunday School class.

Slide 6 of 10

In our church–the wonderful First Baptist Church of Jackson where I served as minister of evangelism in the early 1970s–Bertha and I belong to a class that focuses on women re-entering society after prison terms. I'm the substitute teacher for a friend who is a professor at nearby Mississippi College. I love the preparation and the challenge of drawing posters with messages from the text which the ladies take home with them.

14. I work at giving generously. 

This is not the place–if there is one!–to list where I give money and how much, but suffice it to say I strive to be generous, whether tipping a waiter, or paying the guy who cuts our lawn, or supporting our friends bringing the gospel to the Middle-Easterners who have transitioned to America. And yes, I'm a tither to the Lord's work in our church.

Photo courtesy: ©Thinkstock/Rawpixel

15. I'm married to a youthful, creative, loving wife.

Slide 7 of 10

Bertha and I were married in January of 2017, after we were each widowed following 52 years of marriage. The Lord has so blessed us in this union. We feel so honored by the Father. Every day is a delight.

16. I'm surrounded by friends.

Tonight, we're having a group of nine in for my birthday dinner. One couple are longtime friends of Bertha, while the others are my friends from 40 years or more. We'll sit around the table and try to outtalk each other and enjoy Bertha's wonderful cooking. (My part? I cleaned the bathrooms!)

Photo courtesy: ©Thinkstock

17. We have 14 grandchildren between us (my 8 and her 6).

Slide 8 of 10

And there is nothing better than grandchildren to drive your prayer life, fill your heart with joy and love, and make demands on the bank account. Four of mine called yesterday to sing "Happy Birthday."

18. I love nature and often replenish the bird feeders in our backyard.

It's even all right for the squirrels to get into it. We love them too! Our bird book sits on a table beside the binoculars, and we enjoy finding that the unusual bird we are seeing is a brown-headed nuthatch or a catbird. A great blue heron makes a visit to the pond in our backyard almost daily. (Sometimes I cannot believe what an amazing place the Lord has given us to live!)

Photo courtesy: ©Thinkstock/monkeybusinessimages

19. We have a dog.

Slide 9 of 10

Albie is a mix of border collie and sheltie. He's a rescue dog which Bertha picked up in Memphis just before she and I met. Now, I'd never had an inside dog in my life, whereas she always has. But I love animals and quickly came to adore this member of our household. Loving this guy–and being loved back by him–adds a dimension to my life that wasn't there before.

20. We have a few television programs we enjoy watching together.

Bertha got me to enjoying Blue Bloods, Father Brown, and Madam Secretary, and I have introduced her to Folse's War (on DVD since it's off the air) and some of my favorite movies.

21. We try to eat right.

I love vegetables and fruits. Every morning, our breakfast is Honey Nut Cheerios with fresh strawberries and blueberries. We eat light for lunch (grazing, Bertha calls it) and then try to have a good evening meal. We keep bananas and nuts handy for munching.

Photo courtesy: ©Thinkstock/Janie Airey

However, don't think I'm a health nut. Far from it. I set a bad example in many ways...

Slide 10 of 10

–I eat too much ice cream. Blue Bell's Natural Vanilla Bean is the best thing in the world. Once when I was in college and living for a short time with my sister and her husband, while they were away for the weekend, I went to the store and bought a half-gallon of strawberry ice cream. I ate a bowl, then another, and… well, you know what happened. I finished that entire box at one sitting. I've not done it since, but I could!

–I love sweets more than I should. After the side effects of the radiation went away in late 2005, I'd lost a lot of taste sensation (since radiation kills salivary glands and taste buds as well as cancer cells). But the taste for sweets returned with a passion!

–I weigh too much. When Margaret and I married in 1962, I weighed 155 lbs. By the 1980s, it was 185. And the number has increased steadily ever since. But, it is what it is, and I'll not be obsessing about my weight. My clothes fit well–mostly, ha!–and I'm fine with it. How much do I weigh? Over 200, thank you.

–I am not doing all the exercises which I used to do over the years. Four or five years ago, I got lazy about doing the stretching, twisting, situps, pushups, etc., which had kept me limber and flexible, and haven't started back. At the moment, walking is all I do for exercise.

The bottom line, I'm thinking, for all of us, is to stay active. Use it or lose it pertains to a world of areas, including our brains, our love lives, and our physical bodies.

I pray for my health. We all know that it's possible to do everything right and still get blindsided by a disease or a truck on the highway. Yesterday, when my grandchildren called for my birthday, I told them, "Pray that the Lord will keep me in good health for a long time to come, so I can keep on preaching and blessing people." One said, "I already pray that for you every day, Grandpa."

You're looking at one blessed man.

Joe McKeever has been a disciple of Jesus Christ more than 65 years, been preaching the gospel more than 55 years, and has been writing and cartooning for Christian publications more than 45 years. He blogs at www.joemckeever.com.

Photo courtesy: ©Thinkstock/jacoblund