10 of the Most Famous Christmas Poems and Hymns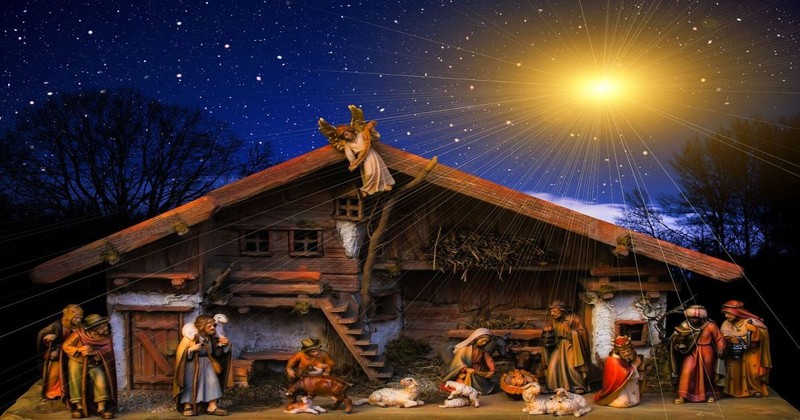 Christmas is a special time of the year when we gather with loved ones to share gifts and adoration. Especially joyous for those of the Christian faith, this holiday is a celebration of the birth, life, and teachings of Jesus. There are seemingly countless poems and hymns relating to the events and meaning of Christmas, so we decided it best to gather 10 of the most famous in this collection. May these Christmas poems and hymns bring you great joy as you sing with family and friends or read them as a reminder of the gift of Jesus!
Read more about the History and Origin of the Christmas Tradition
Christmas Poems
Celebrate the birth of Christ with a FREE 25 Days to a Joyful Christmas Prayer Guide.
"A Christmas Carol"
Christina Rossetti, 1830 - 1894
In the bleak mid-winter
Frosty wind made moan,
Earth stood hard as iron,
Water like a stone;
Snow had fallen, snow on snow,
Snow on snow,
In the bleak mid-winter
Long ago.
Our God, Heaven cannot hold Him
Nor earth sustain;
Heaven and earth shall flee away
When He comes to reign:
In the bleak midwinter
A stable-place sufficed
The Lord God Almighty
Jesus Christ.
Enough for Him, whom cherubim
Worship night and day,
A breastful of milk
And a mangerful of hay;
Enough for Him, whom angels
Fall down before,
The ox and ass and camel
Which adore.
Angels and archangels
May have gathered there,
Cherubim and seraphim
Thronged the air;
But only His mother
In her maiden bliss
Worshipped the Beloved
With a kiss.
What can I give Him,
Poor as I am?
If I were a shepherd
I would bring a lamb,
If I were a Wise Man
I would do my part,—
Yet what I can I give Him,
Give my heart.
"A Visit from St. Nicholas" or "Twas the Night Before Christmas"
Clement Clarke Moore, 1779 - 1863
'Twas the night before Christmas, when all through the house
Not a creature was stirring, not even a mouse;
The stockings were hung by the chimney with care,
In hopes that St. Nicholas soon would be there;
The children were nestled all snug in their beds,
While visions of sugar-plums danced in their heads;
And mamma in her 'kerchief, and I in my cap,
Had just settled our brains for a long winter's nap,
When out on the lawn there arose such a clatter,
I sprang from the bed to see what was the matter.
Away to the window I flew like a flash,
Tore open the shutters and threw up the sash.
The moon on the breast of the new-fallen snow
Gave the lustre of mid-day to objects below,
When, what to my wondering eyes should appear,
But a miniature sleigh, and eight tiny reindeer,
With a little old driver, so lively and quick,
I knew in a moment it must be St. Nick.
More rapid than eagles his coursers they came,
And he whistled, and shouted, and called them by name;
"Now, Dasher! now, Dancer! now, Prancer and Vixen!
On, Comet! on, Cupid! on, Donder and Blitzen!
To the top of the porch! to the top of the wall!
Now dash away! dash away! dash away all!"
As dry leaves that before the wild hurricane fly,
When they meet with an obstacle, mount to the sky;
So up to the house-top the coursers they flew,
With the sleigh full of Toys, and St. Nicholas too.
And then, in a twinkling, I heard on the roof
The prancing and pawing of each little hoof.
As I drew in my head, and was turning around,
Down the chimney St. Nicholas came with a bound.
He was dressed all in fur, from his head to his foot,
And his clothes were all tarnished with ashes and soot;
A bundle of Toys he had flung on his back,
And he looked like a pedler just opening his pack.
His eyes—how they twinkled! his dimples how merry!
His cheeks were like roses, his nose like a cherry!
His droll little mouth was drawn up like a bow
And the beard of his chin was as white as the snow;
The stump of a pipe he held tight in his teeth,
And the smoke it encircled his head like a wreath;
He had a broad face and a little round belly,
That shook when he laughed, like a bowlful of jelly.
He was chubby and plump, a right jolly old elf,
And I laughed when I saw him, in spite of myself;
A wink of his eye and a twist of his head,
Soon gave me to know I had nothing to dread;
He spoke not a word, but went straight to his work,
And filled all the stockings; then turned with a jerk,
And laying his finger aside of his nose,
And giving a nod, up the chimney he rose;
He sprang to his sleigh, to his team gave a whistle,
And away they all flew like the down of a thistle,
But I heard him exclaim, ere he drove out of sight,
"Happy Christmas to all, and to all a good-night."
"Christmas Bells"
Henry Wadsworth, 1807 - 1882
I heard the bells on Christmas Day
Their old, familiar carols play,
And wild and sweet
The words repeat
Of peace on earth, good-will to men!
And thought how, as the day had come,
The belfries of all Christendom
Had rolled along
The unbroken song
Of peace on earth, good-will to men!
Till, ringing, singing on its way
The world revolved from night to day,
A voice, a chime,
A chant sublime
Of peace on earth, good-will to men!
Then from each black, accursed mouth
The cannon thundered in the South,
And with the sound
The Carols drowned
Of peace on earth, good-will to men!
And in despair I bowed my head;
'There is no peace on earth,' I said;
'For hate is strong,
And mocks the song
Of peace on earth, good-will to men!'
Then pealed the bells more loud and deep:
'God is not dead; nor doth he sleep!
The Wrong shall fail,
The Right prevail,
With peace on earth, good-will to men!'
"Nativity"
John Donne, 1572 - 1631
Immensity cloistered in thy dear womb,
Now leaves His well-belov'd imprisonment,
There He hath made Himself to His intent
Weak enough, now into the world to come;
But O, for thee, for Him, hath the inn no room?
Yet lay Him in this stall, and from the Orient,
Stars and wise men will travel to prevent
The effect of Herod's jealous general doom.
Seest thou, my soul, with thy faith's eyes, how He
Which fills all place, yet none holds Him, doth lie?
Was not His pity towards thee wondrous high,
That would have need to be pitied by thee?
Kiss Him, and with Him into Egypt go,
With His kind mother, who partakes thy woe.
"A Christmas Carol Poem"
Gilbert Keith Chesterton, 1874 - 1936
The Christ-child lay on Mary's lap,
His hair was like a light.
(O weary, weary were the world,
But here is all aright.)
The Christ-child lay on Mary's breast
His hair was like a star.
(O stern and cunning are the kings,
But here the true hearts are.)
The Christ-child lay on Mary's heart,
His hair was like a fire.
(O weary, weary is the world,
But here the world's desire.)
The Christ-child stood on Mary's knee,
His hair was like a crown,
And all the flowers looked up at Him,
And all the stars looked down
Christmas Hymns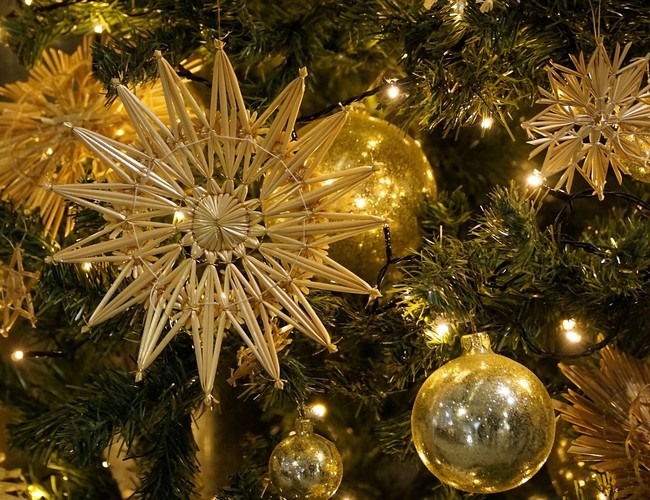 "O Holy Night"
Author: Placide Cappeau; Translator: John S. Dwight
O holy night! the stars are brightly shining;
It is the night of the dear Savior's birth.
Long lay the world in sin and error pining,
Till he appeared and the soul felt its worth.
A thrill of hope - the weary world rejoices,
For yonder breaks a new and glorious morn!
Fall on your knees!
O hear the angel voices!
O night pine, O night when Christ was born!
O night, O holy night, O night pine!
Led by the light of faith serenely beaming,
With glowing hearts by his cradle we stand.
So led by light of a star sweetly gleaming,
Here came the Wise Men from Orient land.
The King of kings lay thus in lowly manger,
In all our trials born to be our Friend.
He knows our need-- to our weakness is no stranger.
Behold your King, before him lowly bend!
Behold your King, before him lowly bend!
Truly he taught us to love one another;
His law is love and his gospel is peace.
Chains shall he break, for the slave is our brother,
And in his name all oppression shall cease.
Sweet hymns of joy in grateful chorus raise we;
Let all within us praise his holy name.
Christ is the Lord! O praise his name forever!
His pow'r and glory evermore proclaim!
His pow'r and glory evermore proclaim!
His pow'r and glory evermore proclaim!
"O Come All Ye Faithful"
John Francis Wade
O come, all ye faithful, joyful and triumphant,
O come ye, O come ye to Bethlehem!
Come, and behold Him, born the King of angels!
Refrain:
O come, let us adore Him;
O come, let us adore Him;
O come, let us adore Him, Christ, the Lord!
Sing, choirs of angels; sing in exultation;
sing, all ye citizens of heav'n above!
Glory to God, all glory in the highest! [Refrain]
Yea, Lord, we greet Thee, born this happy morning;
Jesus, to Thee be all glory giv'n!
Word of the Father, now in flesh appearing! [Refrain]
"What Child is This?"
W. Chatterton Dix
What Child is this, who, laid to rest,
On Mary's lap is sleeping?
Whom angels greet with anthems sweet,
While shepherds watch are keeping?
Chorus:
This, this is Christ, the King,
Whom shepherds guard and angels sing:
Haste, haste to bring Him laud,
The Babe, the Son of Mary!
Why lies He in such mean estate,
Where ox and ass are feeding?
Good Christian, fear: for sinners here
The silent Word is pleading.[Chorus]
So bring Him incense, gold, and myrrh,
Come, peasant, king to own Him.
The King of kings salvation brings;
Let loving hearts enthrone Him.[Chorus]
"O Come, O Come, Emmanuel"
Translator: John Mason Neale
O come, O come, Immanuel,
and ransom captive Israel
that mourns in lonely exile here
until the Son of God appears.
Refrain:
Rejoice! Rejoice! Immanuel
shall come to you, O Israel.
O come, O Wisdom from on high,
who ordered all things mightily;
to us the path of knowledge show
and teach us in its ways to go. [Refrain]
O come, O come, great Lord of might,
who to your tribes on Sinai's height
in ancient times did give the law
in cloud and majesty and awe. [Refrain]
O come, O Branch of Jesse's stem,
unto your own and rescue them!
From depths of hell your people save,
and give them victory o'er the grave. [Refrain]
O come, O Key of David, come
and open wide our heavenly home.
Make safe for us the heavenward road
and bar the way to death's abode. [Refrain]
O come, O Bright and Morning Star,
and bring us comfort from afar!
Dispel the shadows of the night
and turn our darkness into light. [Refrain]
O come, O King of nations, bind
in one the hearts of all mankind.
Bid all our sad divisions cease
and be yourself our King of Peace. [Refrain]
"We Three Kings of Orient Are"
John H. Hopkins
We three kings of Orient are;
bearing gifts we traverse afar,
field and fountain, moor and mountain,
following yonder star.
Refrain:
O star of wonder, star of light,
star with royal beauty bright,
westward leading, still proceeding,
guide us to thy perfect light.
Born a King on Bethlehem's plain,
gold I bring to crown him again,
King forever, ceasing never,
over us all to reign. [Refrain]
Frankincense to offer have I;
incense owns a Deity nigh;
prayer and praising, voices raising,
worshiping God on high. [Refrain]
Myrrh is mine; its bitter perfume
breathes a life of gathering gloom;
sorrowing, sighing, bleeding, dying,
sealed in the stone-cold tomb. [Refrain]
Glorious now behold him arise;
King and God and sacrifice:
Alleluia, Alleluia,
sounds through the earth and skies. [Refrain]
---
This article is part of our larger Christmas and Advent resource library centered around the events leading up to the birth of Jesus Christ. We hope these articles help you understand the meaning and story behind important Christian holidays and dates and encourage you as you take time to reflect on all that God has done for us through his son Jesus Christ!
What is Christmas? Understanding History, Origin and Traditions
Christmas Eve History and Traditions
The History of Santa Claus: Origin of St. Nicholas & Christmas Traditions
The Birth of Jesus: Bible Story and Scripture Verses
Christmas Bible Verses & Scripture Story
Christmas Prayers
Photo credit: ©Thinkstock