Beautiful Readings and Prayers for Christmas Eve/Day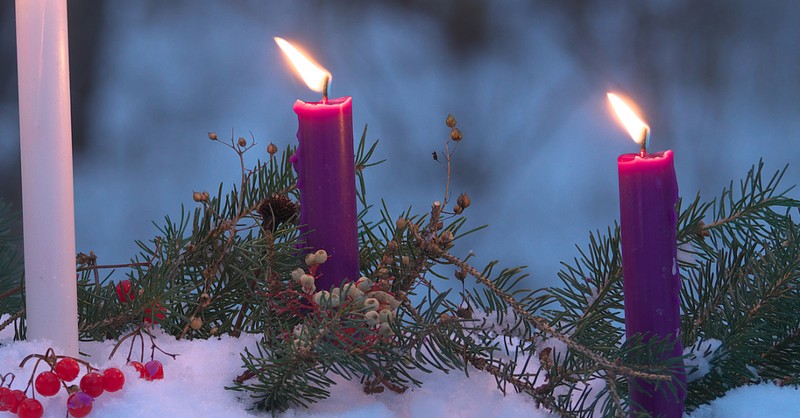 Christmas is the time in which believers joyfully celebrate Christ's birth. This Christmas Eve and Day as we experience the joy of family, food, and finally opening those gifts; let's pause to meditate on the reason for the season. Together with our family and friends make time to read, pray, and ponder the miraculous gift of Jesus!
John 1:4-5: "In him was life, and that life was the light of all mankind. The light shines in the darkness, and the darkness has not overcome it."
This Christmas Eve and Day we celebrate the life that is the light of all mankind! Our hearts swell with gratitude because light came down in the form of a precious baby to pierce the darkness that troubles this world. God was faithful to the promise he made to his people. He promised that we would not be left alone chained to a hopeless fate of sin and death but rather we would be saved by the sacrifice of a great rescuer!
Today would you pray that God's joy would be evident in your heart and home? This year we all have faced so much difficulty. Joy can be hard to hold onto when we are in the midst of a storm but our hope in Jesus is a firm foundation. We can celebrate in every season, not because our lives have been made perfect, but because our eternal destination is secure.
The Meaning of Advent
The word "Advent" comes from the Latin word adventus, which means "coming." Advent in the 4th and 5th century was a time of preparation for the baptism of new Christians. Christians would spend 40 days in prayer and fasting to prepare for the celebration that accompanied the baptism of new believers.
Over time, Advent was connected to the coming of Christ, originally Christians used this term to reference Christ's second coming, but by the Middle Ages Advent was connected to Christ's first coming that we celebrate at Christmas. Today, we celebrate Advent over the four Sundays leading up to Christmas each year. This year we begin advent on November 29 and end this season of prayerful anticipation on December 24.
This Christmas Eve and Day we conclude the Advent season that invited us to set aside the fear and uncertainty that has defined 2020. Let's continue the practice of pausing to pray, read, and reflect as we conclude this year and step into a new one. One great lesson from 2020 has been that we are not in control.
We need God. We need his peace, presence, power, mercy, justice, and love in our lives to survive. The greatest truth is that our world needs Jesus! May we enter 2021 with stirred hearts and renewed faith!
We have lit a candle each Sunday of this advent season. Each week we have been prompted to ponder a different idea. Week one we reflected on the hope we have in Jesus, week two symbolized preparation, week three we focused on joy, and finally week four we meditated on the peace Jesus brings us.
This Christmas Eve and Day we can light each candle and a fifth central candle that reminds us of the light that shines in the darkness! This light shines in the darkness but the darkness shall not overpower it (John 1:5).
Two Suggested Scripture Reading for the Christmas Eve and Day
Isaiah 9:2-7: "The people walking in darkness have seen a great light; on those living in the land of deep darkness a light has dawned. You have enlarged the nation and increased their joy; they rejoice before you as people rejoice at the harvest, as warriors rejoice when dividing the plunder. For as in the day of Midian's defeat, you have shattered the yoke that burdens them, the bar across their shoulders, the rod of their oppressor. Every warrior's boot used in battle and every garment rolled in blood will be destined for burning, will be fuel for the fire. For to us a child is born, to us a son is given, and the government will be on his shoulders. And he will be called Wonderful Counselor, Mighty God, Everlasting Father, Prince of Peace. Of the greatness of his government and peace there will be no end. He will reign on David's throne and over his kingdom, establishing and upholding it with justice and righteousness from that time on and forever. The zeal of the Lord Almighty will accomplish this."
Luke 2:1-14: "In those days Caesar Augustus issued a decree that a census should be taken of the entire Roman world. (This was the first census that took place while Quirinius was governor of Syria.) And everyone went to their own town to register. So Joseph also went up from the town of Nazareth in Galilee to Judea, to Bethlehem the town of David, because he belonged to the house and line of David. He went there to register with Mary, who was pledged to be married to him and was expecting a child. While they were there, the time came for the baby to be born, and she gave birth to her firstborn, a son. She wrapped him in cloths and placed him in a manger, because there was no guest room available for them. And there were shepherds living out in the fields nearby, keeping watch over their flocks at night. An angel of the Lord appeared to them, and the glory of the Lord shone around them, and they were terrified. But the angel said to them, "Do not be afraid. I bring you good news that will cause great joy for all the people. Today in the town of David a Savior has been born to you; he is the Messiah, the Lord. This will be a sign to you: You will find a baby wrapped in cloths and lying in a manger." Suddenly a great company of the heavenly host appeared with the angel, praising God and saying, "Glory to God in the highest heaven, and on earth peace to those on whom his favor rests."
Prayers for Christmas Eve and Day
As we enjoy the Advent season, consider saying one of these prayers for Christmas Eve and Day.
A Personal Prayer
Lord, thank you for sending your Son to be the light that pierces the darkness that covers this world. As we conclude a year that has felt darker, harder, and heavier for our world, would you give me the strength to cling to you through it all? Would you fill my heart and home with joy this Christmas! Amen.
A Prayer for Our World
Lord, have mercy on us! Mercifully allow the message of your goodness and love go out into the dark and broken spaces in our world. Open the eyes of men to be able to see you as their Savior and King! Bring revival into our churches, into the hearts of those searching from their homes, and let your peace bring needed relief to the relentless fear our world is captured by. We thank you for the gift of your Son! Amen.
Other Recommended Readings
John 1:1-14: "In the beginning was the Word, and the Word was with God, and the Word was God. He was with God in the beginning. Through him all things were made; without him nothing was made that has been made. In him was life, and that life was the light of all mankind. The light shines in the darkness, and the darkness has not overcome it. There was a man sent from God whose name was John. He came as a witness to testify concerning that light, so that through him all might believe. He himself was not the light; he came only as a witness to the light. The true light that gives light to everyone was coming into the world. He was in the world, and though the world was made through him, the world did not recognize him. He came to that which was his own, but his own did not receive him. Yet to all who did receive him, to those who believed in his name, he gave the right to become children of God— children born not of natural descent, nor of human decision or a husband's will, but born of God. The Word became flesh and made his dwelling among us. We have seen his glory, the glory of the one and only Son, who came from the Father, full of grace and truth."
As you enjoy this Christmas Eve and Day remember those who may be hurting and searching. Find a way to reach out and show love to your neighbors, co-workers, family, and friends that may be feeling uneasy or lonely this year. Remind them that we have hope because Jesus came down from Heaven so we might believe. Merry Christmas!
Photo credit: ©GettyImages/bkkm
---

Amanda Idleman is a writer whose passion is to encourage others to live joyfully. She writes devotions for My Daily Bible Verse Devotional and Podcast, Crosswalk Couples Devotional, the Daily Devotional App, she has work published with Her View from Home, on the MOPS Blog, and is a regular contributor for Crosswalk.com. You can find out more about Amanda on her Facebook Page or follow her on Instagram.
---
This article is part of our larger Christmas and Advent resource library centered around the events leading up to the birth of Jesus Christ. We hope these articles help you understand the meaning and story behind important Christian holidays and dates and encourage you as you take time to reflect on all that God has done for us through his son Jesus Christ!
What Is Christmas? Understanding History, Origin and Traditions
The History of Santa Claus: Origin of St. Nicholas & Christmas Traditions
Beautiful and Inspiring Christmas Prayers
The Beautiful Meaning and Purpose of Advent
Advent Wreath & Candles - Understanding the History, Meaning, and Tradition
The History and Meaning of the Advent Calendar
Listen to our FREE Christmas Podcast: The Characters of Christmas - The Surprising People in Jesus' Family: