Top Online Theology Degrees: Online Seminary Schools for 2020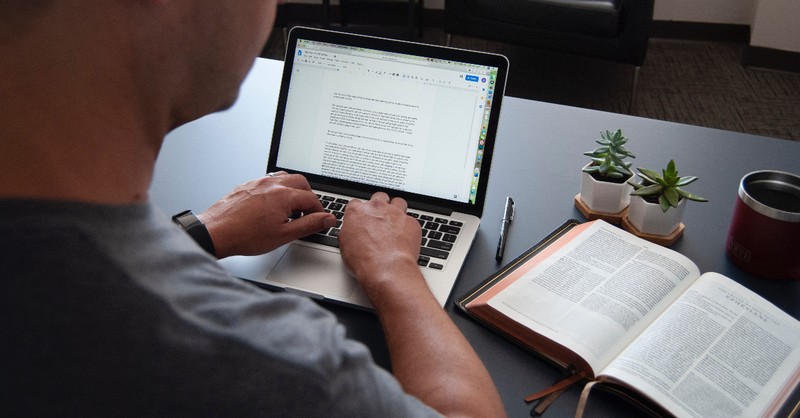 What is a Theology Degree?
Theology is the study of religion and historical spiritual texts. It explores the human knowledge of faith, and how different people and cultures manifest it. Theologians study the many religions of the world and their influence on civilization. Learning this can help us understand the doctrines, conflicts, cultures, and morals of our society and others through history. Learning about theology means engaging difficult questions about the meaning of religion and life itself. A theology degree may cover a mixture of various religions, or may particularly look at just one or two, depending on the course requirements and the program choices of the student.
What Can You Do with a Theology Degree?
You may think only Pastors and Priests obtain a theology degree, but there are many professionals this area of study allows you to pursue. According to timeshighereducation.com,
"For many students, a degree in theology is a step towards their calling to work in the church. A theology degree is a good place to start for anyone wanting to pursue their faith, whether as a minister, a pastor or a youth worker.

Many theology students go into further study, teaching or careers in a wide variety of fields. Students learn a wide variety of skills through theology, like critical thinking, clear writing, problem solving and analysis of social and historical trends. These lend themselves to any number of different jobs.

For this reason, theology students go on to work as journalists, politicians, accountants, police officers, interior designers; the spectrum of possibilities is almost limitless. A substantial percentage of theology graduates train for a career in law. The ethical aspect of theology lends itself to a career in the third sector, and many graduates end up working for charities and non-governmental organisations, either with a religious mission or without."
Browse more of the "Top 40 Theology Careers & Salaries" from mycollegeguide.org.
Find 20 of our favorite Seminary Schools for online Theology Degrees listed below in no particular order:
Top 20 Online Degrees in Theology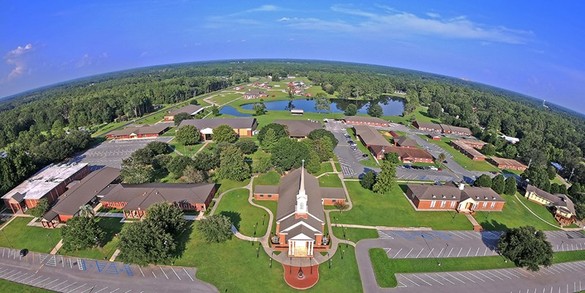 The Baptist College of Florida Campus, Photo from petersons.com
The Baptist College of Florida
As written on baptistcollege.edu, "All BCF courses and degrees are available online. The coursework is provided through our Learning Management System (LMS), MyBCF. This system links students with qualified faculty members. Online coursework includes reading assignments, lectures, forum discussions, testing, and posting assignments. Usually asynchronous, a student can participate from anywhere and at any time during the week. Online courses follow the same semesters as other academic work and cost the same as campus courses. Through National Council for State Authorization Reciprocity Agreements (NC-SARA) membership, The Baptist College of Florida is authorized to provide online courses and degrees to students across the nation with few restrictions."
The Baptist College of Florida is a private Baptist college in Graceville, Florida. It was founded in 1943 and is sponsored by the Florida Baptist Convention. It was originally focused on training Baptist ministers but now offers degrees in theology, music, counseling, education, and business. Learn more about BCF's Online Program.
Average cost after aid - $11K
Graduation rate - 65%
Acceptance rate - 94%


Saint Joseph's College of Maine
According to Saint Joseph's: "A dedicated academic advisor, one click away. Most of our online programs offer four 12-week terms per year, starting in September, December, March, and June. Our Master of Business Administration, Master of Accountancy, and Master of Science in Education programs offer five 10-week terms per year, starting in August, October, January, March, and May.
A flexible, online degree: One that feels less like tech support and more like a mentorship. Our programs aim to offer experience with real feedback and understanding.
Online curriculum designed here on campus: With the online learner in mind, programs are constructed to best suit your needs. Study in an intuitive digital environment bolstered by regular faculty feedback.
Tuition savings: We offer tuition discount opportunities up to 15% through more than 900 employers, including 100 healthcare institutions."
Saint Joseph's College of Maine is a private Catholic liberal arts college in Standish, Maine. It is the only Catholic college in Maine. Saint Joseph's was founded by the Sisters of Mercy in 1912 as an institution for women. Learn more about Saint Joseph's Online Programs.
Average cost after aid - $25K
Graduation rate - 56%
Acceptance rate - 80%


Lincoln Christian University
Lincoln Christian University is a private Christian university in Lincoln, Illinois. It maintains extension sites in Normal, Illinois, metropolitan Indianapolis, Indiana, and Las Vegas, Nevada. LCU is affiliated with the Christian churches and churches of Christ. Online Degree options include:
AA in Bible
BA in Business Administration
BA in Christian Ministry
BA in Psychology
MA in Bible & Theology
MA in Organizational Leadership
Learn more about LCU's Online Degrees.
Average cost after aid - $18K
Graduation rate - 54%
Acceptance rate - 62%


DeSales University
Synchronous vs. Asynchronous Classes: In synchronous courses, faculty and students all share the same virtual learning space at the same time. It's a similar experience to the traditional classroom experience, only instead of going to class, the classroom comes to you. In asynchronous courses, you, your instructor, and classmates share a virtual learning space, but you'll go online and participate at times that are convenient for you. At DeSales, online courses can be synchronous, asynchronous, or a blend of both, optimizing the ways in which you can learn online.
DeSales University is a private Catholic university in Center Valley, Pennsylvania. The university offers traditional, online, and hybrid courses and programs at the undergraduate and graduate levels. Learn more about Online Learning at DeSales.
Average cost after aid - $28K
Graduation rate - 70%
Acceptance rate - 74%
St. Thomas University
St. Thomas University is a place of limitless opportunity, giving every student the tools necessary to reach higher and accomplish more. An STU Online education delivers personalized attention, top-notch academics, and a commitment to producing tomorrow's ethical and engaged leaders.
St. Thomas University was founded in 1961 as Biscayne College by the order of the Augustinian Friars. In 1988, the University came under the sponsorship of the Archdiocese of Miami, conferring upon St. Thomas the distinction of being the only Catholic Archdiocesan-sponsored university in Florida. Now with more than 75 degree programs and a growing online presence, STU is committed to graduating students who have been taught the essential attributes to be leaders in their chosen field. STU students learn the key traits of successful leadership—knowledge, confidence, and ethics.
Ranked #5 for Economic Value in Florida by The Economist (2015)
Learn more about St. Thomas University Online Degrees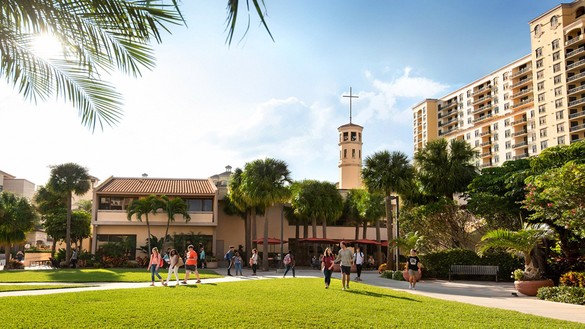 Palm Beach Atlantic Univerity Campus: Photo from pba.edu
Palm Beach Atlantic University
The online experience at PBA is designed for busy professionals who want to earn their degrees without sacrificing their job or daily responsibilities. Between real-time online classes, recorded instructional podcasts, accessibility through other RSS feeds and course materials accessible with virtually any smart device, these programs are designed with you in mind.
Palm Beach Atlantic University is a private Christian university in West Palm Beach, Florida. The university's nine colleges focus on the liberal arts with a select collection of professional studies. In 2019, its undergraduate enrollment was approximately 2,800. Learn more about PBAU's Online Programs.
Average cost after aid - $24K
Graduation rate - 43%
Acceptance rate - 97%


Montreat College
Montreat College offers online graduate and adult undergraduate degree programs as part of the college's School of Adult and Graduate Studies. Montreat's adult and graduate programs have been helping students sharpen their minds, apply their faith, and enhance their careers for over 25 years.
Montreat College is a private Christian liberal arts college in Montreat, North Carolina. Montreat College has three campuses for adults, professionals, and graduate students in additional sites in North Carolina and online. Learn more about Montreat College Online Programs.
Average cost after aid - $20K
Graduation rate - 50%
Acceptance rate - 65%


Calvary University
Calvary University is committed to providing the highest quality online education so that students can earn an accredited online undergraduate degree or an accredited online graduate degree, and you can do so knowing that you are getting the very highest quality of education. No matter where you are in the world, Calvary has an online degree program that is designed to fit your needs and to give you the tools you need to live and serve in the church and in the world according to a biblical worldview.
Calvary University is a biblically-based, theologically conservative Christian university in Kansas City, Missouri. Formerly Calvary Bible College, the institution opened in 1932 and offers several associates and bachelor's degrees, including an adult degree completion program and online programs. Learn more about Calvary University Online Degrees.
Average cost after aid - $16K
Graduation rate - 46%
Acceptance rate - 74%


Warner University
Warner University's online programs provide quality instruction from a Christian perspective. You will learn from experienced professors, in a flexible environment, on a timetable that works with your busy schedule. Our programs prepare students to model competence and Christian character in the workplace. We will prepare you for what's next in life—a new career, a new promotion, or a new mission.
Warner University is a private Christian university in Lake Wales, Florida. It is affiliated with the Church of God. Learn more about Warner University Online Programs.
Average cost after aid - $17K
Graduation rate - 65%
Acceptance rate - 41%


Oral Roberts University
As written on oru.edu, "We understand the difference earning a degree at Oral Roberts University can make in your life, which is why we offer our signature Whole Person Education with the convenience of online learning. Our family of instructors are motivated not only to teach you important career skills but also benefit your spirit, mind, and body. If you are self-motivated and passionate to make a difference, start your online degree today."
Oral Roberts University is a private evangelical liberal arts university in Tulsa, Oklahoma. Founded in 1963, the university is named after its founder, evangelist Oral Roberts, and accredited by the Higher Learning Commission. The university enrolls approximately 4,000 students. Learn more about the Online Programs at Oral Roberts University.
Average cost after aid - $19K
Graduation rate - 51%
Acceptance rate - 93%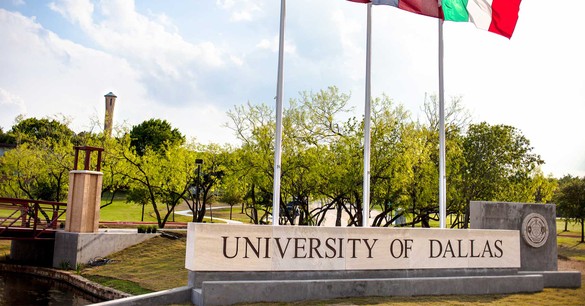 Photo from niche.com
University of Dallas
As found on udallas.edu, "Online students experience the same comprehensive curriculum, rigorous coursework and inspiring community of learning as our onsite learners. We invite you to become a transformative witness of the power of theological education as you follow your calling to service."
Complete your program completely online, with no residential or onsite attendance required.
Experience the depth and rigor of online courses offered by an accredited, Catholic university.
Enjoy the same master's degree courses offered online, as are offered onsite; There is no "transcript difference" between online and onsite learning.
The University of Dallas is a private Catholic university in Irving, Texas. Established in 1956, it is accredited by the Southern Association of Colleges and Schools. Learn more about the Online Programs at the University of Dallas
Average cost after aid - $24K
Graduation rate - 70%
Acceptance rate - 47%


Calvin Theological Seminary
Calvin Theological Seminary is a seminary affiliated with the Christian Reformed Church in North America, located in Grand Rapids, Michigan, United States, and closely tied to Calvin College, though each institution has its own board. Rev. Julius Medenblik is currently president of the school.
According to their website, "Our programs are designed so that you can fit them into your busy schedule. Though our courses include interactive discussion forums, you won't be required to be available for "live" online meetings, allowing you to complete your reading, writing, and discussion posts when it works in your schedule."
Learn more about the Distance Learning Programs at Calvin Theological Seminary
Iliff School of Theology
Iliff School of Theology is a graduate Methodist theological school in Denver, Colorado. Founded in 1892, the school's campus is adjacent to the University of Denver. An average of 300–350 students attend the school each year Iliff is one of thirteen United Methodist Church seminaries in the United States.
Learn more about the Online and Hybrid Programs at Iliff School of Theology.
Liberty University
Liberty University is a private evangelical Christian university in Lynchburg, Virginia. It is one of the largest evangelical Christian universities in the world and one of the largest private non-profit universities in the United States, measured by student enrollment.
According to their website, "At Liberty, you'll benefit from 30+ years of learning, growing, adapting, and innovating for the distance learner — and more than a decade of researching the needs of the online student. You can be confident that we've taken the time to learn what's important to you." Learn more about the Online Programs at Liberty University.
Average cost after aid - $28K
Graduation rate - 43%
Acceptance rate - 30%


Southwestern Baptist Theological Seminary
The Southwestern Baptist Theological Seminary is a private, non-profit institution of higher education associated with the Southern Baptist Convention; the seminary was established in 1908, and is located in Fort Worth, Texas.
According to their website, "In a fast-paced, ever-changing world, you need quality theological education to support the demands of ministry. Southwestern stands ready to partner with you, providing theological training and practical tools wherever you are in ministry. Our five accredited, fully-online degree options give you access to our world-class faculty as you fulfill God's call on your life. Start a degree or complete a degree while you continue in your current ministry context." Learn more about Southwestern Online.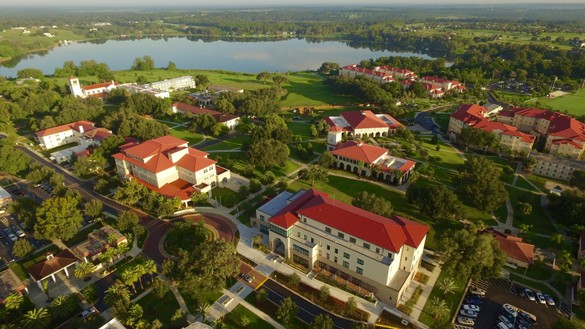 Saint Leo University Campus, Photo from commonapp.com
Saint Leo University
Saint Leo University is a private Roman Catholic liberal arts university in St. Leo, Florida. It was established in 1889. The university is associated with the Holy Name Monastery, a Benedictine convent, and Saint Leo Abbey, a Benedictine monastery.
According to saintleo.edu, "Saint Leo's online degree programs prepare you to take advantage of growing career opportunities in a variety of in-demand fields. Taught by accomplished faculty with real-world experience, Saint Leo courses are paired with a convenient online learning environment that is backed by years of experience in delivering virtual education content." Learn more about the Online Degree Programs at Saint Leo
Average cost after aid - $18K
Graduation rate - 45%
Acceptance rate - 58%


Gateway Seminary
Gateway Seminary (previously named Golden Gate Baptist Theological Seminary) is a graduate school affiliated with the Southern Baptist Convention.
Master's Degrees: Gateway Online's fully accredited master's degree programs combine the best of academic studies with significant ministry training to prepare men and women for a variety of ministries.
Master of Divinity (MDiv)
Master of Theological Studies (MTS)
Master of Arts in Educational Leadership (MAEL)
Master of Arts in Intercultural Studies (MAIS)
Master of Global Engagement (MGE)
Master of Arts in Christian Counseling (MACC)
The Diploma in Theology and the Diploma in Educational Leadership are available online, all Gateway Seminary campuses.
Campbellsville University
Campbellsville University is a private Christian university in Campbellsville, Kentucky, United States. Founded as Russell Creek Academy, a Baptist institution, the university currently enrolls more than 12,000 students and is open to students of all denominations.
Average cost after aid - $20K
Graduation rate - 36%
Acceptance rate - 69%


Columbia International University
Columbia International University is a private Christian university in Columbia, South Carolina.
From their website: "Whether you're looking for a master's degree, a bachelor's, or an associate's, our 100% online degree programs are flexible and built to be tailored toward your interests and goals. In your online classes, you'll learn and collaborate with students from all over the world, doing engaging, challenging work that will help you grow professionally and spiritually. We've been preparing students like you for success since 1923, and we have the programs and faculty to do the same for you." - Learn more about online degrees at CIU.
Average cost after aid - $18K
Graduation rate - 62%
Acceptance rate - 28%


Trinity International University
Trinity International University is an evangelical Christian university headquartered in Deerfield, Illinois. It comprises an undergraduate college, a graduate school, a theological seminary, a law school, and a camp called Timber-lee.
Learn more about TIU's Online Christian Ministries Program whose mission is to "empower and equip Trinity students theologically and theoretically in the areas of personal maturity, relational competence, and ministry skill in order to engage contemporary culture through Christ."
Average cost after aid - $20K
Graduation rate - 53%
Acceptance rate - 75%
We hope you found a promising school for you or a loved one on this list. If you think we are missing a notable school, please tell us in a comment below!
---
This article is part of our larger Higher Education resource library centered around colleges and universities. We hope these articles help you narrow down your search for Christian colleges and seminaries.
20 Best Masters in Theology Programs
Top Universities for Masters of Divinity
The Best Online Christian Colleges in America
The Best Bible Colleges in America
70 Best Christian Colleges and Universities