The Best Bible Colleges & Universities in America (Top 20 List)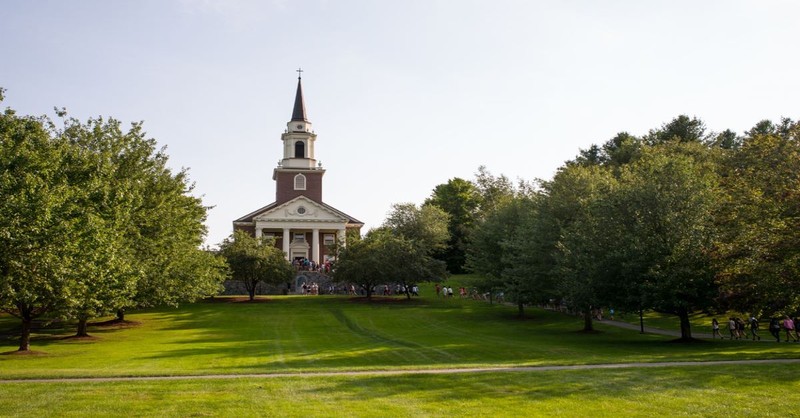 Here we have gathered 20 of the best Bible Colleges and Universities in America! Many of these schools overlap from our list of 70 Best Christian Colleges & Universities - 2019 Edition, highlighting ones that specialize in biblical studies and programs. May you find a great Bible school for yourself or children in this list of renowned higher education institutes.
Note: The following list is in no particular order, simply a collection of great Bible schools.
Top 20 Bible Colleges and Universities
1. Lancaster Bible College
Lancaster Bible College is a private Bible College located in Lancaster, Pennsylvania. Established in 1933, the College's mission is "to educate Christian students to think and live a biblical worldview, and to proclaim Christ by serving Him in the Church and society."
The main campus in Lancaster sits around 40 miles east of Harrisburg and 70 miles west of Philadelphia. The campus is only a short drive from downtown Lancaster, a flourishing community that offers exceptional dining, artistic, and cultural experiences. Lancaster Bible College is accredited by the Middle States Commission on Higher Education and the Association for Biblical Higher Education Commission on Accreditation.
Lancaster Bible College has a total enrollment figure of 1,979, including students from 32 states and 14 foreign countries. The College has an undergraduate student-to-faculty ratio of 15:1, and a graduate student-to-faculty ratio of 13:1. The College offers a range of undergraduate and graduate programs, as well as a series of online courses. A few of the majors offered include Biblical Studies, Business Administration, and Social Work. 68% of applicants are admitted to the College, which boasts an overall retention rate of 78% with an overall graduation rate of 66%. Financial aid is available, with 97% of all undergraduate students receiving some form of financial assistance.
Location: Lancaster, Pennsylvania
Enrollment: 1,979
Denominational Affiliation: Non-denominational
Tuition: $24,290
Room & Board: $8,750
For more information, visit lbc.edu
Photo credit: Lancaster Bible College
2. Covenant College
U.S. News & World Report ranks Covenant among the top in the "Best Value Colleges" in the South. Covenant College is a Christ-centered liberal arts school that affiliates with the Presbyterian Church of America. Founded in 1955 in Pasadena, California, Covenant College currently thrives on the former site of historic Lookout Mountain Hotel in lovely Lookout Mountain, Georgia. An ideal location for the expanding College, Covenant purchased the once-posh "Castle in the Clouds" in 1964. Since then, the College has significantly developed its campus and cultivated enduring ties within Chattanooga. Just two hours from Atlanta and Nashville, and a 15-minute drive from Chattanooga, students enjoy a variety of outdoor adventures, a thriving city life, and numerous on-campus events. Rock City on Lookout Mountain offers a spectacular opportunity to "See Seven States" from 1700 feet above sea level. Students can explore more than 50 student organizations, and over 75% of students participate in intramural sports.
Covenant's students come from nearly every U.S. state and over 20 countries. Small classes, with a student-faculty ratio of 14:1, result in an abundance of individualized guidance. Students are required to live on campus their first three years. Residence housing is mixed, allowing upperclassmen and underclassmen to live alongside each other. Discipleship coordinators assigned to each hall lead Bible studies and guide spiritual development among the students. Students orient their lives around scriptural knowledge, academic inquiry, analytical skills, communication skills, and service that is Christ-like. To fulfill its motto, "In all things Christ preeminent," Covenant's stated goals are to: 1) build a community of people responding to their identity in Christ, 2) develop programs designed and operated from a biblical frame of reference, and 3) provide educational experiences which foster lifelong and Christ-honoring service.
Location: Lookout Mountain, Georgia
Denominational Affiliation: Presbyterian Church of America (PCA)
Enrollment: 1,030
Tuition: $34,330
Room & Board: $10,260
For more information, visit covenant.edu
Photo credit: Covenant College
3. The College at Southeastern University
The College at Southeastern began in 1994 as an undergraduate school of Southeastern Baptist Theological Seminary, accredited by Southern Association of Colleges and Schools Commission on Colleges, and the Commission on Accrediting of The Association of Theological Schools. Their mission is to equip students to give their lives for the cause of Christ in the church, among the nations, and in every aspect of society. They are committed to keeping tuition at a "fraction of other colleges' so you can use your degree to go places instead of being chained down by debt." Their lovely, 300-acre campus is minutes from Raleigh and Durham in the renowned Research Triangle area. Wake Forest is a unique, walkable community with coffee shops, boutiques, and restaurants. Historic homes decorate downtown, creating a friendly neighborhood feel.
Students can get involved in groups such as Faith and Film, International Justice Mission, Performing Arts Club, and the Southeastern Outdoors Club, or participate in a variety of intramural sports. Chapel is held twice-weekly, featuring world-renowned preachers and scholars. All students complete a minor in Christian Studies. Central to their curriculum is The History of Ideas Program, which challenges students to understand and discuss great works of literature, history, theology, philosophy, science, and government.Degree programs include 20+ B.A. and B.S., M.A.s in Teaching or Intercultural Studies, and Associate degrees. Their Hunt Scholar program, for pastoral ministry, pairs education with intense church mentorship, allowing students to earn a B.A. and M.Div. in 5 years. Southeastern's Dual Enrollment allows high school students to earn up to 30 college credit hours. Their Center for Great Commission Studies (CGCS) hosts conferences, meals, conversations, seminars, and other events to prepare hundreds of students every semester to go on missions to Asia, London, Germany, Malaysia, and all over the world.
Location: Wake Forest, North Carolina
Denominational Affiliation: Southern Baptist
Enrollment: 3,250 (including the College at Southeastern and Southeastern Baptist Theological Seminary)
Tuition: $17,496
Room & Board: $6,700
For more information, visit collegeatsoutheastern.com
Photo credit: The College at Southeastern University
4. Calvin College
Calvin College, founded in 1876, ranks #1 in U.S. News & World Report's "Best Colleges - Regional Midwest." It's a Money Magazine "Best Value College," and is listed in Forbes "America's Top Colleges." Calvin equips its 3,800+ students from 45 U.S. states, 60 countries, and five Canadian provinces to "think deeply, act justly, and live wholeheartedly as Christ's agents of renewal in the world." Named in honor of 16th-century reformer John Calvin, the creeds of Reformed Christianity guide the college's mission. Calvin will officially become a University in 2020 as part of its vision to serve as a trusted partner for learning across religious and cultural differences throughout the church and the world. Calvin's tree-covered, 400-acre campus is just minutes from the lively city of Grand Rapids, named by Forbes as the "Best City for Raising a Family." Miles of paved paths invite biking, running, or walking God's creation within Calvin's 100-acre ecosystem preserve. Here are the 50 best things to do in Michigan.
Calvin offers 100+ majors and programs, including graduate-level offerings in accounting, education, speech pathology, and audiology. Calvin students engage in internships, community-based service learning, and research that results in publishing and presenting alongside world-class faculty. Student leaders plan Bible studies and worship. The student body represents 30 denominations, and 190+ Chapel services are held annually. The student-to-faculty ratio is 13:1. With over 60 intramural clubs, 21 varsity teams, and 11 NCAA Division III National Titles, Calvin offers ample athletic options. Encouraging students to "make things new, provoke action, and revel in beauty" Calvin also offers abundant opportunities to explore design, dance, drama, and 20+ arts organizations on campus. Calvin's campus hosts thousands of visitors each year for films, lectures, concerts, and art exhibitions at its spectacular galleries, concert halls, and theaters. Calvin's Career Center and innovative Calvin LifeWork program equip graduates for a future infused with God's plans.
Location: Grand Rapids, Michigan
Denominational Affiliation: Christian Reformed Church
Enrollment: 3,732
Tuition: $34,600
Room & Board: $10,200
For more information, visit calvin.edu
Photo credit: Calvin College
5. Multnomah University
Located in Portland, Oregon, Multnomah is a smaller Christian university with an average enrollment of 417. In addition to its main programs of study, Multnomah has several pre-professional programs, such as pre-law, pre-dental, pre-med, and pre-veterinary, among others. There are also graduate and online programs as well as the Multnomah Biblical Seminary. Their website reads:
"We're pioneering a new academic landscape where the Bible intersects with art, science, business, history – you name it. You'll share ideas with entrepreneurs, kick back with songwriters and talk about Scripture with everyone around you. You'll learn how God's truth applies to the career you've been called to. And you'll leave with a sense of purpose that will guide you for the rest of your life."
Multnomah boasts alumni like Luis Palau, Randy Alcorn, businessman Dave Munson and has created several ministries and businesses over the years. Among these, include the successful Multnomah Press, International Renewal Ministries, Christian Supply, and Mission Portland Networking.
Location: Portland, OR
Enrollment: 417
Denominational Affiliation: Interdenominational
Tuition: $24,440
Room & Board: $9,320
For more information, visit multnomah.edu.
Photo credit: Multnomah University
6. Azusa Pacific University
Number nine on Forbes' America's Top 10 Christian Colleges, Azusa Pacific University "began as a Training School for Christian Workers in 1899, preparing men and women for ministry and service." The school is ranked 357 overall by Forbes and holds the U.S. News Rank of National Universities: Tier 1 (#187). It also ranks #177 in High School Counselor Rankings. APU has over 100 programs for education, from Bachelor's Degree to Master's and Doctoral and includes programs on-campus as well as online. Azusa Pacific University has many schools of study, including Business and Management, Visual and Performing Arts, and also, Azusa Pacific Seminary.
Location: Azusa, CA
Enrollment: 5,770
Denominational Affiliation: Christian Interdenominational (Wesleyan Holiness tradition)
Tuition: $38,880
Room & Board: $9,000
For more information, visit apu.edu
Photo credit: Azusa Pacific University
7. Kuyper College
Kuyper College's mission is to equip students with a biblical, Reformed worldview to serve Christ's church and his world. Its name reflects their progression from a Bible college to a ministry-focused Christian leadership college. Founded in 1939 as Reformed Bible Institute (RBI), the school changed its name to Reformed Bible College in 1970 when it began offering a 4-year Bachelor's degree. In 2006, it became Kuyper College, honoring the influence of theologian Abraham Kuyper, considered the father of the Biblical Reformed Worldview. Today, Kuyperian thought is the subject of scholarly and societal studies in colleges and seminaries around the world. College Factual ranks Kuyper #4 in Best Colleges Affiliated as Other Protestant.
Kuyper College is located on a serene, wooded campus eight miles from downtown Grand Rapids, Michigan. The city has been named one of the top 50 places to live and play by National Geographic magazine, the best city for raising a family by Forbes magazine and the 2014 top vacation destination by Lonely Planet. Zondervan Library is a campus highlight; named in honor of P.J. Zondervan, the founder of Zondervan Publishing House and an active member of Kuyper's founding board of trustees. Degree programs at Kuyper include accounting, marketing, social work, business, communication, information technology, education, nursing, and many others; and 16 study abroad opportunities. With a 12:1 student-faculty ratio, students enjoy personalized, committed instruction. Opportunities for involvement include SpiL (Spiritual Life Leadership Team), student government, intramural sports, youth ministry club, PRISM (for international and global students) and HANDS (Helping and Nurturing During Service). Kuyper puts faith first, integrating a high-quality academic curriculum with a Reformed worldview, helping students become leaders and make a godly impact in others' lives. Their core values are: Primacy of Scripture, Biblical Worldview, Reformed Doctrine, Academic Excellence, Holistic Development, and Caring Community.
Location: Grand Rapids, Michigan
Denominational Affiliation: Reformed
Enrollment: 250
Tuition: $21,989
Room & Board: $7,285
For more information, visit kuyper.edu
Photo credit: Kuyper College
8. Northwestern College
Founded in 1882, Northwestern ranks 7th on U.S. News & World Report's Best Regional Colleges Midwest, and is included in GreatValueColleges.net's list of 50 Great Affordable Colleges in the Midwest. Northwestern's beautiful 100-acre campus is nestled within Orange City, which ranks 5th among the nation's top 10 Christian college towns by CollegeandSeminary.com. It has also been named one of the 100 Best Small Towns in the U.S., and the happiest city in the state. Northwestern students hail from 32 states, 18 countries, and a variety of denominations. Students can choose from 120+ majors, minors, pre-professional programs, graduate degrees, and graduate certificates. Fifty-one percent of students participate in 19 Raiders sports. Northwestern holds 9 national NAIA team titles, and 300+ Raiders have been named All-Americans. Because of their commitment to caring for God's creation, Northwestern was the first Iowa college and the second college nationwide to be named a Groundwater Guardian Green Site (GGGS).
Campus ministry teams raise students' awareness of the world's injustices and provide ways to respond. Students visit prisons, package food, and serve the marginalized. More than 60 percent of students put their faith to action through volunteering, which led to the college being named nine years consecutively to the President's Higher Education Community Service Honor Roll. During spring break, students serve in teams around the world, including Haiti, Nicaragua and the Netherlands. Athletic teams and performing arts groups regularly go on mission trips together. Northwestern has study abroad programs in Oman and Romania, and students have their choice of 30+ programs offered through the Council for Christian Colleges & Universities and cooperative arrangements with other colleges. Northwestern's mission is to engage students in courageous and faithful learning and living that empowers them to follow Christ and pursue God's redeeming work in the world.
Location: Orange City, Iowa
Denominational Affiliation: Reformed Church in America (RCA)
Enrollment: 1,307 (including graduate students)
Tuition: $30,900
Room & Board: $9,500
For more information, visit nwciowa.edu
Photo credit: Northwestern College
9. Cedarville University
Cedarville University is an accredited, Christ-centered, Baptist institution established in 1887, ranking #12 in U.S. News & World Report's "Best Regional Colleges Midwest." For over 130 years, they have stood "For the Word of God and the Testimony of Jesus Christ." Their mission is to instill five objectives: 1) glorify God, 2) think broadly and deeply, 3) communicate effectively, 4) develop academically and professionally, and 5) engage for Christ. Located in a quiet town on 400 acres with beautiful Cedar Lake at its center, Cedarville is a serene, natural campus with expansive lawns and broad walkways. Approximately 80 percent of undergraduate students live in on-campus housing. The campus hub, Stevens Center, offers a theatre, coffee shop, and a student-run Christian rock station, Resound Radio. Daily chapel is the heartbeat of the campus community, where students, faculty, and staff begin each day with high-energy worship.
Cedarville offers more than 150 programs of study, all with a built-in required Bible minor so that in any chosen vocation, students can apply Biblical truths to all areas of life. Cedarville's emphasis on faith and ministry travels outside the classroom, with mission trips and more than 60 ministry teams serving at churches, schools, and social agencies. Whether locally or around the world, students have opportunities to share hope with a hurting world. Students are encouraged to take at least one international trip. Students can also get involved by joining one of 100+ student organizations, attending events such as the Foreign Film Series and playing on one of the nearly 20 varsity sports teams. The Cedarville Yellow Jackets compete in the NCAA Division II Great Midwest Athletic Conference. Cedarville's academic facilities and labs boast cutting-edge technology and resources. Their 97.5% placement rate affirms their focus on equipping students for wherever God calls them.
Location: Cedarville, Ohio
Denominational Affiliation: Baptist
Enrollment: 3,963 (including graduate and online students)
Tuition: $30,070
Room & Board: $7,360
For more information, visit cedarville.edu
Photo credit: Cedarville University
10. Erskine College
Established in 1839, Erskine College is committed to the inseparability of faith and learning. With an 11:1 student-faculty ratio, Erskine encourages face-to-face personal development, striving for relationships where students feel known. Erskine's picturesque 90-acre campus in the small, historic town of Due West, is a peaceful place for study. Ranked nationally among the Best Liberal Arts Colleges byU.S. News & World Report and Forbes, Erskine combines retreat with state-of-the-art facilities including a new music and math education complex, Bowie Arts Center, and an athletic training facility. Recreational areas for boating, fishing, hiking, and mountain biking are nearby, as well as plenty of shopping and historical sites within a 30-minute drive. Within an hour drive, Greenville-Spartanburg offers concert and theatre venues, arts festivals, and an international airport for visits home or study abroad. On campus, students enjoy an outdoor pavilion, sand volleyball, auditoriums, an amphitheater, and fitness center. Over 90% of students live on campus in one of 6 residence halls.
Each of Erskine's 23 degree programs is customizable to suit individual interests, and semester-long study abroad is available in Scotland, England, France, or Mexico. Students can get involved in over 40 campus organizations such as student government, community service, Bible studies, outreach, and more. Erskine offers intramural, recreational, and intercollegiate Flying Fleet athletics, centered on a "Fleet Way" foundation of three Cs: Christ-centered, Competitive, and Community-Focused. Flying Fleet's 15 teams compete in NCAA Division II and Conference Carolinas. Nearly 100% of Erskine students who apply for graduate, medical, pharmacy, or law school are accepted into the programs of their choice, and Erskine enjoys one of the highest graduate school completion rates in the nation. Erskine strives to equip the whole person – intellectually, physically, and spiritually – to make positive impacts in their families, communities, and the world.
Location: Abbeville, South Carolina
Denominational Affiliation: Associated Reformed Presbyterian (ARP)
Enrollment: 575
Tuition & Fees: $36,100
Room & Board: $11,350
For more information, visit erskine.edu
Photo credit: Erskine College
11. Arizona Christian University
Arizona Christian University, founded in 1960, is the only Arizona school ranked among the Best Regional Colleges in the West, and was ranked#1 University in Arizona by College Consensus.
The 19-acre campus is in scenic Paradise Valley, surrounded by picturesque mountains, minutes from downtown Phoenix. Students from 32 states and 23 countries major in Biblical studies, business, communication, education, political science, music, biology, criminal justice, psychology, healthcare policy, nonprofit management, and coaching. ACU also offers pre-law, pre-med, and pre-seminary tracks. Student-to-faculty ratio of 16:1. ACU's goal is to spark and spread F.I.R.E. (Faith, Influence, Relationship, Excellence) of passionate, Bible-believing Christians that are well-educated and equipped to be leaders. Over 20 Firestorm Athletics teams compete as a member of the NAIA in over 15 sports. All students are taught "The CORE" curriculum, wherein they earn a minor in Biblical Studies, attend chapel twice a week, and complete spiritual formation and service hours. The CORE examines how humanity answers four core questions — What is truth? What is beauty? What is justice? What is goodness? It begins the first semester of freshman year and continues each semester, culminating in a senior capstone.
Worship and service are central to ACU, and the Student House of Prayer (S.H.O.P.) is open 24/7 to those seeking a quiet place to meet God. On Wednesday nights, students gather for Encounter praise and prayer. Twice-weekly, students, staff, and faculty convene for student-led worship and dynamic speakers in Chapel.ACU's Urban Outreach team connects students with city ministries that fit their passions. On school breaks, students and faculty go on missions trips, reaching the world with the hope of the gospel. Inspired by ACU's President, Len Munsil, Arizona's vision is: Transforming Culture with Truth.
Location: Phoenix, Arizona
Denominational Affiliation: Non-denominational
Enrollment: 787
Tuition: $27,400
Room & Board: $8,500 - 11,700
For more information, visit arizonachristian.edu
Photo credit: Arizona Christian University
12. Oklahoma Baptist University
OBU, founded in 1910, ranks #7 in U.S. News & World Report's Best Regional Colleges of the West. Its beautiful 200-acre campus is recognized as one of the region's finest arboretums. Located in the quiet city of Shawnee, OBU is close to career and cultural opportunities in Oklahoma City. OBU offers 88 areas of study and 4 master's degree options. Students can get involved in 60+ organizations including Campus Activities Board, College Players theatre group, debate team, student government, and the University Concert Series (UCS) responsible for bringing artists such as Rector, NeedtoBreathe, and King's Kaleidoscope to campus. Athletes can participate in 6 club sports and a variety of structured intramural leagues. As of July 11, 2014, the NCAA Division II Membership Committee recommended the membership application for the institution to set up the move from the NAIA to NCAA Division II, primarily competing in the Great American Conference, effectively the 2015–16 season.
A campus-wide chapel is held weekly, and additional chapels, such as Class chapel, GO Week, CONNECT, Bison Way and others are held throughout the year. Canterbury is an off-campus worship that meets every other Thursday in downtown Shawnee, incorporating creative arts in showing Christ's love through service projects. OBU's Center for Global Outreach equips students to serve locally, nationally, and globally. Students can participate in ministries such as Age2Age, Hope House youth shelter, Spero Project for refugees, Project: Safe, and Cargo Ranch. Global trips are available to students in Canada, Ecuador, England, Ethiopia, Hawaii, India, Spain and more. The Career Development Office provides assessment tools and vocational assistance such as job boards, student business cards, resume development, and interviewing. 98% of graduates are employed full-time or in graduate school within 6 months of graduation. Oklahoma's mission is to transform lives by equipping students to pursue academic excellence, integrate faith with all areas of knowledge, engage a diverse world, and live worthy of the high calling of God in Christ.
Location: Shawnee, Oklahoma
Denominational Affiliation: Baptist
Enrollment: 1,965
Tuition: $29,864
Room & Board: $7,490
For more information, visit okbu.edu
Photo credit: Oklahoma Baptist University
13. Alaska Bible College
Alaska Bible College is a private four-year higher educational institution located in Palmer, Alaska. Founded in 1966 by missionary Vincent James Joy, the College was intended to teach theology to those who were preparing for ministry within Alaska. As the only accredited four-year Bible college in Alaska, Alaska Bible College upholds its mission "to exalt the Lord Jesus Christ and extend His Church by biblically training believers to be servant-leaders with Christ-like character." The campus is truly one of a kind, surrounded by breathtaking mountain landscapes.
Alaska Bible College has a total enrollment figure of 51 and has a total of 13 faculty members. The College offers a one-year program for those who are looking to major in Bible, a two-year program for students seeking to earn an Associate of Arts degree in biblical studies, and a four-year program for students who want to earn a Bachelor of Arts degree in Bible and Christian ministry. Alaska Bible College has a steady admittance rate of 100%, with an overall graduation rate of 20%.
Location: Palmer, Alaska
Enrollment: 51
Denominational Affiliation: Christian
Tuition: $9,000
Room & Board: $5,700
For more information, visit akbible.edu
Photo credit: Alaska Bible College
14. Toccoa Falls College
Established in 1907, Toccoa Falls College ranks on U.S. News & World Report's Best Regional Colleges South, and is one of two Georgia schools chosen as a Christian College of Distinction. Its mission is to glorify God through seeking and developing Christian leaders who will impact the world with the love and message of Jesus Christ. Ranked among the Top 50 Most Beautiful Christian Colleges & Universities, and situated in the relaxed environment of a small hometown, the 1,100-acre densely wooded campus invites hiking, cycling, rock climbing, and enjoying the 186-foot historic Toccoa Falls – the tallest falls east of the Mississippi River. Students live on campus in one of two women's residence halls or the men's residence hall, all with laundry and kitchen facilities and spacious lobbies.
TFC offers 34 degrees and 41 minors, as well as online programs. Every degree-seeking student receives a scholarship based on academic credentials. Students hail from 37 states and 32 countries, and the average class size is 13. Students can participate in 400+ activities from SGA committees to intramurals, to worship team mentorships, running live-stream ministries from the Grace Chapel and other on-campus events. Students can also take part in Summer Band Camp, leading worship for youth camps, church retreats, and national events. Cross-cultural majors are required to complete mission trips, and some departments require summer- or semester-long internships. Every TFC student participates in four semester-long Service and Outreach (SAO) opportunities such as Mission San Pablo, ESL Café, Foothills Community Church, The Well House of Prayer, Toccoa Soup Kitchen, Meals on Wheels, Wellspring Camp, Breaking Chains Ministry, Pond Street Bread Ministry, Special Olympics, public school mentoring, and more. TFC is committed to Developing Godly Character with Intellect while preparing students to embrace the vocational field they are pursuing.
Location: Toccoa Falls, Georgia
Denominational Affiliation: Christian and Missionary Alliance
Enrollment: 1,200
Tuition: $22,744
Room & Board: $8,330
For more information, visit tfc.edu
Photo credit: Toccoa Falls College
15. Reformation Bible College
RBC was founded in 2011 to continue the heritage and mission of Ligonier Ministries, establishing a new place for instruction and fellowship. Its mission is to redefine what Bible college can be. Inspired by John Calvin's historic Academy, RBC is "self-consciously Reformed." RBC desires that God would use the college to form a new generation of Christian leaders who will ignite a new Reformation. RBC strives to give students a thorough knowledge of the Scriptures and Christian Reformed doctrine, through courses in Bible, systematic theology, the great works of philosophy, literature, and music; as well as courses in apologetics, church history, and languages. RBC's lovely tree-lined campus with fountains, gentle waterfalls, and manicured landscaping is situated on 42 acres of lakefront. The central hub is the fireplace room and library. Construction is underway for a new Student Learning Center. In the town of Sanford, students can enjoy local art galleries and dining, and a new downtown RiverWalk. Living in Seminole County offers access to scenic wilderness preserves and waterways. World-class attractions of Orlando are minutes away.
RBC's small class sizes foster supportive relationships. RBC does not offer a meal plan; however, students are welcome to use the RBC kitchen when they bring meals to campus. A variety of food services are located near campus. RBC can help families facilitate students' housing arrangements in several off-campus apartment complexes. On-campus, students share in events like Spirit Week, the Faculty-Student Soccer Game, and the Talent Show. Students have opportunities to organize events and student groups, such as Abide, a student-led Bible study. RBC Chapel Services are held weekly. RBC's 3-year Accelerated Degree Program in biblical studies offers a direct path to a Master of Divinity at select seminaries and is designed to launch students into ministry in six years.
Location: Sanford, Florida
Denominational Affiliation: Reformed
Enrollment: 100
Tuition: $11,295
Room & Board: N/A
For more information, visit reformationbiblecollege.org
Photo credit: Reformation Bible College
16. The Master's University
Located in Santa Clarita, just miles from Los Angelas and the beach, The Master's University was initially founded in 1927 as Los Angelas Baptist Theological Seminary with 24 students. Their first Bachelor of Arts programs was started in 1946 to accommodate WWII veterans, and the college division of LABTS began in 1950. In 1975 the school was accredited by the Western Association of Schools and Colleges as it still is today. In 1985 Dr. John MacArthur, pastor of Grace Community Church, became the school's president; he is currently the longest-serving president at TMU. That same year, Dr. MacArthur and the board of directors decided to change the name of the school from LABTS to The Master's College and they also agreed that the school should be non-denominational. The school doubled in size and began an academic expansion.
Today, TMU provides a 10:1 student-faculty ratio, with 13 majors (including a one-of-a-kind marketing media major) and 4 master's degree options; they also provide 100% online programs in both undergraduate and graduate fields. At TMU, 94% of students receive some sort of financial aid. Their athletic division is NAIA Division I, they are ranked #46 for Regional Universities West and #38 for Best Value Schools by U.S. News. Connected to TMU is The Master's Seminary (TMS), located in Los Angelas.
TMU's mission statement is: "The mission of The Master's University is to empower students for a life of enduring commitment to Christ, biblical fidelity, moral integrity, intellectual growth and lasting contribution to the Kingdom of God worldwide."
Location: Santa Clarita, CA
Denominational Affiliation: Non-denominational
Enrollment: 1,340 (undergrad)
Tuition: $24,950 (annual)
Room & Board: $11,200 (annual)
For more information visit masters.edu.
Photo credit: Wikipedia
17. Bethel University
Bethel University is a private, Christian University located in Saint Paul, Minnesota. Founded in 1871 by John Alexis Edgren, the University was originally given the title Baptist Union Theological Seminary. In 1914, the seminary was supported by the Baptist General Conference, who moved it from Chicago to St. Paul and joined it with a Christian high school. Bethel began offering four-year degrees following World War II after much demand and became Bethel College & Seminary. In the decades that followed, Bethel Seminary was expanded to the West and East Coasts while continuing to develop the undergraduate program in St. Paul. In 2004, Bethel officially changed its name to Bethel University, as many know it now. Today, Bethel's mission remains strongly grounded in faith, as the University: "Educates and energizes men and women for excellence in leadership, scholarship, and service," and Bethel continues to "prepare graduates to serve in strategic capacities to renew minds, live out biblical truth, transform culture, and advance the gospel."
Bethel University has an enrollment figure of 2,904 undergraduate students, with a student-to-faculty ratio of 11:1 and 56% of the classes having less than 20 students. Bethel University is accredited by the Higher Learning Commission and has been since 1959. A wide variety of programs for undergraduate and graduate students are available across Bethel's 4 schools: the College of Arts and Sciences, the College of Ault & Professional Studies, Graduate School, and Bethel Seminary. A few of the University's popular majors include applied physics, Biblical and theological studies, and missional ministries. 95% of applicants are admitted into Bethel University, which boasts an 88% retention rate with an overall graduation rate of 67%. Financial aid is readily available, with 100% of first-year students receiving some form of financial assistance.
Location: Saint Paul, Minnesota
Enrollment: 2,904
Denominational Affiliation: Baptist
Tuition: $37,140
Room and Board: $10,520
For more information, visit bethel.edu
Photo credit: Bethel University
18. Emmaus Bible College
Emmaus Bible College is a four-year Bible College located in Dubuque, Iowa, affiliated with the Plymouth Brethren. Founded in 1941 by missionary R.E. Harlow and two of his friends, John Smart, and C. Ernest Tatham, the College takes its name from a small village mentioned in Luke 24:13. Today, the mission of Emmaus Bible College is, "to glorify God by educating and equipping learners to impact the world for Christ through faithful and effective service in their ministries, professions, and communities." The College has a total enrollment figure of 275, and a student-to-faculty ratio of 10:1.
Emmaus Bible College offers a wide range of academic programs, including Bible and Theology, Intercultural Studies and Health Sciences. Situated in Dubuque, the College provides a truly "big little city" atmosphere. It has everything students could when it comes to shopping, entertainment, restaurants, parks and more. The College is only 20 minutes from downtown Galena, Illinois, where students can find antique shops, restaurants, and a variety of other fun stores. Emmaus Bible College is accredited by the Higher Learning Commission. A selective school, Emmaus admits 35% of applicants and has an overall retention rate of 70% with an overall graduation rate of 84%. Financial aid is readily available for students who might need it.
Location: Dubuque, Iowa
Enrollment: 275
Denominational Affiliation: Plymouth Brethren (non-denominational)
Tuition: $18,400
Room & Board: $8,500
For more information, visit emmaus.edu
Photo credit: Emmaus Bible College
19. Hardin-Simmons University
Hardin-Simmons University was founded in 1891 by a dedicated group of businessmen and ranchers joined by Dr. James B. Simmons, an abolitionist Baptist minister from the Northeast before and after the Civil War. Simmons championed freedom and helped found seven colleges for freed slaves. His legacy of hope is embodied at HSU today. Students and staff call their community "The HSU Family." HSU is ranked by U.S. News & World Report as a Best College Regional Universities West. About half of undergraduate students live on the lovely, treed 220-acre campus in women's or men's halls, or college-affiliated apartments or houses. In their City of Abilene home, students enjoy museums, parks, concerts, a zoo, and other attractions.
HSU is divided into 8 colleges or schools and Logsdon Seminary. Together they offer 75+ undergraduate majors, minors, or concentrations, and 20 graduate degrees. Long- and short-term study abroad options offers study and service in England, Austria, Australia, Spain, China, and many other destinations. HSU students are required to accumulate 80 chapel credits by attending worship services, plays, recitals, assemblies, concerts, and more in the Logsdon Chapel. HSU's Baptist Student Ministry team serves the community through local missions and campus outreach projects. HSU's new 35,000-square-foot fitness center includes an indoor soccer field, basketball, and volleyball courts. The Moody Student Center offers a cafeteria, bookstore, post office, snack shop, and a bowling alley. HSU's Cowboy Athletes compete on 16 NCAA III baseball, basketball, cross country, football, golf, soccer, softball, tennis, track & field, and volleyball teams. Through HSU's College Central job portal, students can view open positions on- and off-campus, submit resumes, and access a breadth of career documents and resources. The mission of Hardin-Simmons is to be a community dedicated to providing excellence in education enlightened by Christian faith and values.
Location: Abilene, TX
Denominational Affiliation: Baptist
Enrollment: 1,749
Tuition: $30,140
Room & Board: $9,100
For more information, visit hsutx.edu
Photo credit: Hardin-Simmons University
20. Moody Bible Institute
Moody Bible Institute (MBI) is a Christian institution of higher education with its main campus in Chicago, Illinois. It was founded by evangelist and businessman Dwight Lyman Moody in 1886. Since its founding, MBI's main campus has been located in the Near North Side of Chicago. Moody also operates a graduate campus in Plymouth, Michigan.
According to moodybible.org, Moody is driven by the belief that people committed to living and declaring the Word of God can actually change the world. Since our founding by D.L. Moody in 1886, Moody Bible Institute has been committed to equipping people across the globe, cultures and generations to take the next step toward spiritual maturity.
For more than 125 years, people have come to Moody to be richly equipped in God's Word to impact the world for Christ. Generations of Christ-followers at Moody have committed themselves to studying the Bible and compassionately sharing it with the world.
MBI states, "We desire to give you a deeper understanding of the Word of God that enables you to practically apply it to everyday life and ministry. Every aspect of who we are and what we do is tied to this commitment. Each of Moody's ministries—Education, Radio, Publishing, Conferences and Today in the Word—offers different ways to equip you with the truth of God's Word and apply it to life."
Moody Bible Institute has been preparing students for ministry since 1886, with a combination of biblical knowledge and practical training. With an undergraduate biblical studies campus in Chicago and an undergraduate aviation campus in Spokane, Washington; seminary campuses in Chicago and Plymouth, Michigan; and Distance Learning options, Moody Bible Institute has long been considered the gold standard of Bible-based education.
Location: Chicago, Illinois
Enrollment: 2,826 Undergraduate (2016–17)
Denominational Affiliation: Evangelical
Tuition: $12,630
Room & Board: Approx. $6,000
For More Information, visit moodybible.org and moody.edu
Photo Credit: Moody.edu
---
This article is part of our larger Higher Education resource library centered around colleges and universities. We hope these articles help you narrow down your search for Christian colleges and seminaries.
20 Best Masters in Theology Programs
Top Universities for Masters of Divinity
The Best Online Christian Colleges in America
The Best Bible Colleges in America
70 Best Christian Colleges and Universities