A Mighty Prayer for Those Stuck in Unsafe Situations during Quarantine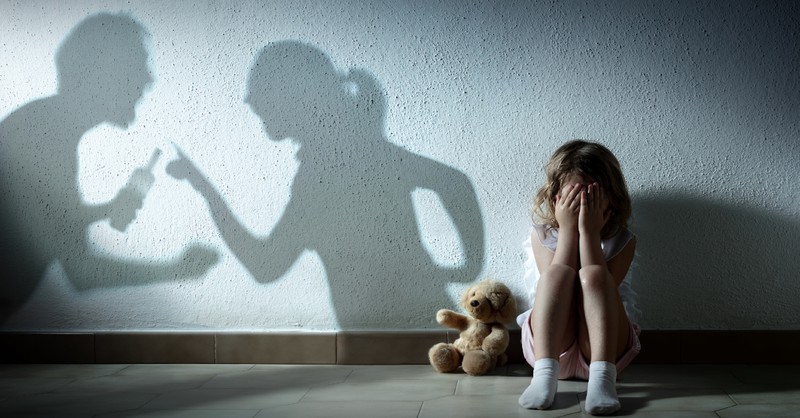 COVID-19 has created a lot of problems for a lot of people. The past weeks have been full of disappointment, frustration, and for many, great heartache. However, when states started issuing stay-at-home orders, I'm ashamed to say my immediate thoughts went to myself and how unaffected I would be by this.
I'm an introvert; a homebody. I love being "stuck" at home and am always happy to be stuck at home with my family. But I confess, I wasn't thinking about how many people can't say that.
We all know families who are struggling during this time because they aren't used to being under one roof 24/7. And by struggling, I mean they're getting on each other's nerves.
I didn't think about how many people would find themselves in unsafe situations during this time.
I'm talking about the men and women who are victims of domestic violence, children who are being abused or neglected, and those who already struggled with depression or mental illness and are now choosing suicide as a means of escape.
If you're like me, and these people didn't come to your mind immediately, or if you've had them on your mind from Day One, would you please join me now in praying for them? For their safety, for their healing, for their restoration, and for the Lord to draw them to Himself.
Let's pray together.
Father God,
We praise you for who you are. We praise you for your goodness and your loving kindness. We praise you for your sovereignty and for being trustworthy regardless of our circumstances. We are facing times of uncertainty, and for many this brings anxiety, depression, and all-consuming fear. These emotions can lead to violence, neglect, and suicidal thoughts. We come before you, humbly asking that you would be with those who are in unsafe situations right now, by their own hand or at the hand of others.
Domestic violence is on the rise, and we can only imagine the desperation and hopelessness these people are feeling. Father, we all want to be loved, and the heartache that comes from an abusive spouse can leave the abused feeling empty and worthless. Please be with them. Draw them to yourself, Lord. Allow them to feel your presence in their lives.
Allow them to understand that while their spouse is hurting them in unimaginable ways, you are safe. You invite us to come to you with all our troubles, and you offer to carry our burdens for us. Give these victims a heart for you, that they may lean on you and have a peace that passes all understanding. Give them a heart to pray for their abuser, to love them as their enemy and not be consumed by hate. Father, keep these victims safe. Protect them from the hand of their abuser.
For the abusive spouse, we ask that you would silence their hateful words, that you would still their threatening hand, but above all, that you would change their hearts. We pray, we beg you, to draw these abusers to yourself, to make them aware of their sin so that they will be broken-hearted over the pain they have caused.
We ask that you would release them from the alcohol, the drugs, the depression, the evil in their hearts. Whatever influences their behavior, Father, we ask that you would free them of this! We ask that you would restore unity in these homes and make these homes that worship and glorify you, rather than grieve you.
We also lift up the children who are being abused and neglected during this time. Most of us have pantries full of items we don't really need or want and yet, there are children in our communities that are going hungry. They aren't responsible for the bad choices of their parents or for the hard times that have affected their families income. Lord, provide for these children. Allow your Spirit to minister to their young hearts. Help them to see that you have not forgotten them.
Lord, some parents, for reasons I can't understand, feed themselves and not their children. Others love their children deeply but are guilty of neglect because they are ashamed to ask for help. Please take this shame from them. Give them eyes to see that their pride needs to be put to death and they need to reach out for help to meet the needs of their families.
Father, for those who are spending their money to entertain substance abuse rather than providing for their families, free them of their addictions. Draw them to yourself. Save them. Provide for them.
Lord, you know that some parents, siblings and babysitters are taking advantage of those under their care and robbing them of their innocence. Lord, put a stop to this, we pray! The thought of children waking up every morning only to spend their days in fear and then to go to bed at night with hunger pains in their bellies, Father, it's heartbreaking.
We know that you are aware of every tear and every act of injustice. We know that you hate these sins and they do not go unnoticed. Father, protect these children. Give them a sense of your love and your presence in their lives. Give their abusers new hearts, allow their sins to grieve them and put them to shame. Stop them! Allow them to see the innocents in the eyes of their victims and allow them to feel protective love, not selfish desire.
Lord, there are abusers, abuse victims, and those with different mental health issues who look at the state of our world right now and they can't make heads or tails of it. They don't have hope in you. They don't know where to turn for comfort. They don't realize they aren't alone. They have nothing but a longing for it all to stop.
You know every thought and every desire, you know how many have already taken their own lives, how many are making plans, and how many will make a deadly spur-of-the-moment decision in the coming days. Lord, foil their plans. Stop them. Intervene. Spare their loved ones from this loss. Give these individuals the hope they long for. Give them the gift of faith. Draw them to yourself and create in them new hearts. Make them new creatures with a desire not only to live, but to live for you. Remind them that life is worth living, that there is hope, and they don't have to remain in darkness. Show them they have purpose. Show them there is joy to be found, unspeakable joy, in you.
Father, your ways are higher than our own. We can't see the big picture. We can't know your plans. But, we can know your character. We can remind ourselves of your faithfulness, not only to us, but to our ancestors throughout the generations. Lord, don't allow us to have blind eyes when it comes to those around us who are living in darkness and despair. Give us eyes to see.
Use us, if you would, to shine your light. While we ask for supernatural intervention in the lives of those who are hurting, we also ask that you would use your church. Show us how we can help the helpless even during this time of social distancing. Let us not grow weary in praying for those who are hurting. Remind us that praying IS doing something! Prayer is powerful and you are listening.
It's easy to think of prayer as a last resort - something we do when there is nothing else to be done. Oh, Father, remind us that prayer should be our first resort. You are the only One who can bring about change! May prayer be ever on the tips of our tongues. May we always be armed and ready to advocate on behalf of our fellow man, but with our lips, with our words, asking you to bring healing, safety and justice to those who need it most.
Lord, you are good. You are good even when it seems that evil is prevailing. You are the King of Kings, Lord of Lords. You are the One true God. No one is above you. No one is greater. We praise you for all these things and ask that you would make yourself known to those who do not know you. Give them hope, the hope that can only be found in you. Fill them with your Spirit and open their eyes to the truth of your Word. As the deer pants for the water, may their souls long after you.
In your Son's precious name,
Amen.
Photo Credit: ©GettyImages/RomoloTavani
Beth Ann Baus is a wife and homeschooling mom of two boys. She is a freelance writer and author of novels, Sister Sunday and My So Much More. In her writing, Beth often pulls from her own experiences of abuse, anxiety, depression and OCD. Beth has a heart for homeschooling, women's ministry, and is an ACBC-certified Biblical Counselor. She loves serving alongside her husband and pointing couples to the Word for strengthening their marriages and home life. You can find more from her at www.bethannbaus.com.