How to Beat Post-Traumatic COVID Disorder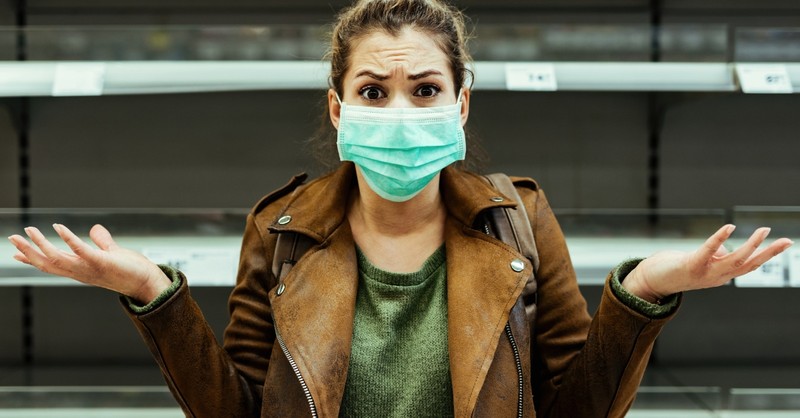 I have a besetting sin. A big one. I am angry. I have serious lung issues and I am immunocompromised. Long before COVID, I lived in fear of lugging an oxygen bottle around to survive. I washed my hands, sanitized after I touched a door handle and changed clothes after visiting a doctor's office. Yup. I am a certified germaphobe. I ask God to forgive me for my fear of sick people and for my envy of those who are healthy. I need to hold tightly to my faith in the Great Physician.
I was astonished to discover that I am not alone. The Wall Street Journal recently published an article entitled "Tantrums: People Are Throwing Them in Restaurants, Airplanes and at Home. Blame the Pandemic." Mature adults are acting like angry toddlers. I call it Post-Traumatic COVID Disorder. Anne Marie Chaker writes, "The whipsaw of renewed gloom from the Covid-19 Delta variant following the burst of optimism from spring vaccinations makes the current pandemic phase more grueling than past ones, psychologists say. It's getting harder to muster empathy or regulate our knee-jerk reactions."
After months of COVID-related deaths, crowded ICU's, and conflicting information from the CDC, people are mad. They can't go to gyms to alleviate stress and their kids are climbing the walls at home. A fight broke out at Walmart when a man got too close to a woman in the checkout line. "Would you mind stepping back?" she said. "Yes," he replied, and then he pushed her. The Walmart secret police were summoned to diffuse the altercation.
Road rage is at an all-time high. Drivers yell and use "creative hand gestures" at nearby motorists. Flight attendants are now required to attend special training to handle belligerent passengers. Restaurant owners are giving time off to waitstaff who are constantly hassled by a barrage of unruly customers. Instead of greeting our fellow humans, we shun them. They can't see us smile anyway.
COVID is not going away anytime soon. Politicians promise solutions they can't deliver. No one can predict the future. But we CAN control our behaviors and our attitudes.
We can act like Christians.
So, how do we start? How do I start behaving calmly and courteously? I have, after all, lived a life of faith for five decades. I know the Bible verses. I need to repent.
1. Trust God Completely
First, I started by asking God to forgive me for not trusting Him with my health and safety.
Paul writes, "…to live is Christ, to die is gain." Philippians 1:24 NIV. Heaven is sweeter than hanging around here on earth. I need to hope in heaven. Death is inevitable. I'll kick the bucket when God is good and ready, and He's completed His ministry through me. None of those pesky invisible germs will kill me. God is my Heavenly Clorox. He is my germ terminator.
2. Be Thankful
Second, I need to be thankful.
"Give thanks in everything, for this is the will of God concerning you." I enjoy seeing God's world. I always marvel at God's creation. God has allowed me to live in a beautiful place. My next-door neighbors are cows and horses. They give me such joy! I love hanging out with family and friends. And I cherish attending church. Virtual church just didn't cut it for me. Each time I have an opportunity to enjoy my kids, my heart sings!
3. Do the Things That Make You Happy
Third, I take time to enjoy those activities that make me happy.
I began practicing piano before my feet reached the floor. Leading worship and playing praise songs are a part of my DNA. So, I started practicing again. I love it! I imagine you have some of those special activities that feed your soul. Find the fun! I contracted scarlet fever when I was five. I had a "stay at home" order for six months. But I learned to draw. I made sock puppets and sang. Suddenly, my creative side began to blossom in the solitude. God brings us peace and happiness even when we are imprisoned by our limitations. One of my favorite memories involved three little boys and a game of soccer. Roger and I walked down the streets of a slum (favela) in Brazil. The houses were shacks. Poor, hungry people lined the dirty streets. But then I heard giggling. Suddenly, a plastic Coke bottle landed at my feet. The little soccer players wore tattered t-shirts and dirty shorts. They didn't care. They learned to play anyway. God wants us to play. He wants us to laugh and smile.
4. Be Kind
Finally, God calls me to be kind.
Paul writes in Ephesians 4:31-32:
Get rid of all bitterness, rage and anger, brawling and slander, along with every form of malice. Be kind and compassionate to one another, forgiving each other, just as in Christ God forgave you." NIV
We are all earth-dwellers. We are all created by God to be His masterpieces. We need to open doors for others, say please and thank you. And most importantly, comfort when we see people hurting. God calls us to be Good Samaritans. People are cut and bleeding. They are grief-stricken and hopeless. They need a Savior.
You have hope. Comfort them and share the Christ that can take away the fear of death. Cook a casserole for a lonely neighbor. Write a card. Call or send a text. Pray fervently and often.
I've been in the hospital four times since the COVID outbreak began. My stays were unrelated to the pandemic. But the nurses and doctors who cared for me were so kind and patient. They treated me as if I were the only person in their care. Many were working double shifts, trying to help the suffering with make-shift equipment. Just like the Good Samaritan, I was cut and bleeding by the side of the road. Even though they were exhausted, they were there for me.
Be Jesus to the fearful, confused, and hurting. They need you!
Jesus said, "'Truly, I say to you, as you did it to one of the least of these my brothers, you did it to me." Matthew 25:40 ESV
Related: Listen to our FREE Podcast on Stress! The Stress Less Podcast with Bonnie Gray. You can listen to the first episode right here. For more episodes, visit LifeAudio.com!
Photo Credit: ©GettyImages/Drazen Zigic
---

Dr. Julie Barrier, along with her pastor-husband, Dr. Roger Barrier, have taught conferences on marriage and ministry in 35 countries. The Barriers are founders and directors of Preach It, Teach It providing free resources in 10 languages to 5 million visitors in 229 countries and territories. The Barriers pastored 35 years at Casas Church in Arizona, Julie has served as a worship minister, concert artist and adjunct professor at Golden Gate Baptist Theological Seminary. She has authored or composed of over 500 published works.