When Is Palm Sunday This Year?
Liz Kanoy

Senior Editor

2019

21 Mar

COMMENTS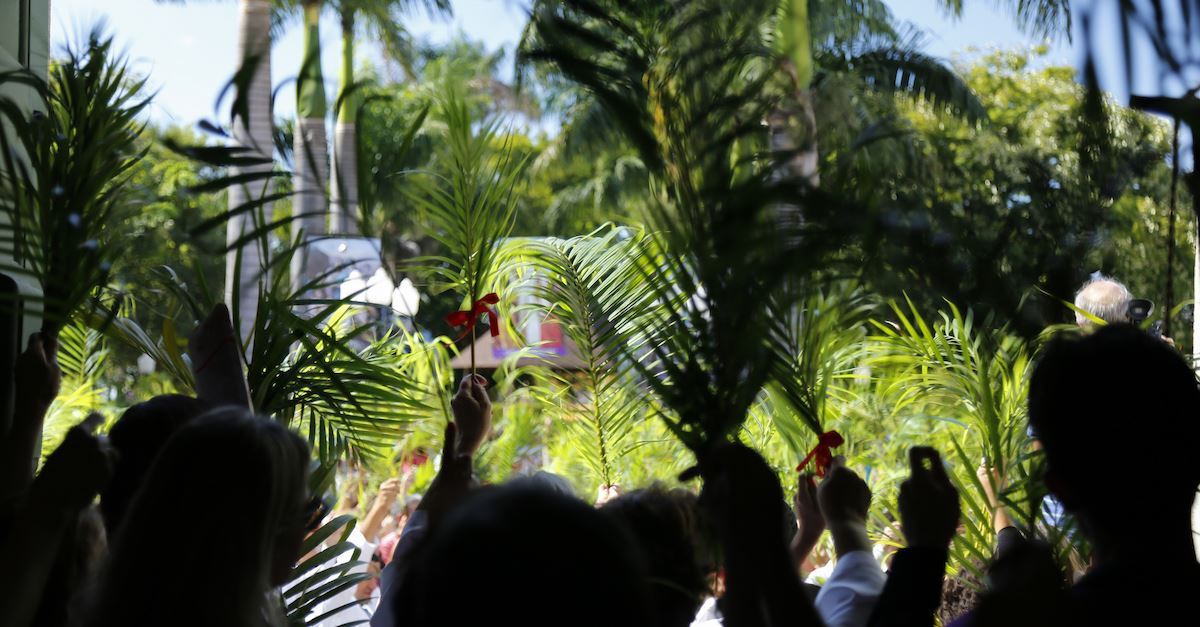 Palm Sunday will be on April 5, 2020.
Many churches celebrate Palm Sunday, which is always the Sunday before Easter (April 21). Maybe your church has children waving palm branches to help them connect to the story. But while this is a triumphal entry, it is Jesus' first step toward His death.
Matthew 21:4 tells us:
"This took place to fulfill what was spoken by the prophet, saying, "Say to the daughter of Zion, 'Behold, your king is coming to you, humble, and mounted on a donkey, and on a colt, the foal of a beast of burden.'"  *The prophecy is cited from Zechariah 9:9 and Isaiah 62:11.
Jesus had become somewhat of a celebrity among people who had heard of the miraculous raising of Lazarus from the dead, and they wanted to see Him and treat Him like a king. But Jesus wasn't arriving to be their king on account of Lazarus; the story of Lazarus would have had the religious leaders in even more of an uproar and determined to put an end to His life, which He knew . . .  Jesus' glory would be greater than that of a local king.
 
What is Palm Sunday?
Debbie McDaniel writes,

"Palm Sunday is the Sunday before Easter that begins the Holy Week. It is the day that we remember and celebrate the day Jesus entered into Jerusalem as Savior and King. As Jesus rode a donkey into the town of Jerusalem a large crowd gathered and laid palm branches and their cloaks across the road, giving Jesus royal treatment. The hundreds of people shouted 'Hosanna to the Son of David! Blessed is he who comes in the name of the Lord! Hosanna in the highest heaven!'" -Excerpted from 5 Things about Palm Sunday that Remind Us Christ is King
 
5 Quick Things to Know about Palm Sunday
 
Jesus fulfills the prophecy of the Messiah in Zechariah 9
There is meaning behind the lowly donkey Jesus rode into Jerusalem
Palm Sunday marks Jesus' humble and triumphant journey toward His sacrifice and the cross
The people hailed Jesus as King and called out Hosanna, which means 'save us'
 
Why a Donkey?
"In the ancient Middle Eastern world, leaders rode horses if they rode to war, but donkeys if they came in peace. First Kings 1:33 mentions Solomon riding a donkey on the day he was recognized as the new king of Israel. Other instances of leaders riding donkeys are Judges 5:10; 10:4; 12:14; and 2 Samuel 16:2.

The mention of a donkey in Zechariah 9:9-10fits the description of a king who would be "righteous and having salvation, gentle." Rather than riding to conquer, this king would enter in peace.

Isaac, a type of Christ, rides a donkey to be slain by his father Abraham on the altar (Genesis 49:10-12)."

-Excerpted from 8 Things Most Christians Don't Understand about Jesus' Triumphal Entryby Dr. Roger Barrier. Read more at the link.
 
The Disciples and Palm Sunday
What would the disciples have been thinking when this event unfolded? Christianity.com shares this statement from John Piper:
"There is no doubt what was in the disciples' minds. This was the fulfillment of Zechariah's prophecy given centuries earlier:

'Rejoice greatly, O daughter of Zion! Shout aloud, O daughter of Jerusalem! Lo, your king comes to you; triumphant and victorious is he, humble and riding on an ass, on a colt, the foal of an ass. I will cut off the chariot from Ephraim and the war horse from Jerusalem, and the battle bow shall be cut off, and he shall command peace to the nations; his dominion shall be from sea to sea, and from the River to the ends of the earth.' (Zechariah 9:9-10)"
The disciples did not know everything that was about to happen, but they would have known that something glorious was unfolding on Palm Sunday.
You can read the article, What Really Happened on Palm Sunday?, in full here.
 
A Palm Sunday Devotional
Luke 19:28-44

Hindsight is always 20/20. Yet while we are in a particular situation, we tend to make things out to be what they aren't and infer wrong meanings. We kick ourselves, thinking, If only I had known then what I know now!

Jesus' triumphal entry into Jerusalem must have been one of those moments for His disciples. It had appeared to be such a wonderful day for them—and it was, but for different reasons than they realized. They thought the Messiah had come to reestablish Israel's power in the world. But God had something else in mind.

The disciples weren't the only ones who had misconceptions about the Messiah. Many Jews of the day expected Him to be an earthly king. When the crowds heard Jesus was coming to Jerusalem, they cheered, "Hosanna! " which means, "Save now!" They saw Him as their new King, come to bring salvation from political and societal oppression. He raised the dead—no doubt he could also restore the kingdom of David and free them from Roman rule.

Seated upon a donkey, Jesus resembled a ruler returning to his city in peacetime, loyal subjects lining his path with coats and palm fronds. Even the Pharisees were there watching in indignation, saying, "Look, the world has gone after Him" (John 12:19).

This week, think back to those times when circumstances looked one way but turned out to be something else entirely. Remember when you realized God was different than you imagined and saw His will unfold in surprising ways. Look for an opportunity to share your insight with a friend or loved one. (excerpted from our InTouch devotional) *Used with permission from In Touch Ministries, Inc. © 2016 All Rights Reserved.
 
A Short Prayer for Palm Sunday
Lord God,
I give you thanks, for you are good, and your mercy is endless.
Here I stand, at the start of this holy week,
This week in which your church remembers Jesus' passion and death,
And I am distracted by many things.
Turn my eyes now to the One who comes in your name
The one who opens the gates of righteousness
The one who answers when we call.
I bless you, Lord, for shining your light upon me,
And for sending your son to us, in human frailty.
To walk the road we walk.
Open my eyes that I may see him coming,
And may praise him with a pure heart.
And may walk in the way of his suffering,
And share also in his resurrection.
Through Jesus Christ our Lord, who lives and reigns with you and the Holy Spirit, one God for ever and ever.
Amen.
-Excerpted from 8 Prayers to Pray Each Week of Holy Week by Rachel Marie Stone
---
This article is part of our larger Holy Week and Easter resource library centered around the events leading up to the death and resurrection of Jesus Christ. We hope these articles help you understand the meaning and story behind important Christian holidays and dates and encourage you as you take time to reflect on all that God has done for us through his son Jesus Christ!
Holy Week, Passion Week Timeline
What is Lent?
What is Palm Sunday?
What is Ash Wednesday?
What is Maundy Thursday?
What is Passover?
What is Good Friday?
What is Easter
Photo credit: ©GettyImages/SidneydeAlmeida