Is it True That the Word Rapture is Not in the Bible?
Adrian Rogers

Love Worth Finding

2007

29 Mar

COMMENTS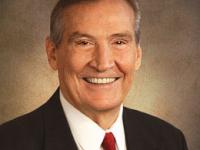 Yes, that's true. But neither will you find the Trinity by name in the Bible, nor the word mission and a number of other terms we use to describe theological concepts clearly taught in Scripture.

The word "rapture" in Scripture is taken from the Latin "rapio" for the two words "caught up" used in 1 Thessalonians 4:17. It has come into popular use today to refer to the Lord Jesus coming for the church, to lift her up into the heavens. One raptured is "lifted up" in love.

When you are studying the rapture of the church, there are several things you need to keep in mind. First of all, the second coming of Christ is in two parts, separated by a period of seven years.

The first part is sometimes referred to as the "Rapture" (1 Thessalonians 4:13-18, 1 Corinthians 15:52-58). The second part occurs when Christ physically, bodily returns to this earth on the Mount of Olives from which He ascended. The interval between these two events, known as the Tribulation and Great Tribulation, is divided into two, three-and-a-half year periods each. The seventy weeks described in Daniel 9:24-27 speaks of this.

The Great Tribulation is the "wrath to come" from which the believer is delivered by the Rapture (1 Thessalonians 1:9-10). The children of God, "because they have kept the word of His patience, will be kept from that hour of trial." (Revelation 3:10).

We believe that the Scripture teaches that Christians will not be judged with the world when God pours out His wrath in the day of the Lord. 1 Thessalonians 5:9 says, "God has not appointed us to wrath, but to obtain salvation by our Lord Jesus Christ." Scripture teaches us to look for the Lord's return, not for the tribulation (1 Thessalonians 1:10 and Titus 2:13).

Jesus said regarding His second coming, "But of that day and hour knoweth no man, no, not the angels of heaven, but My Father only." We should live like Jesus is coming today. It may be closer than we dare dream
By Adrian Rogers. © 2006 Love Worth Finding Ministries. Website. www.lwf.org.
---
Dr. Adrian Rogers, preacher/teacher of Love Worth Finding Ministries, and one of America's most respected Bible teachers. Under his 32 years of pastoral leadership, Bellevue Baptist Church in Memphis, TN, grew from 9,000 members in 1972 to more than 29,000.
 Most important to Dr. Rogers have been the tens and thousands of believers who have had their faith strengthened and thousands of others who have for the first time entered into a personal relationship with Jesus Christ. Dr. Rogers passed away on November 15, 2005.