Hunger Games Bible Study No. 3: Haymitch=Holy Spirit?
Ryan M. Blanck

2013

18 Apr

COMMENTS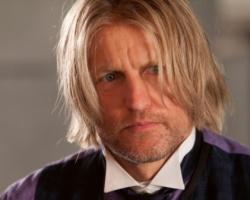 Game:
Begin the meeting time by playing the Hunger Games game described in the previous lesson, but with one minor change. In addition to finding the survival items (food and water), students also must find some other hidden object (show students this object) in order to win the game. Additionally, have one of your helpers hide somewhere on campus to be the mystery helper. This person has a supply of food and water and a clue to the whereabouts of the hidden object. If students find the mystery helper, they can receive either a survival item or the clue. The student who finds the survival items and the hidden object and survives the Arena is the winner.

Additionally, students may reenter the game after they have been killed if they go back to the central meeting place and memorize and recite John 14:16: "And I will ask the Father, and he will send you another Helper, to be with you forever."

Game Debriefing:
Ask students if any of them were able to find the mystery helper. What kind of help did they receive? How helpful was the mystery helper?

Lesson Introduction:
In the Hunger Games, Haymitch looks out for Katniss and Peeta, providing what they need when they need it. He leads Katniss to water and sends her medicine to help her own wounds, as well as Peeta's injuries. In the same way, the Holy Spirit provides us with what we need when we need it (Disclaimer: the analogy should not be stretched too far; do not say the Holy Spirit is a washed-up drunk guy).

Reading:
Read page 167, starting with, "Return to the lake. No good. I'd never make it," through page 169, ending with, "Because he knows I've almost found it." Then read page 170, starting with, "I have misjudged Haymitch." through page 171, ending with, "I snuggle down in my sleeping bag, hanging on to my water bottle for dear life, which of course, it is."

In this section, Katniss is delirious with dehydration, feeling her body beginning to shut down. She wonders why Haymitch is not helping her by sending her a silver parachute with water. Then she realizes he is not helping her at that moment because she is so close to finding water on her own. She realizes Haymitch does not want to use his precious resources to give her something that is within arm's reach.

Lesson:
Similar to Haymitch, the Holy Spirit watches over us, leading, guiding us and equipping us for the work God has laid out for us to do. James 1:17 says God provides us with every good and perfect gift. Ephesians 1:3 says God has blessed us with every spiritual blessing. God has given us—and continues to give us—everything we need to serve Him.

Ask students (and allow them to wrestle with this) if God has promised us every good gift and spiritual blessing why we often feel we are lacking? Why do we lack the finances or the skills to do what we believe God has called us to do?

Similar to Katniss with Haymitch, we need to realize the Holy Spirit sees the big picture and knows better than we do what we need. The Spirit provides us with exactly what we need exactly when we need it. Rather than getting discouraged by the apparent lack of provision of apparent unanswered prayers, we need to realize He already has given us what we need; we just need to look a little closer for it.

We serve a loving God who looks out for us and provides us with all that we need. If Katniss can trust Haymitch (a washed-up old drunk), then we certainly can trust the Holy Spirit.