How Should Christians Apply The Great Commandment to Caring for Refugees and Immigrants?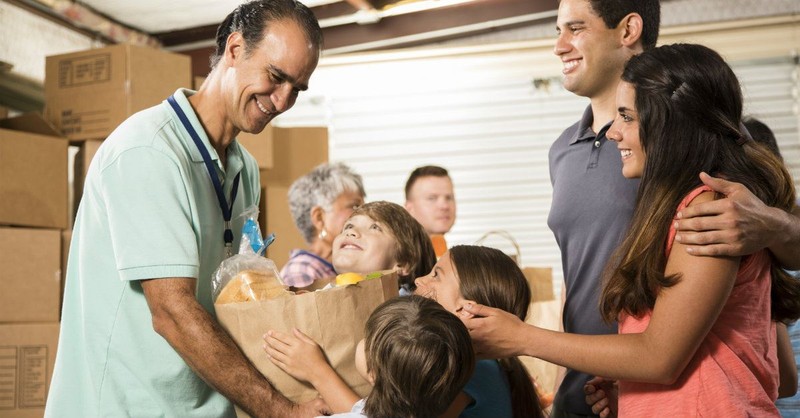 This article is adapted from the eBook, Thinking Biblically about Immigrants and Immigration Reform from the Evangelical Immigration Table. Click here for your free copy.
The specific instructions to love the foreigner throughout the Old Testament are consistent with God's command to the Israelites to "love your neighbor as yourself" (Leviticus 19:18). In that same passage recorded in the book of Leviticus, God makes it clear that this command to love extends beyond a narrow definition of our neighbor: "When a foreigner resides among you in your land, do not mistreat them. The foreigner residing among you must be treated as your native-born. Love them as yourself" (Leviticus 19:33-34).
Who Is My Neighbor?
When asked about this specific commandment, Jesus reaffirms that his followers are to love our neighbors and that our "neighbor" could include just about anyone. When a legal scholar seeking to justify his own actions presses Jesus to define "neighbor," Jesus responds with a story we know as "the parable of the Good Samaritan."
Elsewhere in the Gospels, we see the hostility that many felt toward Samaritans, who were ethnically and religiously different than the Jewish people: When they want to insult Jesus, some of his critics accuse him of being "a Samaritan and demon-possessed" (John 8:48), and even Jesus' own disciples seem quite eager to see a Samaritan village destroyed by fire (Luke 9:54) (Stephan Bauman, Matthew Soerens and Issam Smeir, Seeking Refuge: On the Shores of the Global Refugee Crisis (Chicago: Moody Publishers, 2016), 34-35).
But Jesus rejects that idea, and instead consistently interacts with Samaritans in counter-cultural ways: He recognizes the dignity within a Samaritan woman at the well, who eventually is among the first to recognize him as the Messiah and to spread the good news to her entire community (John 4:4-42). Jesus observes that a Samaritan, though a "foreigner," was the only one of 10 whom he had just healed of leprosy to return and express gratitude (Luke 17:11-19). And Jesus then responds to the legal scholar's question — "Who is my neighbor?" — with a story with a Samaritan as its protagonist, the model of neighborly love who extends compassion to someone in need.
The Implications for Today
This command is described elsewhere in the New Testament as the catch-all mandate that summarizes the rest of biblical instruction (Galatians 5:14; James 2:8). It has clear implications for how followers of Jesus should treat the immigrants in our country today.
First, we cannot narrowly define "neighbor" to mean only those who look, believe or speak as we do, or those limited to a particular geographic community. After all, it would have been unthinkable for a Samaritan to assist a Jewish person. But as we see in Scripture, the Samaritan sees someone in need of help as his neighbor, regardless of the differences between them.
Second, the command to love our neighbors includes no exceptions. We are not called to love our neighbors so long as doing so is in our economic interest. We are not called to love our neighbors so long as there are no risks involved. We are not called to love our neighbors so long as we feel comfortable doing so or so long as they have fully abided by the laws of the land. We are called to love our neighbors as ourselves — full stop.
That's not to say that economic, security and legal concerns are or should be irrelevant to policymakers: They indeed have a responsibility to consider these dynamics. But the role of the church and of the individual Christian is not the same as the role of the government: "However we approach immigration policy," write Welcoming the Stranger authors Matthew Soerens and Jenny Yang, Christians "must first approach immigrants themselves as neighbors — with love" (Soerens and Yang, Welcoming the Stranger: Justice, Compassion and Truth in the Immigration Debate (Downers Grove: InterVarsity Press, 2018), 100.).
Publication date: July 30, 2019
Image courtesy: ©GettyImages_fstop123
For more on this subject from the Evangelical Immigration Table, check out:
WHAT DOES THE BIBLE SAY ABOUT IMMIGRATION?
THE GREAT COMMANDMENT: APPLYING THE BIBLE TO CARING FOR REFUGEES AND IMMIGRANTS?
HOW IMMIGRANTS FIT INTO THE BODY OF CHRIST AND THE LOCAL CHURCH
"GO AND MAKE DISCIPLES" - DOES THE GREAT COMMISSION APPLY TO IMMIGRATION?
HOW TO RESPECT THE GOD-GIVEN DIGNITY OF EVERY IMMIGRANT
WHY GOD WANTS US TO PROTECT THE FAMILY UNIT OF IMMIGRANTS AND REFUGEES
HOW SHOULD CHRISTIANS RESPOND TO ILLEGAL IMMIGRATION?
WHAT DOES THE BIBLE SAY ABOUT BORDER SECURITY AND SHOULD CHRISTIANS SUPPORT THEM?
The Evangelical Immigration Table is a place where evangelical Christians of various denominations, theological traditions, ethnicities and political perspectives gather together, just as in the Bible the table represents hospitality and is the place where believers come together, united by Christ. The Evangelical Immigration Table exists to encourage distinctly biblical thinking about issues of immigration, providing discipleship resources focused on immigration from a biblical and missional perspective as well as advocating for public policies consistent with biblical values, specifically restitution based immigration reform.