The Good Dinosaur Almost Went Extinct, but Evolved Instead
Jeffrey Huston

Crosswalk.com Contributing Writer

2015

23 Nov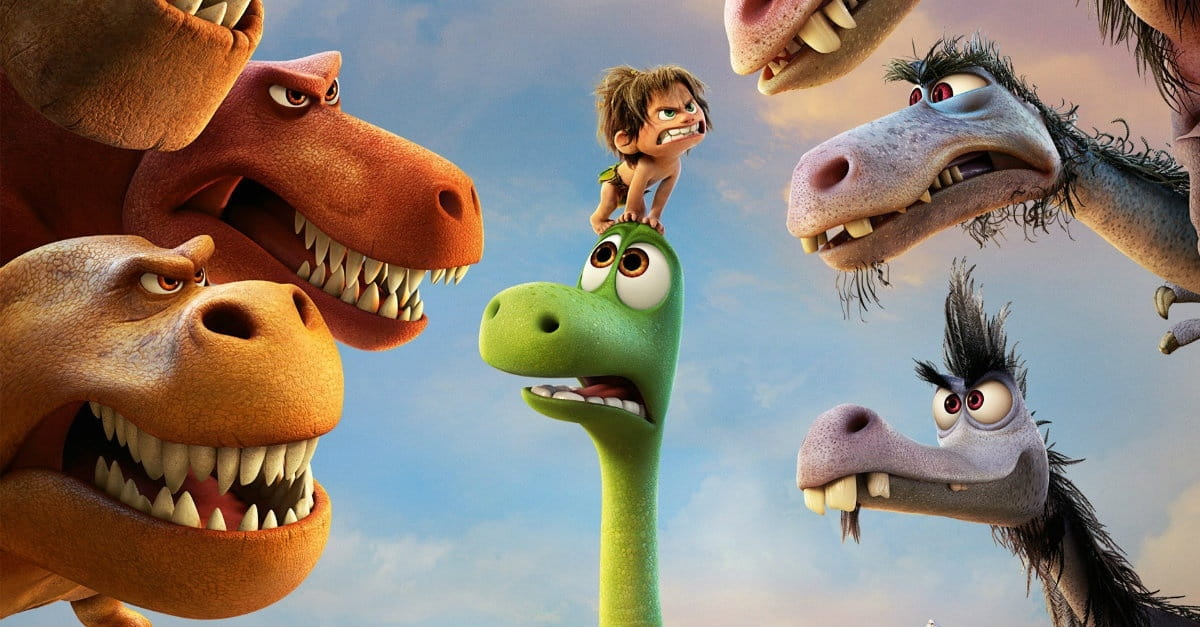 The 16th animated feature from Pixar Animation Studios is about the journey of a young dinosaur named Arlo who, through many unexpected trials, struggles to prove himself and make his mark in the world. In an ironic twist, the making of the actual film took the same journey, as did its first-time feature director Peter Sohn.
Pixar is not known for troubled projects. But for the first time ever, the studio found itself overhauling a movie halfway through production, forcing it to push back the release date from June 2014 to November 2015. The film may have been titled The Good Dinosaur, but its prospects were starting to look very bad.
"Arlo's journey and our filmmaking journey were so similar," says Sohn who, following the success of his Pixar short Partly Cloudy, was given complete control over The Good Dinosaur reboot. "When we first started the project it was sort of Western-infused," Sohn says, describing a much bigger cast of characters than is seen in the final version. "We had a saloon owner, we had miners, a whole community, and it didn't work because it felt like we were making fun of Westerns. So we kept pulling it back, and it became more about the idea of surviving out there. Now," he clarifies, "it's not a Western but it's set in that frontier life, and you can feel the survival aspect of it."
CrosswalkMovies.com: Pixar's from crosswalktrailers on GodTube.
The original Dino Community may be gone, but the anthropomorphic take on these beasts remain. Here, it's born of the film's unique hook: what if the meteor that scientists believe caused the extinction of dinosaurs never actually hit the earth? For Sohn's team, the answer was having dinos take on more human-like traits. Arlo and his two siblings, for example, are born into a family of Apatosaurus farmers that plant and harvest crops, which fits the herbivores they are. And as Arlo sets out from the farm into the wilderness, he befriends an early human boy who, at this stage, is more animal-like.
Their relationship turns the "boy and his dog" archetype on its head. Arlo even names the boy Spot, and Spot provides Arlo the "dino's best friend" that he needs to help gain courage against the trials he must face. "You can't beat Mother Nature," Sohn says, "but you can learn to survive it, because it has its beauties too. So Nature becomes – on an emotional level – the fear of what Arlo lost in his life, what he doesn't want to lose, and can he face those things?" For Sohn, it's Spot who helps Arlo face them. "That love for Spot gets him through."
Another entertaining liberty in this alternate world is a family of T-Rex ranchers who herd bison. Beloved character actor Sam Elliott, who voices the grizzled T-Rex patriarch Butch, spoke to the film's inspired interpretations with genuine excitement. "Pixar totally turned it upside down," Elliott gushed, in his iconic baritone drawl, "and that's part of the charm of this thing." Anna Paquin, the voice of Butch's T-Rex daughter and ranch-hand Ramsey, agrees. "I was so bracing myself to be some little thing that's wimpy, because I'm a girl, but I get to be one of the dudes – except she's a girl, which is even cooler!"
Relationships are the backbone to The Good Dinosaur, including a father/son undercurrent. "This is seriously well-considered storytelling," says Jeffrey Wright, the voice of Poppa (Arlo's dad). "It's a really central question of what level of encouragement is right, or when pushing your kids does more damage than good, and how do you strike that balance between a nurturing posture and one that's a bit too overbearing. All parents go through that." And with Nature as the enemy, it became important to provide characters that would be catalysts for Arlo's change. "Every character that Arlo meets," Sohn says, "was all to support Arlo's journey, of growing up, how he matures and gets through fear."
"I can remember crossing paths with a few people in my life," muses the 71-year-old Elliott, "particularly men that were really men, like Butch is, who dropped tidbits that just rang true." For Elliott, the film is ultimately about these formative, universal truths. "We're so beset by everything from the outside. Look at the world we're living in today," he says. "This whole thing about how we treat each other, and our work ethic. This shows that hard work is a good thing. That being nice to people is a good thing. There's great value in that. That doesn't mean it's always easy. But it's simple."
And that, Elliott says, is what The Good Dinosaur captures. "It's like an Everyman Tale. We're all going to go down this road. At different periods of our life, we confront fears, insecurities, danger. This speaks to all of us."
For Sohn, who was tasked to rescue the most troubled film project in Pixar's history, that lesson became the one he wanted to convey the most. "There were days that were so dark that I was like, 'Why am I doing this?' But then you remember how much you love the people around you. You love the message that's in there. It sounds sappy but I'm telling you," Sohn says, becoming emotional, "I have two kids, 5 and 3, and boy, I'd love it if they can get that idea that even when you're scared, love can pull you through."
Jeffrey Huston is a film reviewer for Crosswalk.com. You can also read more about movies from Jeff at his blog I Can't Unsee That.
Publication date: November 23, 2015