Youth Group Devo: What Can the Winter Olympics Teach us About Trusting God?
Barry Shafer

Director, InWord Resources

2014

10 Jan

COMMENTS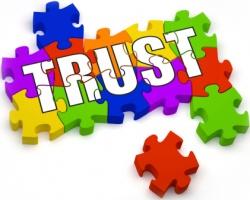 Quick Backdrop
The 2014 Winter Olympics are just around the corner. Quick question: What is your favorite winter Olympic sport? A recent Google search showed that nearly every pole asking that question had a different ranking of the sports. Consistently ranking in the top 10, however, is alpine skiing, hich brings us to our subject: trust.

Veteran skiers will tell you that often there is a moment in learning to ski when it all just seems to click. You've had your lessons; you've memorized your analogies (pizza slice, French fries, carrying a tray); you've gotten frustrated because you can't make your body do your analogies; you're thinking of too many things at once. Then. Suddenly. Ahhhh…maybe it's making a nice turn, or recovering (without falling) from going too fast, or simply making a good stop. Something clicked between mind and body. This click can be summed up in a word: trust.

You may not realize it, but in that moment, you trusted your learning, your skis and your legs to do what you were telling them to do. You let go of your instructions and analogies.

The What
It's this same type of letting go that we need to practice with God. As we seek to grow in our relationship with Him, the last thing we give up is control. Maybe we want to hang on to reason or logic or keep our hearts and minds in a realm of what we know, but we are told in Hebrews 11:6 that it is impossible to please God without faith. Impossible. A leap of faith always will be required.

As you read the verses below, note the trust being expressed. Who is trusting? What is being trusted? What are the benefits of trusting?

"And when the Israelites saw the mighty hand of the Lord displayed against the Egyptians, the people feared the Lord and put their trust in him and in Moses his servant" (Ex. 14:31).

"But I trust in your unfailing love; my heart rejoices in your salvation" (Ps. 13:5).

"Some trust in chariots and some in horses, but we trust in the name of the Lord our God" (Ps. 20:7).

"Trust in the Lord with all your heart and lean not on your own understanding; in all your ways submit to him, and he will make your paths straight" (Prov. 3:5-6).

"Trust in the Lord forever, for the Lord, the Lord himself, is the Rock eternal" (Isa. 26:4).

"May the God of hope fill you with all joy and peace as you trust in him, so that you may overflow with hope by the power of the Holy Spirit" (Rom. 15:13).

The So What
So how does trust work, and how does it look? Below are issues of life that we face that we might try to solve or control on our own. Reflect on each one, and circle any that resonate with you. Then jot down any specific issues in your life in which you'd like to exhibit more trust in God. Finally, look at each issue with this precept in mind: Without faith, it is impossible to please God.

Areas of life to trust God to do the work:
• fears
• mistakes made
• hurts
• giving grace to others
• accepting grace yourself
• healing from loss
• life decisions (job, career, college)
• relationship decisions
• temptations

Seal the Deal
Take a step of trust to allow God to do what He loves to do: heal, redeem, give grace, strengthen. Accept the kindness and generosity of God, and let Him do the work.

As you watch the upcoming Winter Olympics, take note of all the things the athletes are trusting, such as: skates, bobsleds, skis, teammates. Use those two weeks to ramp up the trust factor in your relationship with God.