How to Celebrate the Holidays When There Is an Empty Chair at the Table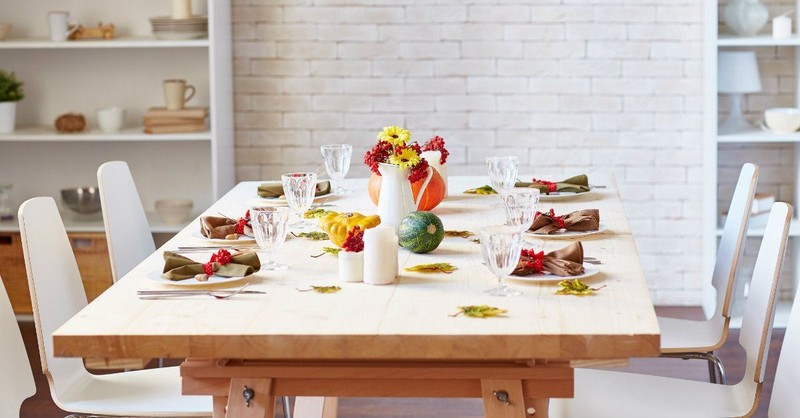 The holidays can be a mixed bag of emotions, and we all have our very own bag. Inside it there are bits of family drama, stress, happy memories, laughter, and so much more. Then, throw in a turkey dinner, a Christmas tree, and that uncle who tells weird jokes and it can become a little overwhelming (we have our yearly holiday meltdown)... and that's just the "average" holiday when life is going well.
But, life isn't always good. It has seasons that can bring us to our knees. If you haven't had one yet, it's just a matter of time. We will all face valleys. We can have a year of enormous pain. We could be experiencing a year where we've had so much loss we don't even know the words to express it. Our loneliness could be suffocating, or we could be mixing company with the heartlessness of abandonment.
That can make the holidays something very different than we've ever experienced before. It can bring uninvited guests like bitterness or envy that can suck the very life out of a celebration. There could be an empty chair at our table this year because of divorce, death, or just cruel distance. If we've had one of these years, we can't fall back on our good old family traditions because our entire world has changed.
How do we find the energy to celebrate when we feel like we just don't have the heart? As life does, it goes on. The holidays will come and go just as they have years before.
Here are some helpful ways to find joy when you just don't feel like celebrating.
Pray: When we are experiencing a difficult time, we might have a tendency to try to handle it without God. But He's waiting for us to share our struggles with Him. He longs for a relationship with us and wants to carry us through our hard moments. He offers rest for an anxious heart. It's within your reach. You just have to lay your worries and pain at the foot of the cross. "Come to me all who are weary and burdened, and I will give your rest." (Matthew 11:28)
Acknowledge Your Pain: Living in denial can be a happy place (I know this from real-life experience)… for a little bit, anyway. It can be so tempting to allow our focus to be distracted because it's just too difficult to look at what is really happening around us. But we can't take residence in LaLa Land there because it's not reality. Eventually, we have to face whatever has happened. That can be scary, but it's genuine. Love and loss go hand in hand, and feeling pain is part of living. Recognizing your hurt and allowing the Lord to grow you during a painful season can only make us appreciate the good times that much more.
Share Your Burdens: I have a tendency to want to isolate myself when I'm upset. And that's okay sometimes, but it's not healthy to battle pain in loneliness all by ourselves. Plus, it's not biblical. Galatians 6:2 tells us to "carry each other's burdens." It doesn't mean I have to announce my feelings to the world, but it does mean that I need to allow others into my world and speak life and love over me. Our lives are give and take. We may need people to walk alongside us during this season, and we will walk alongside others during their desert days.
Choose a Positive Perspective: How are we going to see this circumstance? Are we going to be grateful or are we going to be bitter? How we choose to use our perspective can change our entire course. We can choose to see what we lost, or we can choose to see what we had. We can focus on all the terrible things that have happened to us or we can keep our eyes on Jesus. All experiences, even negative ones, will have glimmers of lessons and sprinkles of growth within them. We just have to have the right eyes to see.
Pray with a Grateful Heart: The Bible is full of examples of people lifting their voices in thanks to our Heavenly Father no matter what the circumstances. It takes our eyes off of our own pain and can thaw a cold heart. We must remember that someone always has it worse than us, and someone is in a more desperate circumstance. Gratefulness is one of the most powerful emotions. By being grateful, we begin to notice what we have been given instead of what we feel is lacking.
Think Outside of Yourself: Instead of thinking about who is not at your own table, think about someone who is longing to be invited to sit at one. There are probably hundreds in your community that are craving for friendship and connection. You may have a neighbor, a friend, or even a stranger who is alone this season. Sharing the love that you have is a wonderful way to heal your own pain, and at the same time, tend to someone else's. Open your home to others and your heart will open as well.
Try Something New: Your holiday is different this year. So you may not be able to do the same old traditions that you've done in the past. It's okay to grieve over that, but don't keep it from stealing the joy of what a new tradition could bring. Brainstorm with those around you to come up with something different. Maybe it's something totally new, or maybe you keep an old tradition and put a new spin on it. Remember, rigid things break, so be flexible in your decisions. You never know, you may really enjoy it.
In addition to these tips, the Word of God can help us navigate through our valleys. Take these verses and pray them over yourself. Put them to memory so when you begin to feel overwhelming sadness or anxiety you have God's word to see you through.
Life may have gone sideways. We may have many scars. But, we are here. We survived.
We have an amazing Savior that chose to die for us because He loved us. That's it. We were worth His sacrifice. He loved us so much, not because of anything we did, but because of who we are. He died to give us life eternal. That's really the greatest love that there is.
That's the only reason we need to celebrate. We now have hope and expectation. We now have purpose and meaning. It doesn't matter about our past or our future. It doesn't matter if our life has been close to perfect or a complete mess. And, it really doesn't matter who is or isn't at your home to help you celebrate this year.
We are free in Christ. There is always room at His table.
Written by Shannon DeGarmo; speaker; author of The Bounce Back Woman; Featured Contributor of Keep the Faith radio; Contributor of LifeWay's HomeLife Magazine. Check out Shannon's website (www.shannondegarmo.com) and visit her on Facebook, Instagram, and Twitter.
Photo courtesy: ©Thinkstock/shironosov